Volga-Dnepr Group to Expand at Leipzig/Halle Airport
19th June 2019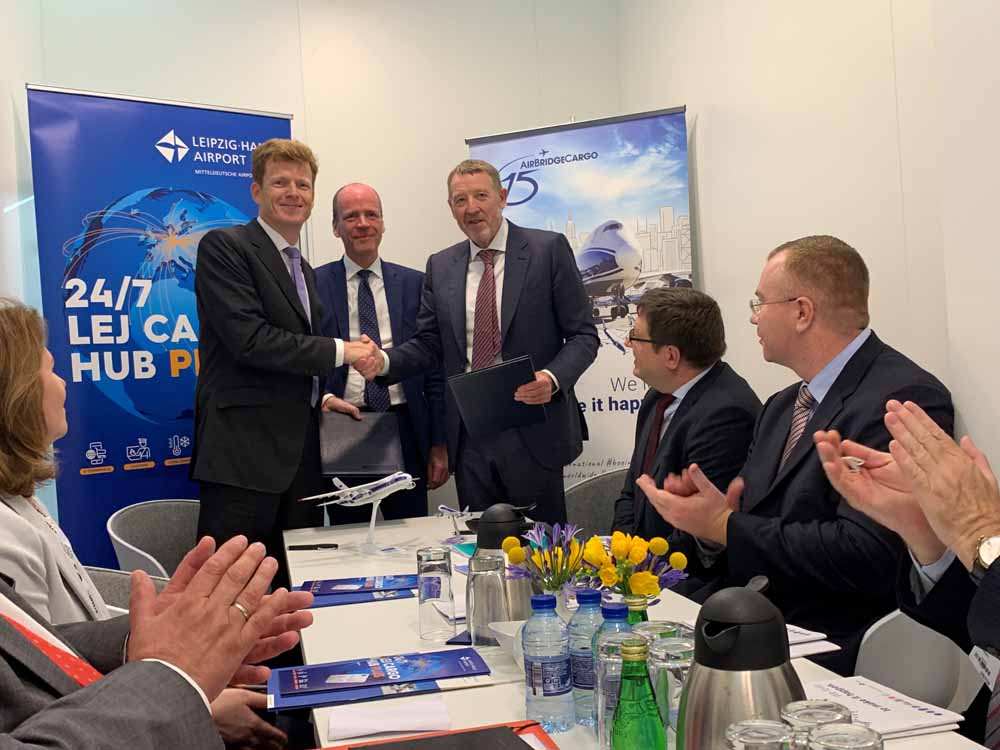 Volga-Dnepr Group and Mitteldeutsche Flughafen  have signed a MoU (Memorandum of Understanding) to expand their strategic partnership at Leipzig/Halle Airport in the areas of air freight and logistics. The deal was signed yesterday at the Paris Air Show.
The Group and MFAG will join their forces in creating effective logistics system in Leipzig/Halle Airport to boost cargo infrastructure development and set Leipzig/Halle as freight multimodal hub for scheduled and charter operations of the Group.
The Group will operate both charter and scheduled operations to/from Leipzig/Halle Airport, accumulating regular and project traffic on board AirBridgeCargo Airlines and Volga-Dnepr Airlines. Boeing freighter fleet will fly up to 20 weekly flights to/from Leipzig/Halle Airport since the end of 2021, while gradually increasing this number till 50 in 2030.
Both companies are also planning to intensify their cooperation in the fields of marketing, sales as well as the development of business and personnel. As many as 500 new jobs are due to be created in various fields of activity as part of this cooperation arrangement.
Konstantin Vekshin, Executive President, Charter Cargo Operations of Volga-Dnepr: "We have been striving to set up and develop effective system of regional hubs throughout the world to secure timely response to our customers' re-quirements, specifically, given a recent trend involving greater share and volumes of special loads. Nearly three decades of our experience, bolstered by knowledge and expertise will serve as a guarantee for the transformation of Leipzig airport into a vertically integrated multimodal hub."