Renault Range T Optifuel Delivers 10.9% Fuel Saving Independently Certified By Tuv Rheinland
10th September 2015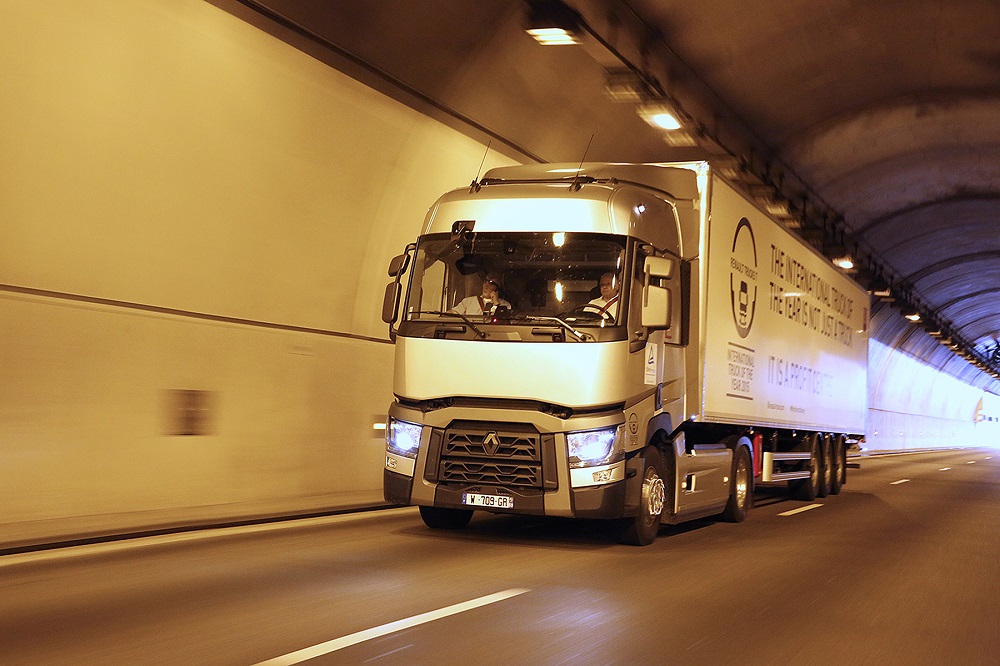 Renault Trucks is pleased to report that leading global test agency, TUV Rheinland, has independently certified a 10.9% fuel saving for the Renault Range T Optifuel with driver training compared to a standard Range T.
Nigel Butler, Renault Trucks' UK Commercial Director, says: "Excellent fuel efficiency is central to the Range T's advanced vehicle technology and aerodynamic design, delivering lowest total cost of ownership. These results, measured and certified by the highly respected TUV Rheinland, will give operators full confidence that our Range T Optifuel efficiency claims are independently validated, and this truck will provide class-leading fuel economy and profitability for their business."
The TUV Rheinland test measured and validated the fuel savings of a 40 tonne Renault Range T430 4×2 Optifuel driven by two experienced drivers, both of whom received Optifuel Training by Renault Trucks Instructors to optimise fuel efficient driving behaviours. A standard Renault Range T430 4×2 with no Optifuel options was used as the comparison vehicle and tested by the drivers before they received any fuel efficiency driving instruction.
TUV Rheinland conducted its test over a tough 200km route, typical of a European long distance haulage run, with both vehicles carrying a 32 tonne load over a 3 day period. The stringent test procedure made it possible to isolate the two vehicles' intrinsic performance and exclude any impact on consumption from outside factors, such as ambient temperature, differences in trailers' rolling resistance or the prevailing road traffic. The TUV Rheinland experts certified that, after driver instruction, the Renault Range T Optifuel consumed 10.9% less fuel than the standard Renault Range T.

"While the TUV test was performed on a Range T Optifuel 4×2 tractor in Europe, the theory and methodology is the same for a 44 tonne Renault Range T460 Optifuel in the UK," comments Nigel Butler. "A Renault Range T Optifuel, optimised to reduce fuel consumption combined with Optifuel driver training, is proven to be significantly more fuel efficient."

The Optifuel version of the Renault Range T offers optimised configuration, with driveline matched to the fuel efficient DXi 11 Euro 6 engine, with Optidrive, 2.64 rear axle ratio and Michelin X Line low rolling resistance 315/70R22.5 tyres. It is also equipped with Eco Pack (Optiroll controlled freewheeling function, idle shutdown, E-cruise, variable ratio power steering pump and clutchable compressor), correctly set air deflector, lightweight alloy wheels and air tanks.
TUV Rheinland is a leading international technical service provider for testing, inspection, certification, consultation and training.