Polymer Logistics takes the benefits of plastic pallets to the next level with the 'CleanPal' hygienic pallet
3rd September 2015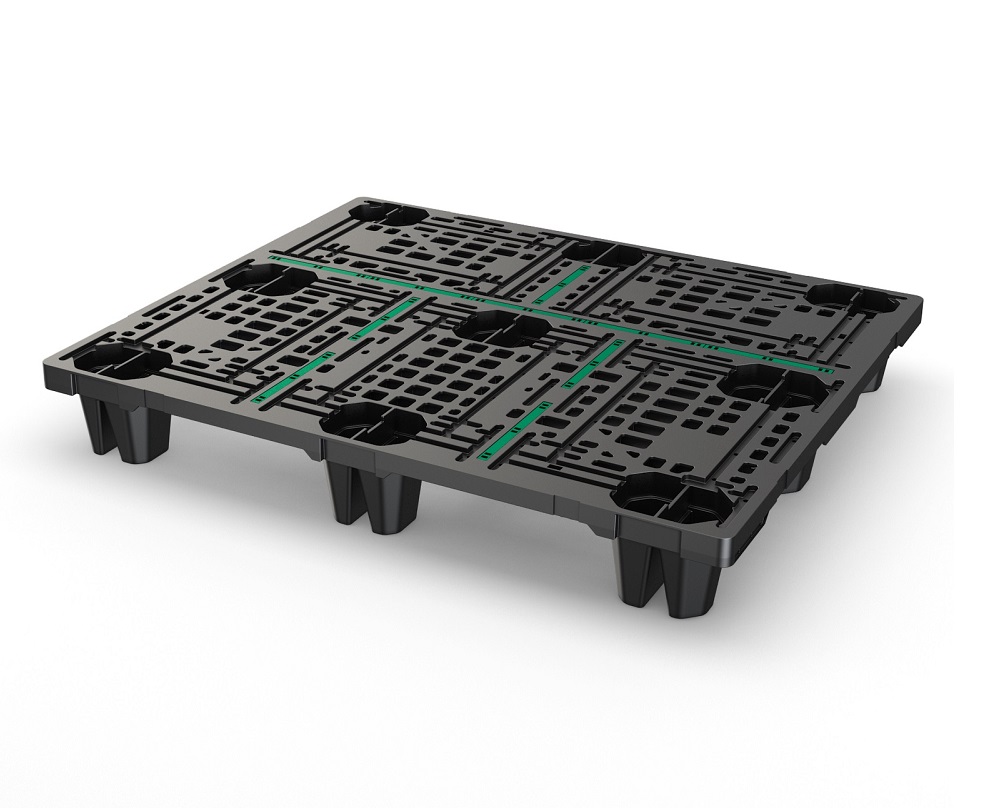 'CleanPal' hygienic pallet, the new smart solution recently introduced by Polymer Logistics, challenges its wooden pallet rival with added value features including durability, flexibility and overall cost savings in the supply chain. As food manufacturers increasingly turn to plastic pallets in the face of food hygiene concerns, Polymer Logistics has produced this low cost per unit pallet to offer maximised hygiene as well as more economical and secure transportation and storage of fresh produce owing to its nestable feature.
Being manufactured from high-density polyethylene (HDPE), the 'CleanPal' pallet is water-resistant and allow for high-pressure cleaning in between uses. This minimises the risk of infestation, fungi, odour, mould or harmful foodborne pathogens; all of which are considerable threats to both the produce and the food chain. As 'CleanPal' is resistant to moisture, weak acids and alkalis, it is suitable for use in other industries, such as pharmaceuticals, which depend on contaminant-free transportation too.
As distinct from a wood equivalent, 'CleanPal' pallets are nestable for improved stackability as they fit inside each other rather than sitting upon one another. They thereby help to economise storage area in today's backroom space-limited retail environments and guarantee optimal loading capacities during transportation and return of empty pallets. Up to three times more pallets can be accommodated on one lorry load, making for opportunities of substantially reduced fuel costs and lower carbon footprints.
The 'CleanPal' pallet deck features marked moulded locations with recessed grooves so that it can lock in place the crates that are being transported. Designed to be compatible with the Polynest line of stackable crates from Polymer Logistics, this increased stability is a key feature for food manufacturers aiming to eliminate damage to spoilable, fresh produce on its way to stores. Additional to their more ergonomic shape, the fact that they are made of plastic allows for colour changes, professional branding and RFID tagging.
Another noteworthy advantage of the 'CleanPal' hygienic pallet is its capacity for extended years of usage and associated savings, offering a more sustainable investment for both the consumer and the environment. Under standard handling and loading conditions, the expected lifespan of a plastic pallet is approximately ten years, which is significantly longer than that of its wood alternative.
Being free from nails and jagged edges, the risks of handling injuries along the supply chain when using the 'CleanPal' pallet are also greatly reduced. With its HDPE structure providing a large strength-to-density ratio (at half the weight of a wood equivalent), it is possible for a 'CleanPal' pallet to be lifted by just one person. Their consistent dimensions of 1200 x 1000 x 162mm, ensured by their production in highly polished moulds, guarantee their nestable quality and the size for manufacturers needing to account for precise loading calculations.
For further information on the new 'CleanPal' pallet, please click here or call +44 (0) 845 200 0001