New Air Cargo Facility at Frankfurt Airport
27th November 2019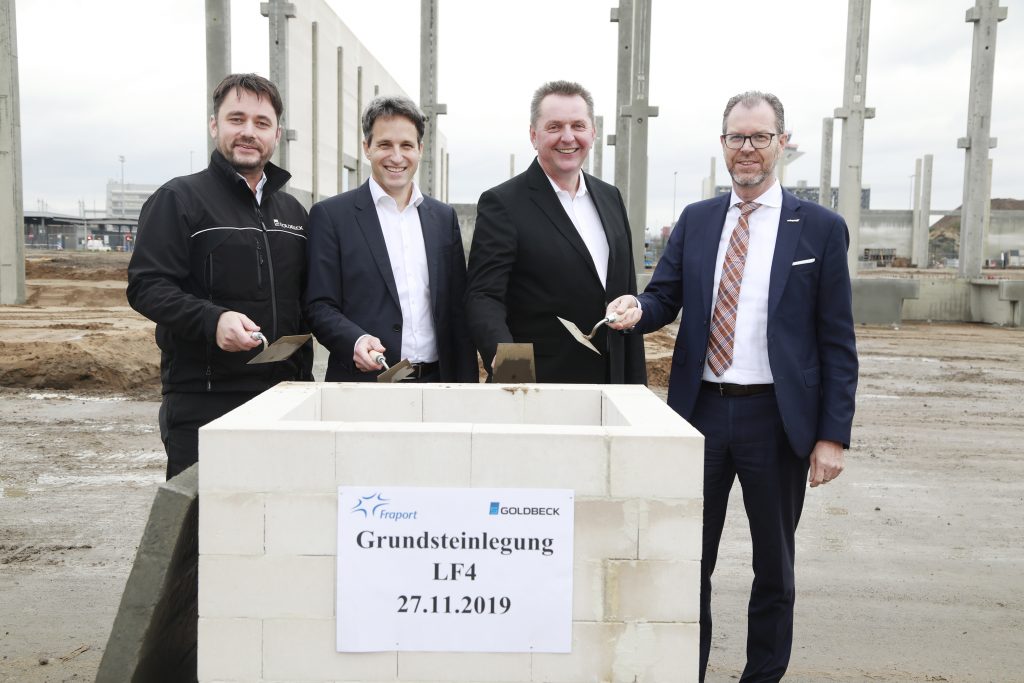 Fraport AG and Swissport Cargo Services Deutschland GmbH today laid the foundation stone for Swissport's new airfreight facility at Frankfurt Airport (FRA), marking another milestone in the future development of FRA as an airfreight location.
The new building at CargoCity South will expand Swissport's handling capacities by almost 50 percent, says the team. "The property meets every requirement for state-of-the-art airfreight handling. The warehouse concept includes a material handling system that allows containers and pallets to be automatically stored in and removed from the warehouse," said a spokesperson. "Swissport is expanding its range of special temperature storage for customers from the pharmaceutical industry. The new cargo centre will be fitted out in accordance with the strict IATA criteria and will be CEIV Pharma-certified after going into operation."
The roof of the freight hall will also be home to the first large-scale photovoltaic system at Frankfurt Airport. It will generate 1,550,000 kilowatt hours of electricity yearly – an amount that would power more than 450 four-person households for an entire year. With this move, Fraport is increasing its focus on the use of independently generated renewable energy to cover the electricity requirements of its home-base airport in Frankfurt.
Almost 50 percent of Germany's airfreight volume is handled at Frankfurt Airport – over two million metric tons in 2018.
Facts and figures on the new air cargo warehouse:
• Capacity: over 200,000 metric tons per year
• Storage space: 17,000 square metres
• Office and communal space: 2,400 square metres
• Outside/manoeuvring space: 12,500 square metres
• Temperature zones in the pharma centre:
o 1,300 square metres (15–25°C)
o 280 square metres (2–8°C)
• 31 docks for trucks/vans, including five truck docks for ULD handling
Foundation Stone Laid for Swissport Air Cargo Warehouse at Frankfurt Airport's CargoCity South. (from left: Mike Flörke, Division Manager at Goldbeck, Felix Kreutel, Senior Vice President of Real Estate and Properties at Fraport AG, Karl-Heinz-Dietrich, Senior Executive Vice President Retail and Properties at Fraport AG, Willy Ruf, Senior Vice President Central & Eastern Europe von Swissport)