NAVIS N4 Terminal Operating System and 'Intelligent' Autogates Open At Port Of Liverpool
10th July 2015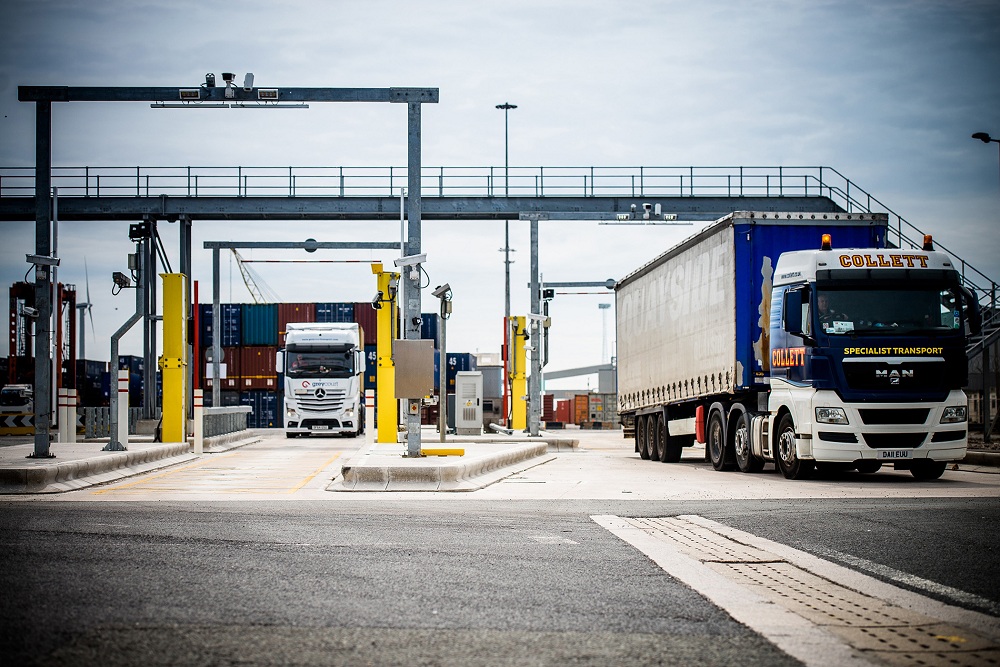 New technology supports faster haulier turnaround and container handling
System part of ?300 million investment in improving port infrastructure
Peel Ports, owners and operators of the Port of Liverpool, has achieved a major milestone in its multi-million investment programme to transform the port into Europe's first semi-automated container terminal. The Navis N4 Terminal Operating System (TOS) and AutoGates are now live and fully operational following the construction and commissioning programmes.
The new TOS and 10-lane AutoGates are the latest phase of new infrastructure in the company's ?300 million redevelopment project to expand and develop Liverpool2, consolidating its position as the UK's largest transatlantic deep-sea port and container terminal. The ?9.7 million information systems investment platform, which has been undergoing rigorous testing in recent weeks, will deliver faster turnaround times through a streamlined process from landside or quayside entry to exit.
The fully automated AutoGate system uses state-of-the-art identification technologies to manage gate operations, ensuring that all containers and trucks are automatically identified before entering or exiting the terminal. Advanced OCR (optical character recognition) and line-scan camera technology (automatically detecting seal presence) link with gate operating software that seamlessly integrates to Peel Port's existing terminal operating software, Navis N4, and Customer Access Portal (CAP). The security process is further completed using biometric fingerprint identification to further validate driver/load identification and enhance security.
David Huck, Port Director, said: "The introduction of AutoGates and the new Navis N4 TOS is a very important step for us in making a difference to our customers, enhancing their experience using the port. We took the bold move to combine both initiatives into a single project to minimise any disruption to normal operations for our customers and to provide the overall benefits sooner. Although this decision came with added risks, we have managed to deliver this significant upgrade to our capabilities, thanks to the planning and hard work of the whole team over many months.
"Haulier transactions are now fully integrated into the N4 system, which means more secure and efficient visits and minimal turnaround times at our terminals. This process will also mean that paperwork and leaving the vehicle are unnecessary, so increasing security, improving safety, reducing risks and saving time spent completing manual checks.
The AutoGate equipment was supplied and installed by Kalmar and its partners, APS Technology Group, who provided the OCR technology.
Tommi Pettersson, VP Automation at Kalmar, said: "Our automated solutions drive greater efficiencies, resulting in lower overall operational costs, improved safety and better equipment availability. Process automation solutions are designed to optimise the information flows within the terminal's business processes to ensure the most efficient equipment utilization."

Scott Skillman, Senior Vice President of APS Technology Group, a member of the ABB Group said: "We are excited to be a part of a host of technology upgrades including the turn up of a new Navis Terminal Operating System and Automated Gate Control Systems in the comings weeks at Peel Ports. The integration of these new systems and their supporting processes represent major advancements for Peel ports that will result in faster processing of hauliers at key areas of the gate and yard. The gate system is designed such that the gate and transfer zones should be much easier and significantly faster than they ever were before, especially once the driving community becomes familiar with the new technology and updated processes."


Andy Barrons, Senior Vice-President and Chief Marketing Officer of Navis said: "Landside collaboration is the single biggest remaining opportunity to reduce inefficiency and Peel Ports is tackling this head-on with the implementation of new technologies and processes that will help to move the hauliers through the terminal more rapidly. Navis is happy to be supporting these initiatives with N4 and we look forward to continuing to work with Peel Ports as they expand the use of these technologies into Liverpool2 and other terminals in the group."


How the system works
Before coming on site the haulier registers their lorry consignment details on a simple and streamlined online system.
On entering the port the system will scan a lorry, capturing all details (container number, container size type, hazard placards, bolt seals, container damage) automatically through optical character recognition. It will also scan the licence plate and take a photo of the driver.
The driver proceeds to a kiosk, scans their biometric ID card (this is linked to the online account used to register the consignment) and answers a few simple questions on a touch screen monitor.
On entering the terminal, the system will direct the driver and inform the Straddle Carrier that unloading/loading will take place.