IAG trials electric terminal tractor at Heathrow
7th September 2022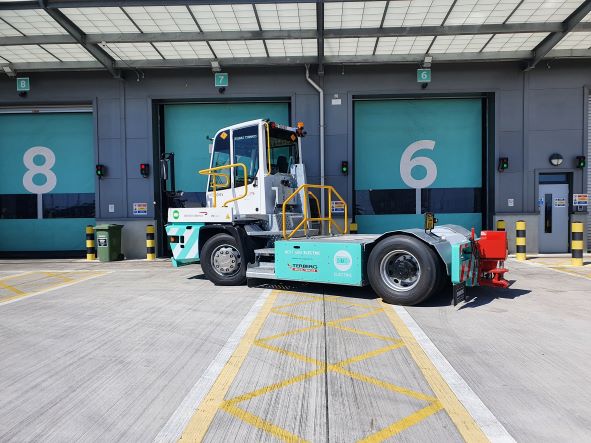 IAG Cargo, the cargo division of International Airlines Group (IAG), has begun to trial the first electric terminal tractor, a Terberg YT203EV, at London Heathrow airport. This is the first electric Terberg operating airside worldwide.
By replacing an existing terminal tractor with an electric Terberg, approximately 30 tonnes of CO2 will be saved per vehicle per year –the equivalent of planting over 1 million trees or taking more than 6,000 cars off the road.
Terberg has been creating electric vehicles since 2014 with the team constantly revising the designs. The latest vehicles can deliver the same capability as the current diesel units in a more environmentally sustainable way, allowing drivers to carry out their work pattern whilst avoiding diesel engine emissions. In addition to its electric solution, Terberg is also exploring the development of hydrogen fuel cell vehicles, having placed a unit in to test on an off-airfield application. This additional environmentally friendly solution will afford Terberg customers such as IAG Cargo further options to achieve their environmental goals.
IAG Cargo is trialling the electric Terberg YT203EV for 12 months, with the ambition to transition its current diesel fleet to more sustainable alternatives, including electric. In the coming years the trial will help IAG Cargo and its partners understand the challenges the business may face when adopting an electric airside fleet, how future electric vehicles could be charged and what additional infrastructure will be needed to support a fleet of electric terminal tractors.
David Rose, Chief Transformation Officer at IAG Cargo, commented: "We're delighted to be partnering with Terberg to trial the first electric Terberg at London Heathrow – this is an exciting advancement for IAG Cargo as we strive to lead on sustainability and be fit for future.
"We are continuously looking at ways that reduce our impact on the environment whilst improving our customer offering. This trial is part of a wider effort supporting our commitment to making IAG Cargo, and the wider industry, more sustainable."
Alisdair Couper, Manager Director at Terberg, added: "This is another step towards reducing air cargo's impact on the environment and so we're thrilled to work with IAG Cargo to see the first electric Terberg already in action at London Heathrow airport."