Europe's largest parcel hub officially opened ahead of 2015 peak
25th September 2015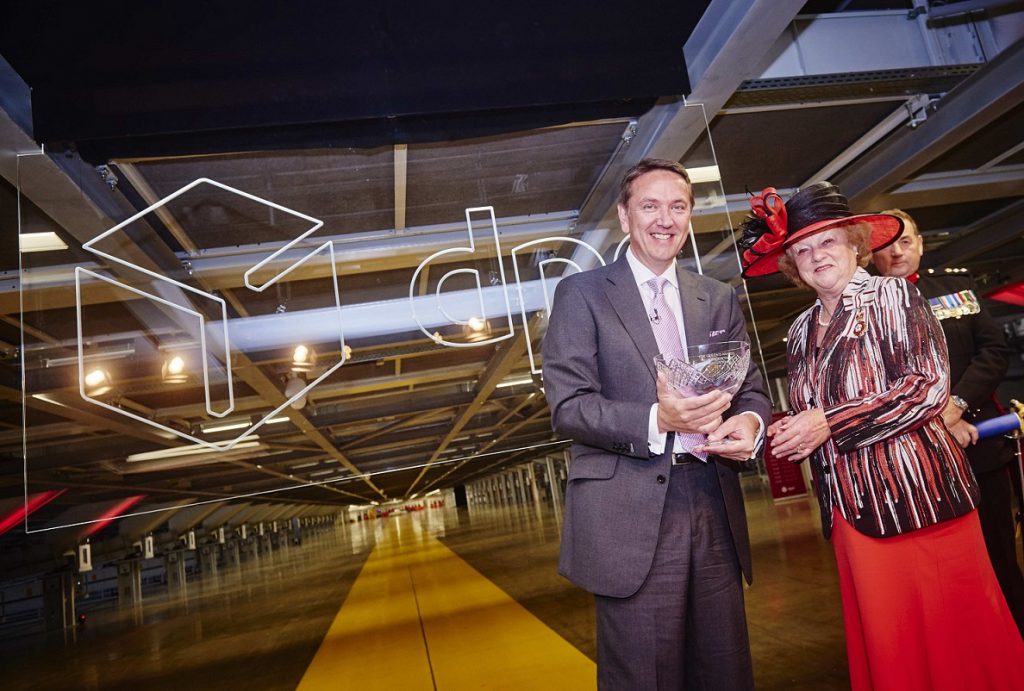 Europe's largest and most technically advanced parcel sorting hub was officially opened by DPD on Thursday 24th September at Hinckley in Leicestershire, with a special ceremony in front of 400 guests, including representatives of many of the largest retail names in the UK.
Philippe Wahl, Chairman and CEO of La Poste, performed the official opening, while HM Lord-Lieutenant of Leicestershire, Jennifer, Lady Gretton JP, was also on hand to present DPD with the Queen's Award for Enterprise, on behalf of Her Majesty the Queen.
Leicester-born footballer and television presenter Gary Lineker was the guest of honour.
The giant new ?100m superhub – which is capable of sorting 720,000 parcels per night – was delivered on time and on budget and will be fully operational ahead of this year's Black Friday and Christmas Peak period.
In total, the project will create 1,000 new, full-time jobs in Hinckley with positions including; deck hands, parcel loaders, management, vehicle maintenance, HGV mechanics, security, admin and IT.
To mark the opening, DPD has also created a short film to show the progress of the build from the excavation of the original site to the stunning new building that exists today. The film can be viewed here.
DPD's Hinckley Superhub facts:
Built on a 33 acre site close to J1 of the M69;
The building itself is 470 metres long and 40 metres wide with 264 loading dock doors;
The build phase involved 250,000 tonnes of earth moved to prepare the site, 4,500 tonnes of steelwork and 75,000 tonnes of concrete;
The hub contains a 3,000 metre long automated sorter, designed by conveyer specialists Beumer.
In addition to the official opening ceremony, DPD's retail customers and shareholders were given 45 minute long guided tours of the facility by members of the team that delivered the project.
Dwain McDonald, DPD's CEO, commented; "Our new Hinckley superhub is an absolutely stunning building and the whole project is a credit to everyone involved. I'm incredibly proud of my team and what we have achieved, so it was real honour to be able to invite Her Majesty's Lord-Lieutenant of Leicestershire, Gary Lineker and our retail customers to see the facility for themselves."


"The superhub is way beyond anything else in the UK and gives us significant scope to expand in the next few years. We've been consistently investing in our network and growing our capacity for some time now to ensure we stay well ahead of the increasing demand for DPD's services. We've also opened around 20 new depots in the UK in the last two years, half of them being brand new purpose-built developments. But Hinckley is the clearest signal yet of our intent.


"Our retail customers already know the quality of our service compared to the rest of the next-day delivery market, today they also saw the scale of our ambition and the level of investment we are making on their behalf."

DPD's growth is based on its unique Predict and Follow My Parcel services which give customers advanced notification of a one hour delivery slot, and allows them to track their driver on a map, or access five 'in-flight' delivery options if they can't be home to accept their parcel. In 2015, the company also introduced DPD Pickup – a network of 2,500 parcel shops – allowing customers to divert deliveries to a convenient pick-up point, close to their home or work.