Enterprise Flex-E-Rent Expands its Temperature Controlled Rental Fleet with Thermo King Units
13th May 2015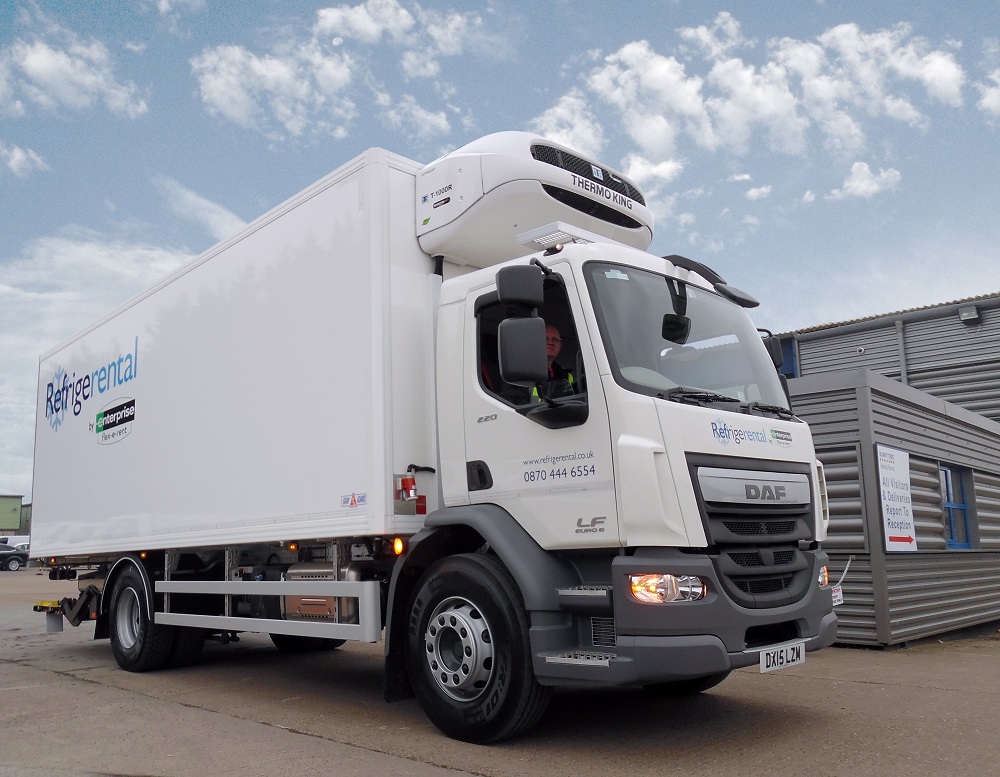 Food service, catering, hotels, grocery and pharmaceutical delivery companies are just a few businesses that benefit from rental vehicles for their temperature controlled applications, ranging from chill to heavy chill and to deep frozen.
To meet the growing demand for renting temperature controlled vehicles, the dedicated division of Enterprise Flex-E-Rent has recently expanded its national fleet with vehicles featuring leading edge refrigeration units from Thermo King, a manufacturer of transport temperature control solutions for a variety of mobile applications and a brand of Ingersoll Rand.
The new temperature controlled vehicles are equipped with the multi-temperature units from Thermo King: the vehicle-powered V-300 Max Spectrum on pharmaceutical specification Mercedes-Benz Sprinter vans and the T-1000 Spectrum diesel powered truck model on the large rigid vehicles. These Thermo King units compliment the high standards expected by Enterprise Flex-E-Rent, offering customers unsurpassed versatility, efficiency and ease of operation.
The units have been delivered by Thermo King Northern, a member of the most extensive dealer network in the industry, and one of the main Thermo King dealerships with over 30 years of experience in UK and Ireland. Each unit is covered by a service and maintenance contract from Thermo King Northern to ensure it is maintained in the optimal condition for maximized uptime.

"In a short period of time, our temperature controlled product line has grown tremendously, thanks to an extensive fleet of high specification, state-of-the-art vehicles supported by the highest levels of customer service," said Danny Glynn, managing director at Enterprise Flex-E-Rent. "Thermo King is a well proven brand in the UK and its approach to providing us with long term commitment and a comprehensive nationwide support service is key in enabling us to maintain and grow our market-leading proposition."


"We are delighted to partner with Enterprise Flex-E-Rent offering the latest Thermo King units and providing a whole life cost solution to support their flexible operation," said Andrew Davis, account manager at Thermo King Northern. "With decades of experience as a Thermo King dealer, we have worked hard to earn our reputation as a trusted business partner to the temperature controlled transport industry providing sales and after-sales service to keep the sector on the move."

The Thermo King T-Series range has set new industry standards for reliability, performance, efficiency and low cost of ownership, delivering greater capacities at lower operating speeds and enabling precise temperature control.
The T-Series Spectrum range units meet the customers' demands of any multi-temperature distribution operation providing reduced noise levels and emissions, while maximizing performance, efficiency and reliability. With a choice of two or three blower remote evaporators that can be used in a number of different configurations, customers can additionally benefit from the flexibility to accommodate different distribution operations.
The Thermo King V-Series range of vehicle-powered units provides customers with highly flexible and reliable solutions for vans and trucks offering choice of heating capabilities, electric stand-by and multi-temperature options.
Higher efficiency and performance standards provide customers with the required cooling capacity at all temperatures and enable faster temperature recovery from multiple door openings during distribution operations. Continuous monitoring of the load and temperature control is easy to operate through the Direct Smart Reefer microprocessor control.