Crown launches new multi-purpose lift truck with high-lift mast
27th November 2015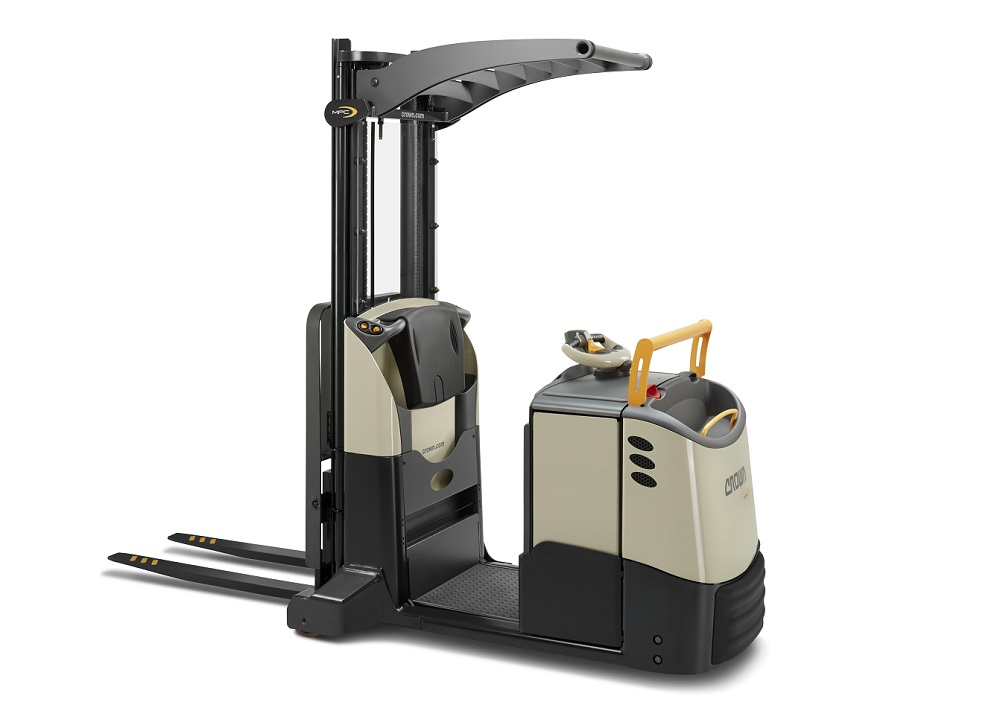 Crown, one of the world's largest material handling companies, has just launched across Europe a new range of multi-purpose lift trucks – the Crown MPC 3000 Series. Capable of travelling at up to 12.5 km/h and lifting 1,200 kg to a height of 4.3 metres, the Crown MPC 3000 Series combines all the benefits of an order picker with the advantages of a counterbalanced lift truck. The adaptability of the trucks in the new series means they are suitable for use in a wide variety of warehouse applications.

Many tasks – one solution

The MPC 300 series combines many features into a single lift truck, enabling it to tackle a wide variety of tasks. It is fitted with high-lift masts, making them ideal for order picking, put-away, long-distance transport, replenishment and sandwich stacking. A counterbalanced design means the trucks have no load arms, so they can work in close proximity to machinery, sandwich-stack 4-way pallets, and manoeuvre in tight or congested areas with unhampered efficiency and safety. As recently confirmed by Christoph Gruter, Head of Logistics at Roto Frank Bauelemente GmbH in Bad Mergentheim, Germany, where the lift trucks have already been subjected to intensive on-site testing, "With a sturdy duplex mast capable of lifting loads to a full 4.3 metres plus a compact design with no intrusive load arms, these trucks are working in our warehouse as versatile all-rounders. The MPC 3000's amazing agility and exceptionally high lift speeds have made a very positive impression."

Not only is the new lift-truck series capable of providing the perfect ergonomic working height for any order-picking task, it is also capable of sandwich-stacking multiple pallets that simplifies the put-away process at the receiving facility in certain applications. The high-lift mast also enables the truck to respond swiftly to demand by replenishing low-level pick slots from high-level shelves or racks. This is an operation that would previously have required a separate reach truck or high-lifter.

Reliable, ergonomic, safe

The new multi-purpose lift truck combines its stable, high-lift mast design with cantilevered, adjustable ISO forks unhampered by load arms. This combination means that the truck is capable of lifting full-capacity loads (load centre: 600 mm) to the full height of the mast. And thanks to the nested I-beam mast construction, plus clear-view fork carriage and overhead guard, operators have an almost unobstructed field of vision forwards and upwards, so they can position forks and loads quickly, precisely and safely. Optional lift/lower buttons on the backrest offer even better vantage points for positioning loads – both on and off the truck.
Lift trucks in the Crown MPC 3000 Series are exceptionally rugged thanks to an all-round solid steel construction that makes them capable of withstanding the most intensive usage. The large, long-life load wheels are designed for ease of access and replacement. The tried-and-tested Crown AC traction motor is characterised by high reliability and powerful acceleration. For greater safety and optimal performance, the truck automatically adjusts its cornering speed and acceleration according to the steer wheel angle, fork height and load weight. Together with responsive brakes and a suspended, shock-absorbing floorboard, operators have more confidence for even safer operation.
The advanced design includes other proven Crown features, such as Access 123®, e-GEN® braking and electronic steering. Fleet managers can also choose from a wide range of optional Work AssistTM accessories, enabling them to customise trucks for specific requirements and create an even more ergonomic, user-friendly working environment. Christoph Gruter at Roto Frank Bauelemente sums up the benefits, "The trucks' ease of use, plus a broad selection of options and accessories, add significant value and make our operators' lives much more comfortable."

The MPC 3000 Series is available with a non-telescopic mast (1780 mm lift height), a simplex mast (4200 mm) or a duplex mast (4300 mm).