Air Horse Stall ULD Delivered
14th February 2023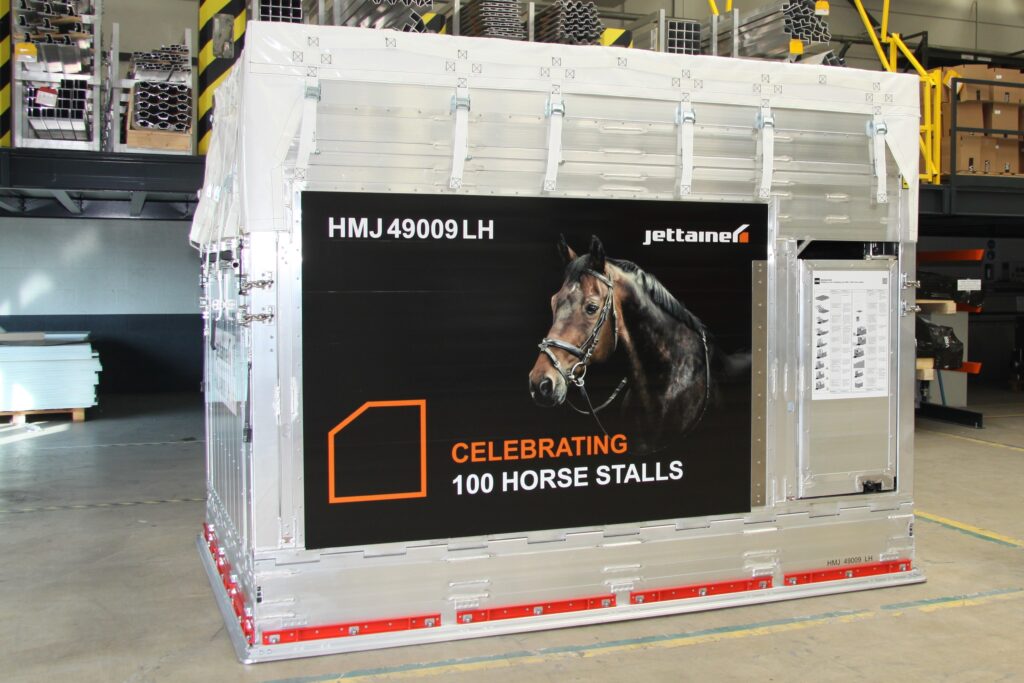 Jettainer and VRR, the leading provider of ULD devices, are celebrating their long-standing collaboration with the 100th air horse stall. The global leader of ULD management, Jettainer, which handles approximately 100,000 ULDs in 500 locations around the world, is constantly refining its service and product portfolio to meet the specific needs of its customers. Its collaboration with ULD manufacturer VRR since 2010 has played an important role in this successful approach.
"We feel very proud that Jettainer is still coming to VRR for its containers after more than a decade of doing business," says Ben Lakerveld, Sales Manager of VRR. "They deliver top-of-the-line services so we have to deliver top-of-the-line containers. To do so, we also have to keep listening and innovating."
Until 2019, Jettainer bought mainly HMJ stalls from VRR. It then switched to the collapsible version, which can be folded for lower-deck transportation on return flights. Most of their horse stalls are leased to their parent company, Lufthansa Cargo AG, which provides individualised transportation for Live Animals.
"Every year, our customers fly a four-digit number of horses to all corners of the world," says Marcus Bezold, Head of Global Handling Performance Management at Lufthansa Cargo AG. "We appreciate Jettainer and VRR's horse container solutions because they guarantee comfortable travel with minimum stress and maximum safety."
The designs of VRR's air horse stalls rely heavily on input from equine transporters, and Lufthansa Cargo AG is one of those important collaborators. The airline's experience in transporting horses by air has helped VRR greatly over the years to engineer quality and innovative containers like the HMR and HML.
"The collaboration with VRR is exceptional and their products meet latest standards. What we like about the collapsible horse stall," explains Frank Mühlenkamp, Director Global Operations at Jettainer, "is that it cuts down the cost of empty ULD repositioning without compromising the well-being of the horses. It really helps us and our customers maximise fleet utilisation."
With approximately 100,000 Unit Load Devices (ULDs) in 500 locations worldwide, the global leader Jettainer operates the world`s most efficient ULD fleet.
Through its unique combination of dedicated teams and leading IT landscape, using big data and artificial intelligence, the industry expert guarantees steering and positioning as well as maintenance and repair with 100% availability of containers and pallets. A strong partner and independent repair network, close to the customer's processes, completes Jettainer's global setup with local presence. Meaningful innovation and digitization for highest efficiency at lowest cost are key for the transparency driver. Its continuously enhanced service and product portfolio is complemented with ULD leasing services, cool management and temperature chain solutions.
Jettainer GmbH is a wholly owned subsidiary of Lufthansa Cargo AG.