Air Cargo Hub Jewel
14th February 2023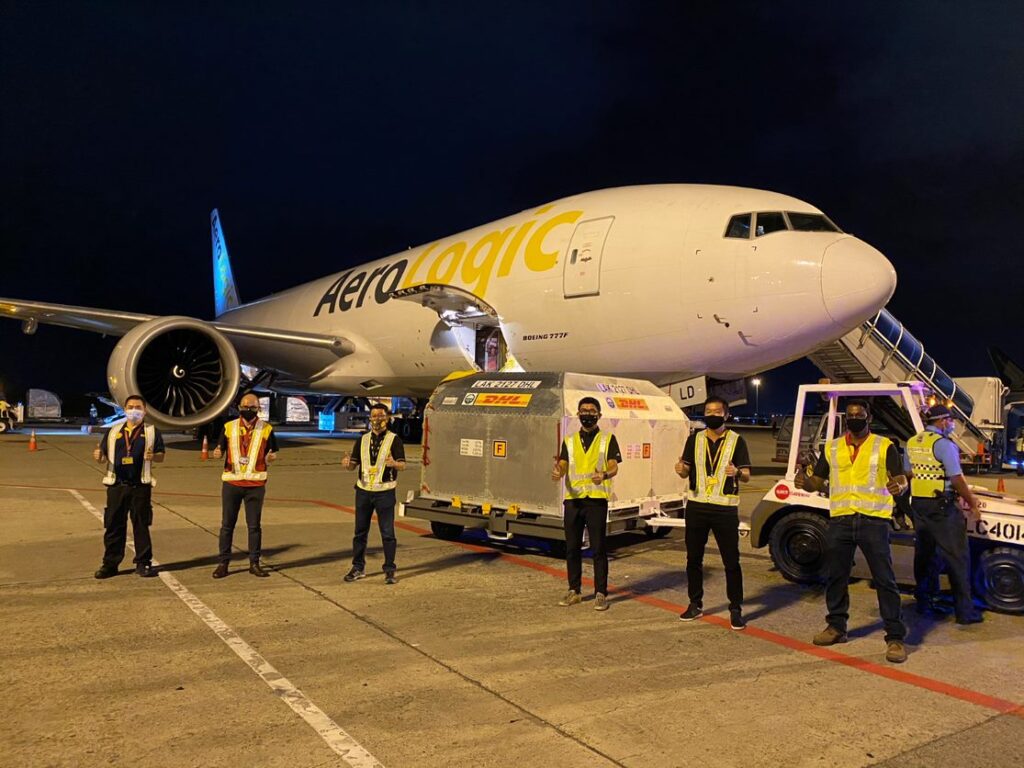 Where is the air cargo market headed? David Priestman met Mr Lim Ching Kiat, Managing Director for Air Hub Development at Singapore's Changi Airport Group (CAG), at the World Air Cargo Forum in Miami to gain a perspective.
Despite short-term challenges, such as global economic uncertainty and inflationary pressures, air cargo continues to flourish. CAG is owned by the Singaporean government but is self-governing and remains steadfast in its mission to facilitate global trade. "Our goal is to bring more traffic overall; more airlines and more destinations," Mr Lim informed me. "Our motto is 'Welcome to World Class'."
Total air cargo throughput has recovered to near pre-pandemic levels, 2m tonnes p.a. at Changi, but is heavily dependent on belly capacity in passenger jets. "Cargo recovered more quickly than passenger traffic," Lim added, "because there are no borders for freight. But it is quite flat so we are cautious." The ban on western airlines flying in Russian airspace reduces capacity but is leading to new lanes. Another big holdback is the lack of travel in and out of China, which was Changi's number two passenger market pre-Covid.
Changi's top five air cargo markets currently are China, Australia, USA, Hong Kong and Japan. Lim sees growth potential in South East Asia, where diversification is creating new, resilient supply chains. He identified key verticals: perishables, pharmaceuticals, ecommerce, oil/gas and advanced materials.
New cargo links
Pursuing air cargo connectivity and capacity, as well as building long-term competitive advantages, are paramount to the Changi cargo hub and it will continue efforts to work closely with airline partners to expand their freighter operations and passenger flights. Changi Airport has recently welcomed three new freighter operators – SpiceXpress, Tasman Cargo Airlines and Atlas Air. DHL Express has supplemented its intercontinental trans-shipment network from Changi with partners, including five Boeing 777 freighters jointly operated with Singapore Airlines operating on routes via points in North Asia and Australia.
The pandemic has shown that global supply chains are vulnerable but there is a pressing need for the air cargo sector to move forward with digitalization and automation, in order to improve the efficiency of otherwise manual processes. Digitalization will also enable an interconnected air cargo ecosystem and empower data-sharing. Through this, improved supply chain visibility for better demand planning and operational excellence can be achieved.
CAG is facilitating closer industry collaboration. A community data-sharing platform – Changi Air Cargo Community System, is an open ecosystem of applications underpinned by an information-sharing platform that aggregates export data from all forwarders and shippers involved in the cargo handling process.
Among the first use cases is the Truck Dock Slot Booking application, which aims to even out cargo lodgement and collection at the handler's airfreight terminals, thereby reducing waiting time. Lorries/trucks arrive exactly when the shipment is ready, optimizing resources and supporting the airport's sustainability efforts.
CAG also focuses on pharmaceutical handling capabilities. Locally, it has established a large community of IATA pharma-certified companies. It meets to discuss emerging pharma supply chain trends and discuss how to address these. "We offer economies of scale, compared to other hubs," Lim stated. CAG continues to automate materials handling in its warehousing due to the shortage of manpower.
Changi Airport's cargo facilities will be expanded with the opening of the new Changi East Industrial Zone (CEIZ), built on land reclaimed from the sea, as part of the Changi East Development, in the mid-2030s. CEIZ will serve airfreight, air express and maintenance, repair and operation activities. Together with a re-modelled Changi Airfreight Centre that forms a contiguous cargo village, handling capabilities will increase from 3 million tonnes per annum today, to 5.4 million tonnes per annum when the project is completed. With CEIZ, CAG also hopes to better serve freighter operations with a sizeable increase in freighter bays.