Cleveron moves towards autonomous delivery in NL
25th November 2021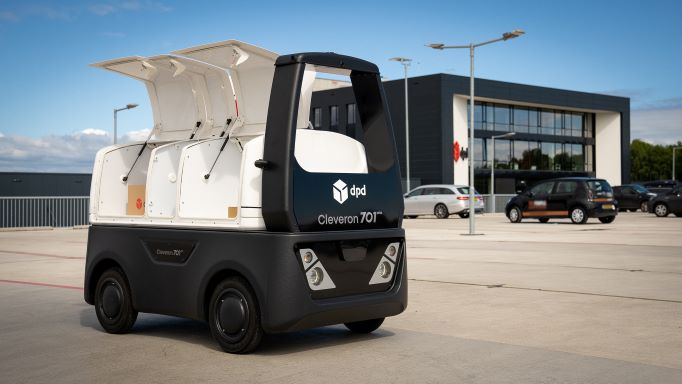 Estonia-based technology company Cleveron's unmanned autonomous vehicle took on the city of Eindhoven, the Netherlands, to be part of a 5-day pilot project carried out by DPD Netherlands and Cleveron. This marks the start of bringing autonomous delivery services to the public streets of the Netherlands.
The rapid growth of e-commerce has changed the playing field for companies operating in the retail and logistics sector. Keeping up with consumer trends requires a modern approach; thus, adopting new technologies and clever solutions is essential. Cleveron and its robot courier, Cleveron 701, offers just that.
Cleveron 701 is the first unmanned autonomous delivery vehicle in Europe with a license to operate on public streets. It's designed as a multi-purpose delivery platform to which the operator can add suitable modifications for serving different delivery needs.
So, how does a robotic courier service differ from a conventional service? For the consumers, the ordering process stays similar to any other service. However, on the operational side, while the delivery process is autonomous, each robot is supervised remotely by a teleoperator. Teleoperators assist autonomous robots in managing tricky situations in traffic, resulting in a safe and steady journey through the city.
As Cleveron's technology evolves, a ratio of 1:10 will be achieved. This means that just one teleoperator will monitor a fleet of 10 autonomous delivery vehicles. This drastically reduces last-mile delivery costs and resolves the challenges of driver shortages in the logistics industry.
"DPDgroup is an innovation leader in the logistics sector, and we are delighted to have performed an exploratory pilot together with DPD Netherlands, advancing the development of robotic courier services," explained the CEO of Cleveron, Arno Kütt. "We will continue developing and improving our solutions to make last-mile delivery quicker, more efficient, and sustainable. This will benefit both companies and consumers alike."
Jorin Aardoom, Manager of Data & Innovation at DPD Netherlands, added: "At DPD Netherlands, we strive every day to do better for our parcel senders and receivers. We are proud to experiment with innovative solutions for a sustainable future in parcel delivery. The pilot of autonomous delivery together with Cleveron showed promising results. DPD Netherlands is excited to explore more innovative solutions supporting a future in green, sustainable delivery and mobility."
Thus far, the vehicle had been driving on Estonian city streets; this is the vehicle's first experience driving and delivering parcels abroad. As it turns out, home-field advantage is not a significant factor. The vehicle can drive anywhere successfully and be safeguarded by a teleoperator even from Estonia, some 1,500km away from the Netherlands.
CLICK HERE to watch the video.