Verallia enhances sustainability with Metrocargo
24th February 2022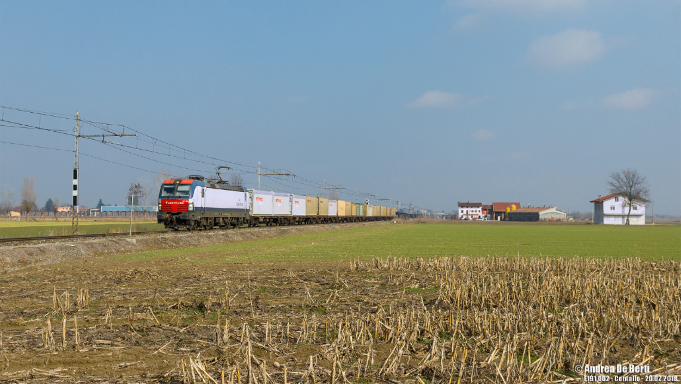 Verallia, a European leader and the world's third-largest producer of glass packaging for beverages and food products with 32 glass plants in 11 countries, has successfully concluded the tests to manage, through intermodality, inbound and outbound logistics between Piedmont, Lombardy and Veneto in Italy.
The project, which involves the railway terminal in Borgo San Dalmazzo (Cuneo) and Verallia plants in Gazzo Veronese (Verona), Villa Poma (Mantua) and Lonigo (Vicenza), was studied and carried out thanks to the commitment of Sibelco Italia with the essential support of multimodal transport operator Metrocargo Italia.
Metrocargo Italia has operated in Borgo San Dalmazzo since 2018, when it started also in the province of Cuneo a new branching of its service for the delivery of various import/export product categories started in 2013 in partnership with railway undertaking FuoriMuro Servizi Portuali e Ferroviari (owned by Metrocargo Italia for a 28.6% share) for rail traction and with local carriers to manage first- and last-mile by truck.
As explained by Melania Molini, General Manager at Metrocargo Italia, the services provides the rail transport of raw material (sand) between Borgo San Dalmazzo (Cuneo) and Valdaro (Mantua) and the return to Piedmont, always managed by rail, with the outbound finished product (glass bottles): "We have demonstrated that it is possible to saturate the train improving the balance of round-trips, assuring to our customers increasingly satisfactory costs and higher levels of service with very positive impacts on the reduction of the emissions of CO2.".
Operatively, this model of innovative logistics will allow to manage the transport of about 68,000 pallets per year towards Piedmont, with an annual saving of 2,366t of CO2, equal to those absorbed in a year by a forest of 80,000 trees.
Antonino Virgillito, Supply Chain Director at Verallia Italia says: "Our commitment to sustainability continues with very positive results; in fact, in 2021 we reduced our total polluting emissions by 12% compared to the previous year. This figure increases significantly if we consider the only transport of sand – one of our raw materials – that until 2019 was handled only by truck.
"Thanks to this important partnership and to the choice of rail transport, we can avoid 45% of emissions and take 4,000 trucks off the roads every year, thus reducing pollution and congestion of road arteries."