Time to get into peak condition
20th June 2022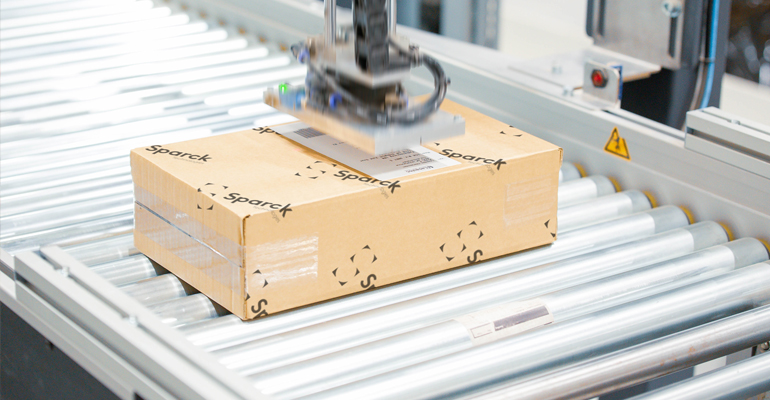 Peak season will soon be upon us, but how will ecommerce businesses cope when labour is hard to find? Now is the time to think ahead. By Jo Bradley, Business Development Manager, Sparck Technologies.
The Platinum Jubilee celebrations caught a few online retailers and distributors out, with reports that some were having to decline new orders while they cleared fulfilment backlogs. In fairness, this was a peculiarly difficult peak to forecast, the last historical comparators being a full ten years ago, when ecommerce was still 'niche'. The experience should, however, concentrate minds on preparations for the more familiar seasonal peaks that occur towards the end of the year in what retailers often term the 'golden quarter'.
Of course for many retailers the golden quarter isn't a single event. Before we get to Christmas there is Halloween, Bonfire Night and the notorious Black Friday/Cyber Monday to navigate – not necessarily with the same assortment of goods in peak demand. For some businesses the peak starts early, with 'back to school' trade. Specialist traders may have their own peak events – a random selection from December alone offers English Breakfast Day (2 December), Small Business Saturday (3 December) and Christmas Jumper Day (9 December). A major complication for demand and resource planners this year will be the FIFA World Cup, running from 21 November to 18 December which, at least in England and Wales, may have a significant impact on shopping patterns.
Online seems to have stabilised at around 27% of UK retail spend – well off the level at the height of the pandemic but still way above the 19% of the last pre-pandemic year. More significantly, non-food online trade last Christmas was a full 24% above the 2019 level: even if there is no resurgence of Covid, seasonal flu outbreaks could see consumers satisfying their seasonal needs with their fingers rather than their feet. Packing all these orders over a seasonal peak has always been a challenge for businesses – even more so this year with acute labour shortages, elevated wages, increased NI and a national scarcity of warehouse space in which to accommodate peak activity. Not to mention the rising price of packaging materials.
Automation is the answer, but faced with the infinite variety of sizes, shapes and weights that make up a typical consumer order, this has often been seen as too complex and expensive an investment for something that is only crucial for a few months of the year.
That is really no longer the case. Automated 'right-sized' packaging for each individual ecommerce order is now readily available to small-to-medium sized enterprises, as well as larger ecommerce businesses. CVP Automated Packaging Solutions from Sparck Technologies create 'right-sized' boxes in seconds by scanning and measuring the goods – single or multi-item orders – cutting to size and erecting the box, sealing, weighing, and labelling automatically.
Two of the UK's largest retail brands have invested in Sparck Technologies' CVP solutions with the primary purpose of increasing capacity within their ecommerce operations during critical peak periods – building in operational resilience. With the capability to tailor-make up to 1,100 packages per hour, for multiple or single item orders, the CVP Everest and CVP Impack packaging systems typically replace between 8 and 20 manual packaging stations.
As importantly, though, automated packing makes best use of two other scarce and costly resources – delivery drivers, and packaging materials. The shortage of drivers, from LGVs on trunk routes to last mile delivery, is well publicised and isn't going to resolve itself soon. Right size packing can reduce the volume of goods by anything up to 50%, vastly improving the productivity of truck and driver and reducing delivery costs. Meanwhile, cardboard usage is typically cut by 30%, and with no need for void fill packaging material costs can be substantially reduced – which also pleases the increasingly environmentally aware consumer.
With cost savings and productivity gains at these levels, CVP automated packing lines aren't just for Christmas, they keep delivering a return on investment throughout the year. Perhaps now is the time to get into peak condition, before it's too late.