Sitma ready for LogiMAT after Milan success
20th May 2022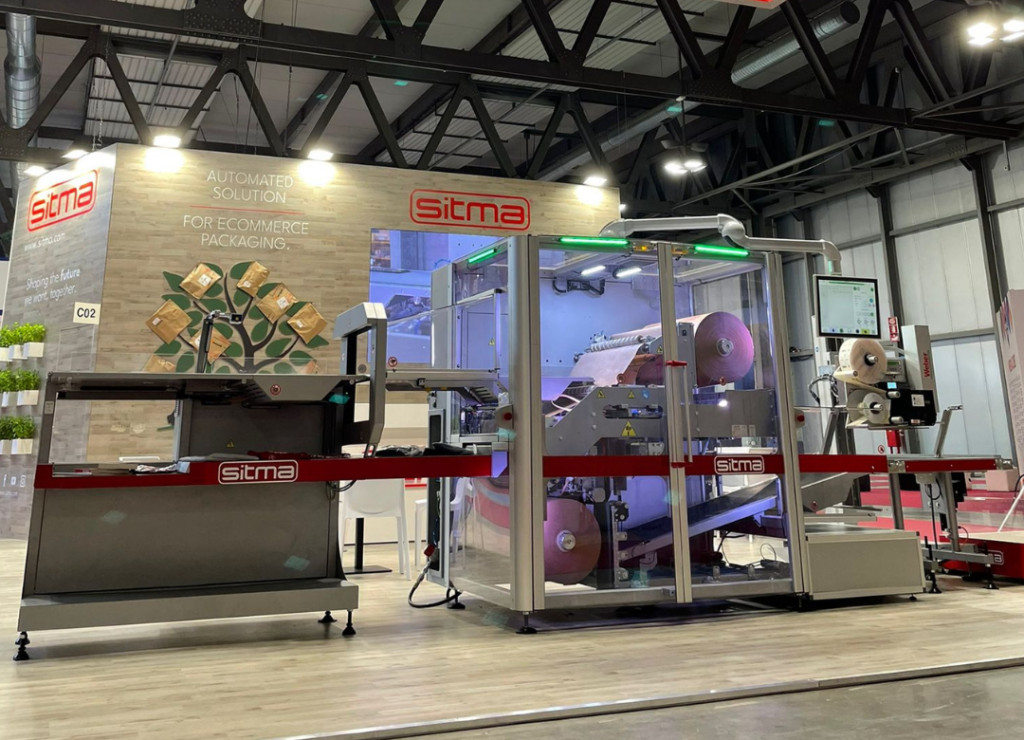 Having very successfully concluded IPACK-IMA, the first in-person edition after almost three years, Sitma is now ready for LogiMAT (Stand C46 in Hall 5).
The event – a must for the intralogistics and e-commerce world – will be held from 31 May to 2nd June in Stuttgart, where the Sitma team will keep on focusing on its brand new Paper E-Wrap (pictured), the packaging wrapper with paper that already attracted great interest in Milan.
LogiMAT is a key step in Sitma's strategy, which is fully committed to developing turnkey solutions for the e-commerce sector.
The aspects most appreciated about the semi-automatic Paper E-Wrap solution for e-commerce packaging are:
Compact design: with a footprint just over 5 metres, the machine comes with a power supply, a packaging feature and labelling device. It immediately stands out for its modern and modular design with small overall dimensions.
Simple process and use: just place the products on the feeder belt and the machine takes care of the rest: it reads the barcode, sends label printing and application inputs, measures the 3 dimensions of the product(s) fed and packages – and Bob's your uncle.
Sustainable: it works with heat-sealing paper, which therefore does not require additional glue. The result is a fully recyclable package.
Customisable: depending on the different production needs, it is able to manage either single or multiple products, it can print promotional and/or administrative documents in-line and automatically add them to the order. Plus, it can come with scales and labelling systems.
Suitable for any industry: with the Paper E-Wrap you can package objects and products from different e-commerce sectors, such as clothing and footwear, books and media, and consumer electronics  – versatility is the key word.
Sitma's offer for the logistics sector does not just include cutting-edge machines such as E-Wrap, previewed in Milan. It also comprises a wide range of sorting systems that are ideal for automating modern logistics centres. Wrapper's portfolio includes units featuring top performance levels such as Fast Pack, which – depending on the type of object to be packaged – can reach up to 3,600 pieces/hour.
Along with their ergonomic design and high degree of flexibility, a feature shared by Sitma's range of wrappers is once again the ability to create packages based on their contents. This allows for optimisation in terms of space and materials, a gain for both customers and for the environment.
Today, Sitma says it has unique know-how in using paper-based materials, which allows it to offer its customers an alternative to traditional plastic film employed for packaging purposes. Forty years of experience in packaging have also given it a mechanical expertise that stands as a benchmark in the automation sector and allows the company to develop customised solutions that are both high-tech and highly flexible. Its current expertise does not just stem from decades of experience, but also from its forward-looking approach to the market. This has always led the company not only to follow, but to anticipate trends. This is why Sitma was among the first companies in the sector to develop e-commerce solutions, which have now given it a competitive edge.