Sustainable plastic pallets for chemical industry
15th November 2022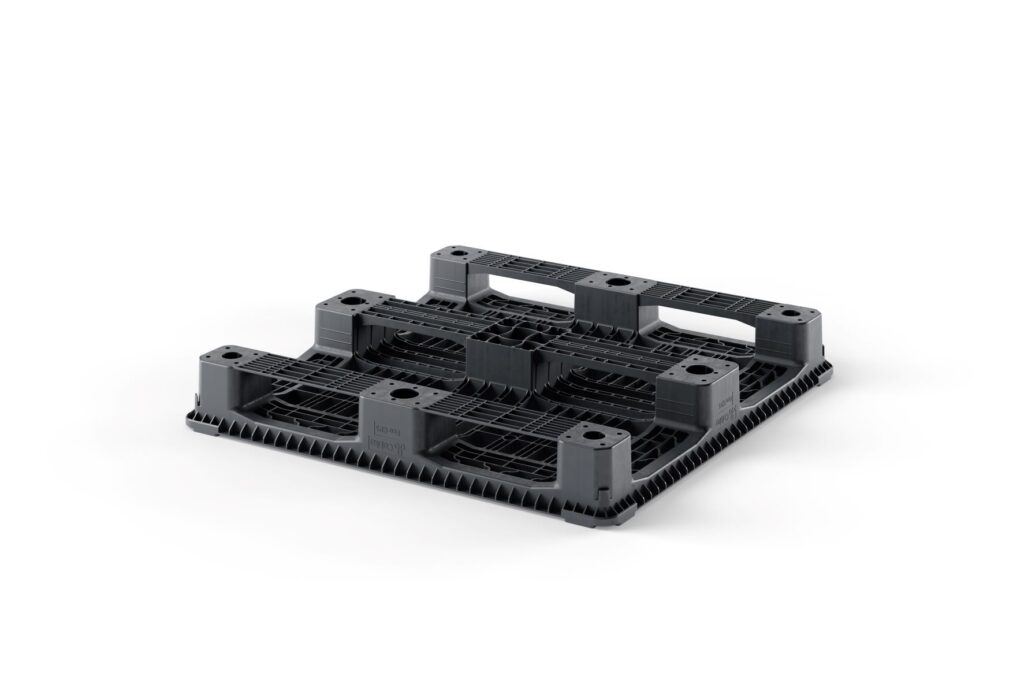 Cabka, a specialist for load carriers made of recycled plastic, now provides two new pallets: the Eco CP3 and the Eco CP9. These are designed to make the logistics of the chemical industry more efficient and at the same time meet the requirements of the circular economy. The two pallets are on a similar economic level to the wooden pallet solutions but with the advantages of a plastic pallet. Cabka is thus pursuing its goal of combining economic efficiency with ecological sustainability.
Cabka has numerous pallets in its range for the chemical industry with different designs, sizes and specifications. "We improved the design for the next generation of Eco CP3- and Eco CP9- pallets. With the input of the world's leading chemical companies, we have made these sustainable load carriers more reliable and safer than existing solutions on the market," explains Jean-Marc van Maren, Chief Product Officer at Cabka.
Plastic vs. wood
The use of plastic pallets in the chemical industry is becoming increasingly popular – until now, the industry usually transported its containers on special wooden pallets. However, these have some disadvantages: Their heavy weight is a double burden – resulting in difficult handling and rising transport costs. The wood is susceptible to moisture and contamination which can also affect the cleanliness of the items stored on it. Broken or splintered pallets can injure employees as well as damage packaging and often need to be repaired.
In addition, irregularities easily cause disruptions in automated storage and transport systems which are increasingly used in the chemical industry. Another aspect is that wooden pallets are often not available in sufficient quantities in times of a prospering economy, resulting in delays and bottlenecks. In order to improve logistics processes, alternative solutions are therefore increasingly coming into the focus of users.
Plastic pallets have many advantages: they are extremely dimensionally stable and have a long service life. Shrinkage or breakage play no role with them. Exact dimensions and shapes ensure a high level of process reliability and enable precise adaptation to automated storage and conveyor technology. Their low dead weight relieves employees during manual handling and saves costs, fuel as well as CO2 during transport. The robust and pest-free surfaces are easy to clean, achieving the highest hygiene standards. Nestable pallets also reduce floor space and storage costs. Users thus benefit from numerous functional and economic advantages.
More sustainability, safety and process reliability
The Eco CP3 and Eco CP9 pallets are equivalent to the standard CP3 and CP9 pallets, offering numerous advantages for the users as they are made of recycled plastic and not wood. They are sustainable like all Cabka products – the company uses 100% recycled materials that are themselves 100% recyclable for all its transport solutions.
The pallets are safe, since they prevent injuries caused by splinters, rotten wood, but also packaging damage such as torn big bags and sacks. The load carriers offer consistent dimensions and impact resistance, helping to reduce stoppages when working with automation systems. The pallets carry loads safely also in high racking. All these advantages help save costs.
The pallets for chemical industry producers, suppliers and companies, which export products to customers with high hygienic standards, are now even more user-friendly: Cabka increased the number of ribs at the runner and the corner radius runners-feet in order to make the bottom deck more resistant. The corners are also reinforced to improve impact resistance.
The Eco CP3- and Eco CP9-plastic pallets are very light yet robust and shock-resistant. The CP3 is a three-runner pallet made from recycled polyolefin with 1,140 x 1,140 x 150mm (w x l x h), and a weight of about 12.5kg. The pallet is designed for dynamic loads of 1,400kg. At a weight of 14kg, the CP9 is similar in design to the CP3. The difference is that this pallet has a double-deck design. Due to the five runners, this pallet is even more stable than the CP3. Its design makes it particularly suitable to block stacking, as the support frame optimally distributes the weight over the load underneath.