Plastic – an advantage in winter conditions
9th December 2022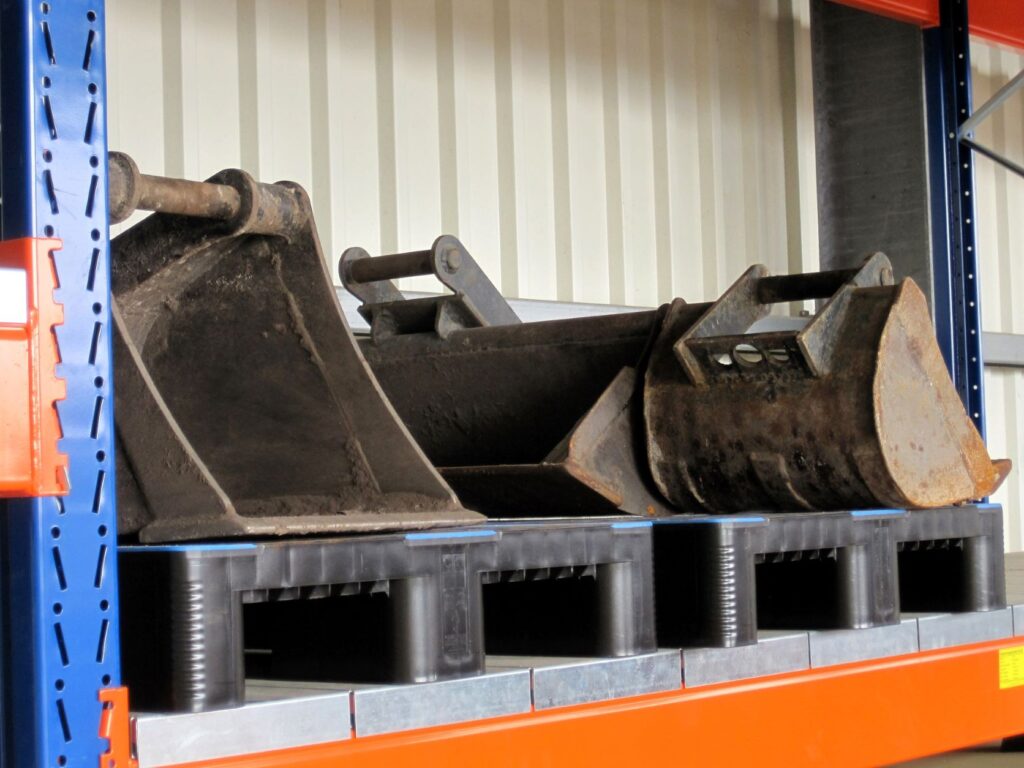 Construction work in cold, ice and snow – the winter months are a great challenge for the building and civil engineering sector. Advances in technology as well as the development of new materials and products mean that construction sites can now run smoothly almost without interruptions, even during the winter months.
With more than 60 years of know-how in plastics processing, the Craemer Group is actively contributing to this trend with its range of high-quality products made from injection moulding. For the construction sector, the family-owned company offers a robust range of pallets, boxes and containers made of pure polyethylene (PE). All products are easy to handle, load and fill, empty and clean.
Craemer, a leading manufacturer of durable and sustainable load carriers and containers made of robust plastic, benefits from decades of experience and its own modern technical centre at the group's headquarters in Herzebrock-Clarholz, Germany. In this centre, research and development, design and tool making are closely interconnected – together they form the cradle for innovations.
This is the hub where new products are developed and already existing products are further improved, while practical trials are performed to determine their suitability for use, various areas of application and different framework conditions. This is also the place where cross-site teams deal with interdisciplinary approaches and sustainable solutions, using alternative materials and combinations of plastic and metal.
International presence – interdisciplinary expertise
Thanks to its international presence, a network of sales partners and close customer contacts, Craemer says it is able to anticipate and pick up market requirements and trends at an early stage. This permits the group to quickly develop solutions and implement them in innovative products and processes across various sectors of industry. In the plastics business area, this comprises pallets and pallet boxes, skips, tubs and buckets, bins and universal containers for the building and civil engineering sector.
The construction industry also benefits from Craemer's many years of interdisciplinary experience and expertise with a wide range of materials, as well as from continuous investments in new technologies.
The construction industry is one of the most crucial economic drivers. Due to many upstream and downstream branches of industry, numerous application fields and fast processes typical for construction sites, this sector is characterised by a high turnover of materials and a large amount of transport. Robust, handy and durable items for transport and storage are therefore indispensable for ensuring smoothly running processes.
Plastic: hard-wearing and durable
As a developer and manufacturer of high-quality plastic containers for storage and transport, Craemer knows the requirements of the industry and has optimised its product range for construction works to match these. Whether sun, rain, ice or snow, in freezing and hot temperatures: With the robust and durable Craemer portfolio, the construction industry is always well prepared for every season.
Plastic products from Craemer, i. e. pallets and containers made of high-quality polyethylene (PE), are absolutely weatherproof and break-resistant – even after years of intensive use.
Compared to other materials, plastic also offers many advantages for outdoor use. Craemer has bundled these advantages in the PE portfolio for building and civil engineering. The relevant products impress with their high resistance and durability as well as their long service life – thanks to single-mould production and their stable construction. Due to the thick-walled products, the entire portfolio is highly shockproof and impact-resistant. The low weight makes daily handling considerably easier. And what's more: the seamless manufacturing process and the smooth surfaces of the plastic products ensure easy emptying, cleaning and drying.
Craemer's ready mortar skip
Craemer says its ready mortar skip (FMK) is the number 1 in construction. Specially developed for transporting ready mortar, this skip is incomparably impact-resistant and optimised for the tough everyday work on building sites. Massive wear ribs prevent the floor from chafing. The robust D-SMK skip for thin-bed and silo mortar is the ideal complement to the ready mortar skip.
Just like the FMK, the D-SMK has sturdy brackets and handles and a high load-bearing capacity. Provided that it is properly used and regularly maintained, the TÜV certifies a safe service life of five years for both craneable skips.
In addition to the classic FMK ready mortar skip and the D-SMK mortar tub, Craemer also offers mortar boxes, construction buckets, pallet boxes, storage containers such as stack & nest boxes and stack & nest containers for space-saving transport, universal containers for safe storage or round containers for mixing and blending with different capacities for the construction industry. Beyond that, there are various pallets for light or heavy loads.
Suitable for use in coldest winter
All products can be used for different trades and convince through high wall thickness and breaking resistance. They are all temperature-resistant from Arctic chill of up to -30°C to scorching heat of +40°C, with short-term heat resistance of up to +90°C, so that they can be used in every season. Due to their extreme temperature resistance, they remain dimensionally stable and reliable – day in, day out… in any weather.
Dedicated fields for prints on the products provide space for individually stamped logos, lettering or numbering. In addition to the standard colours, they are also available in special colours on request.
Craemer's weather-resistant construction portfolio has been tried and tested for safety and durability. On top of economical aspects, the plastic products are also sustainable thanks to their recyclability.