Next Gen Rolling Container System
3rd October 2023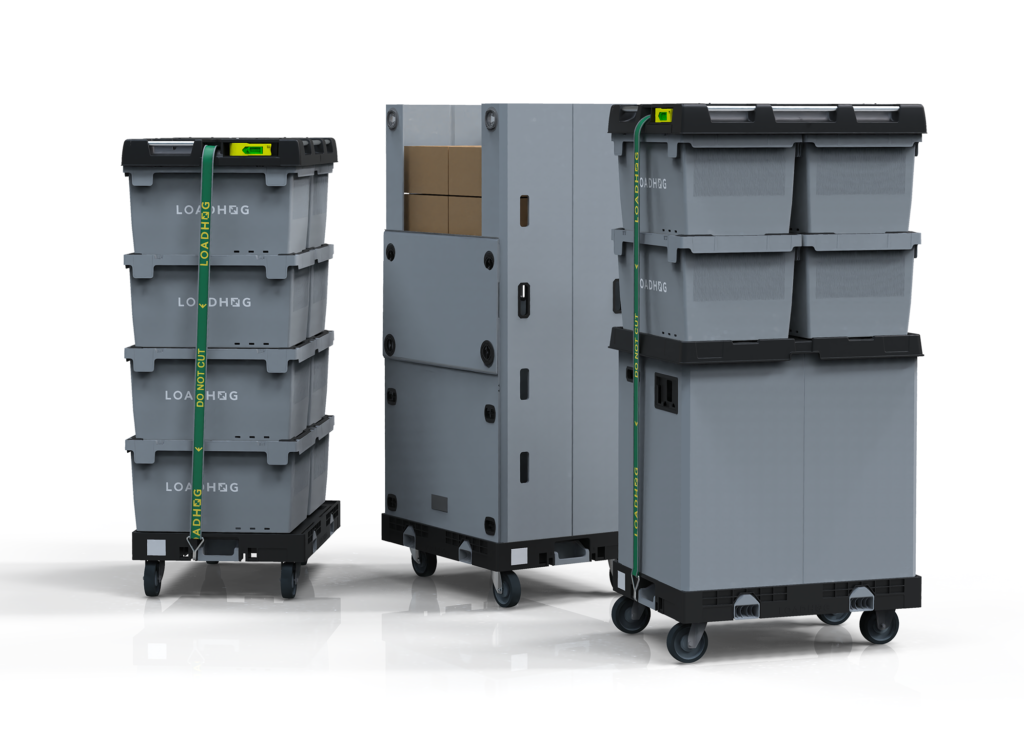 Packaging innovator Loadhog has been working with its customers in the post, parcel, and ecommerce industries to design a new versatile rolling container system. This system offers increased versatility, better vehicle fill, improved handling efficiencies, and carbon reductions vs existing systems on the market today.
Loadhog's new modular system can be adapted for transporting and storing. The versatility offers possibilities for segregated goods within various container types, loose goods within a bulk sleeve, and mixed goods within the same footprint by utilising Loadhog's Sleeve Stacking Tray. The new dolly base enables users to adapt to the fluctuating nature of goods within their supply chain.
The versatility of the unit has won an initial order of 10,000 units, which will be incorporated into a new project for a global automotive parts distributor. The distributor will utilise the unit for delivery to independent garages, automotive retailers, and home delivery.
Loadhog's R&D team began investigating the development of a new rolling container system after establishing a trend in the market, with numerous customers enquiring about alternative substitutions to the traditional roll cage, wrapped pallets, and pallet shippers.
Loadhog's new dolly base, Dolly Max, boasts an innovative easy access one-touch brake mechanism, which is quicker and more ergonomic than the simple castor brake found on most cages today, ensuring the brake is always applied. The rolling container system also offers maximum transport efficiencies with +20% increased vehicle fill vs standard roll cages due to the standard ½ EU footprint and max capacity design.
Both systems have been designed to be deconstructed and returned as efficiently as possible. The bulk system has a 3/1 return ratio and ergonomic sleeve locks, with large safety shoe access to speed up system deconstruction. The rolling containers can be linked and manoeuvred by AGVs to reduce marshalling time. It can also be nested and stacked on MHE to transport multiple empty units, speeding up the returns process significantly.
The rolling container system has various features making Loadhog's Dolly Max safer than substitute systems, including the brake's coefficient of friction ensuring the unit remains still even on a sloped tail lift. The unit also presents no sharp metal touch points unlike roll cages, it doesn't require MHE unlike pallet shippers, and the ease of brake application ensures the brake is always applied.
Innovative designer, Loadhog, won a King's Award for Innovation in 2023 for their Pallet Lid invention. The Pallet Lid sits on top of the rolling container system to consolidate the load ready for transportation, no stretch wrap or banding required.