New Pallet Lifting Device Aimed At Easier Loading
23rd May 2017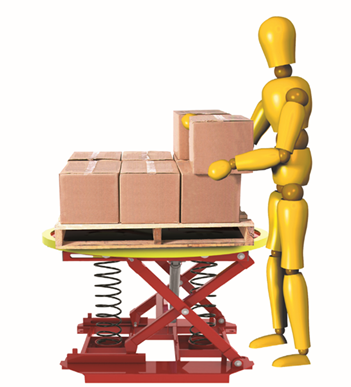 The PalletPal 360™ lifting technology has been launched in the UK by Marco Scissor Lifts, in cooperation with ultimate parent company Southworth Products Corp, a manufacturer of ergonomic materials handling equipment. The PalletPal 360™, which is aimed at any business using pallets, provides operators with a faster, safer and easier way to load and unload pallets, by utilising spring technology.
With a maximum load capacity of 2040kg, PalletPal's spring-level loaders automatically adjust to the height of pallet loads as boxes are added or removed, keeping loads to a comfortable working weight. The company claims that the technology further boosts safety and efficiency for workers by eliminating the need to bend, reach or stretch.
The PalletPal also comes with a built-in turntable top, allowing workers to spin the load while remaining in one position throughout the loading and unloading process – making it the first technology of this kind to feature complete 360 degree access to loads.
Andy Sayer, sales director at Marco UK, commented: "We're excited to be launching the PalletPal 360™ into the UK market. The technology, which is free-standing and transportable by fork lift truck, offers real potential for production managers looking to further increase the safety and efficiency of their workers."