Logistic Solutions for the Circular Economy
20th February 2023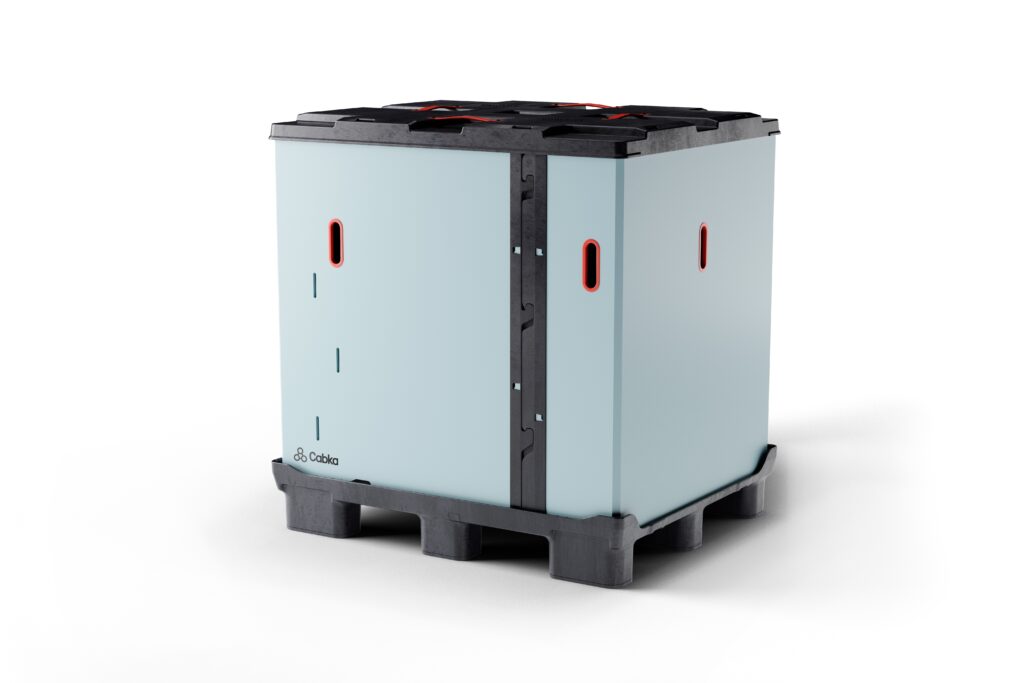 Breaking new ground by developing tailor-made products that meet the circular economy and customers' individual requirements – that's what drives Cabka. The market leader for reusable transport packaging made of recycled plastic will be presenting its broad portfolio of large load carriers and pallets at ProMAT in Chicago (March 20-23, 2023) at booth S4149.
ProMat is an ideal platform for Cabka's large load carriers and pallets, which combine innovation and sustainability. Cabka's vision is that logistics not only moves goods, but can fundamentally change storage and transport processes – with benefits for both customers and the environment. That's why the company focuses on reusable and durable products made from recycled plastics. This not only saves the user energy, transport and storage costs, but also helps to address the growing need for companies to reduce their scope 3 emissions for Green House Gasses (GHG). To achieve this, Cabka's development team is continuously working on intelligent product design with lightweight, resource-saving and volume-reduced solutions.
The company also focuses on individual product developments. "We are the contact for customers who want customized products made from recycled plastics," reports Jean-Marc van Maren, Chief Product Development Officer at Cabka. "That's why we are not only showing our broad standard portfolio at the trade fair, but also some customized solutions", adds van Maren.
One highlight in Chicago is the Retail US5 order picking pallet, which makes the transfer of goods more cost-efficient, safer and more sustainable. It replaces the traditional wooden pallets for transporting goods between the distribution center and the sales floor. It is compatible with existing retail nestable pallets and available with special dog bone feet. The solution does not require the usual runners and therefore offers significant advantages.
As a nestable and thus volume-saving load carrier, this pallet reduces both warehouse and transport costs. The Retail US5 is robust, durable and significantly exceeds the usual service life of GMA-pallets. The pallets are also convincing in terms of occupational safety with their smooth and clean surface and beveled edges. The light-weight design facilitates manual lifting and stacking. It also avoids excessive strain on the backs of employees during lifting and carrying work.
In terms of environmental protection, the load carriers score with their resource-saving construction made of recycled plastic and the fact that the material cycle is closed at the end of their useful life. Other properties ensure that the commercial pallet offers a significantly lower carbon footprint in its application compared to a wooden pallet: low tare weight, volume-reduced return transport and long service life. The Retail US5 is available in GMA-pallet dimensions of 40 x 48 inch, weighs 23 lbs and can carry loads of up to 3,000 lbs.
Enabling the circular economy
Another novelty at the Cabka booth is the CabCube 4840. The superior product protection offered by the units results in lower product damage and waste. This large container features a two-piece sleeve for improved handling. The foldable case is simply stored between pallet and lid for the return of empties. The four-piece CabCube remains together as a closed packaging unit. With its high foldability ratio, it assures savings in space and freight costs and increases the efficiency in return logistics.
The two-piece C-folding sleeves are ideal for ergonomic loading. The four grips make it easy to lift the lid from all sides, the bottom support has eight feet. CabCube 4840 is designed for supplier industries in all sectors and is ideal for distributing and storing large and lightweight parts. The large container has dimensions of 48 x 40 x 48 inch and an internal volume of 247 gallons.
Users can reduce their logistics and warehousing costs with the clever Cabka solution and protect the environment at the same time: The CabCube 4840 is injection-moulded from 100% recyclable high-quality plastics and is designed for extreme reusability. This makes it durable, robust and sustainable at the same time.
For the first time Cabka will also show a CabCube on wheels at the fair. The wheels make it easy to move the CabCube around the warehouse, shop or production hall without using a forklift or hand pallet truck.