Load carriers for the beverage industry
27th October 2022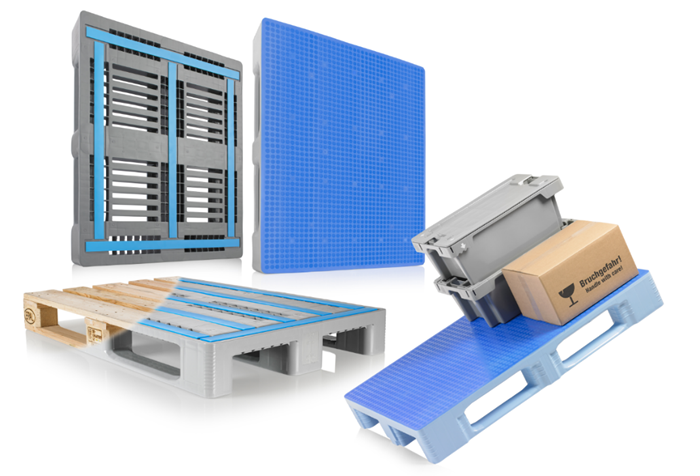 In addition to hygiene and safety, durability and economy also play a significant role in producing, filling and packaging of beverages. Craemer Group, a world leader in plastic logistics solutions, has developed a new generation of sturdy, hygienic, non-slip beverage pallets. Also interesting for the beverage industry are pallet boxes from Craemer.
When it comes to hygiene and safety, processes in the beverage industry are subject to stringent requirements and legal regulations. Plastic pallets make a decisive contribution. Craemer Group, an experienced partner in beverage logistics, is a pioneer in plastics processing: Back in 1967, Craemer developed the world's first one-piece injection-moulded plastic pallet. Sturdy, hygienic, durable, safe, hard-wearing, versatile, maintenance-free – these are the main characteristics of today's load carriers that are made of high-quality, food-safe and recyclable polyethylene (PE).
In the brewing and beverage industry or in the beverage wholesale trade, the following applies: When producing, filling, packaging, transporting and storing sensitive raw materials and goods, hygienic and absolutely reliable handling must be ensured. For safe (production-) technical and (intra-) logistical processes, Craemer provides load carriers made of robust plastic that are characterised by high functionality, load-bearing capacity, process reliability, cost-effectiveness and sustainability.
The innovative industry solutions are pool-compatible and can be used universally along the entire logistics chain. They guarantee safe beverage handling in automated systems, when using forklift trucks, in high racks or when storing, for example, containers with concentrates in a refrigerated environment.
Versatile in use
Whether light or heavy beverage packages, Craemer develops customised solutions for storing and transporting barrels and containers, cardboard boxes and plastic crates containing bottles or six-packs of cans. The CR plastic pallet, for example, is one of Craemer's successful load carriers used in the beverage industry around the world. Perfect for heavy loads and all types of containers: the Euro L1 in the size of the Euro wooden pallet (load-bearing capacity in high racks 1250kg) and L3, the multi-use pallet (2000kg) with evenly closed runners, optionally available with Palgrip anti-slip plates (L3) for even better material flow. The TC Palgrip is easy to clean with completely closed top deck and smooth lower deck.
Thanks to the Palgrip anti-slip coating on the top deck, which is a standard feature, all these heavy-duty pallet models hold the load safely even in damp conditions or inclined positions. Controllable via the conventional stacker cranes, palletisers and depalletisers, they run maintenance-free and smoothly on all standard hoists and conveyors, and are suitable for roller conveyors, chain conveyors and automated high-rack warehouses.
Another novelty in the Craemer portfolio is the large-volume CB3 High pallet box. With a height of 1140mm, it provides extra protection during transport and storage in the beverage industry.
Heavy-duty pallets
Whether milk, mineral water, lemonade, juice or alcohol – each type of beverage places its own demands on the packaging and on handling the various processes. Craemer pallets permit a wide range of applications. With its external dimensions (l x w x h: 1200 x 800 x 150mm), the Euro L1 corresponds exactly to the wooden Euro pallet. Unlike wood, the one-piece PE injection-moulded pallet is extremely robust and durable – without any signs of wear or chipping. The pallet is provided with five reinforcement profiles, permitting a load-bearing capacity of 7500kg in static condition and 1250kg during transport or in high racks.
Craemer's new L3 plastic pallet, a further development of the C3-5 pallet, is also particularly hard-wearing and durable. It is the ideal all-purpose pallet for the brewing and beverage industry. Whether for transporting and storing packages with PET or glass bottles, aluminium or steel cans, composite beverage cartons or HDPE bottles in beverage crates, foil or cardboard containers, it is suitable for all purposes. The L3 boasts a high load-bearing capacity (7500kg static load, 2000kg dynamic load, up to 2000kg in high racks) and slip resistance.
Other features: In industrial size with dimensions of 1200x1000x160mm (L x W x H), it is equipped with three welded runners, 5mm outer rims and five corrosion-protected reinforcement profiles.
Craemer says its completely closed plastic pallets of the TC series with full-surface Palgrip anti-slip deck also perfectly meet the requirements of the beverage industry. The coated top deck and smooth lower deck of the TC Palgrip are characterised by excellent cleaning properties, while the cavity- and rib-free design of the sturdy and durable hygiene pallet reliably protects against contamination or water ingress.
The load-bearing capacity in the rack can optionally be increased to up to 2000kg with the help of integrated, corrosion-protected metal reinforcement profiles. Chamfered edges on both sides of the non-welded runners allow for optimal transport with ground conveyors. The dimensionally stable TC Palgrip is available in Euro size of 1200 x 800mm with three runners (TC1) and in industrial size of 1200 x 1000mm with three (TC3) or five runners (TC3-5). The height of the TC pallets is 160mm.
All reusable pallets from Craemer have the same properties: Thanks to their high quality, they retain their shape even with intensive use and increasing number of trips – thus making them durable, sustainable and economical. In addition, the robust load carriers can withstand temperatures of -30 to +40°C, with short-term heat resistance of up to 90°C. For seamless tracking and tracing, Craemer pallets are optionally available with RFID transponders. Dedicated fields for prints provide space for individually stamped logos, lettering or numbering.
Pallet box in industrial size
The large-volume CB3 High is a versatile, pallet box for the beverage industry. With a height of 1140mm, a capacity of approx. 1000 litres and a weight of 46 or 49kg, it is suitable for particularly large quantities – with extra safety. The sturdy ribbed lower deck provides additional strength to the container floor, integrated stacking cams secure the hold. The hard-wearing, sturdily constructed CB3 High is available in industrial size with closed walls and three longitudinal runners or nine feet. Additional ribs above the entry openings provide increased impact protection against forklift tines, while the seamless construction and smooth interior walls ensure easy emptying, cleaning and drying.
The pallet box is optionally available with one open 1" and one open 2" drain port. If necessary, markings facilitate the later drilling of the standard closed holes with integrated thread. Custom-fit lids are available as additional accessories.