Exporta Launches New Range of Metal Aluminium Pallets from Germany
31st July 2020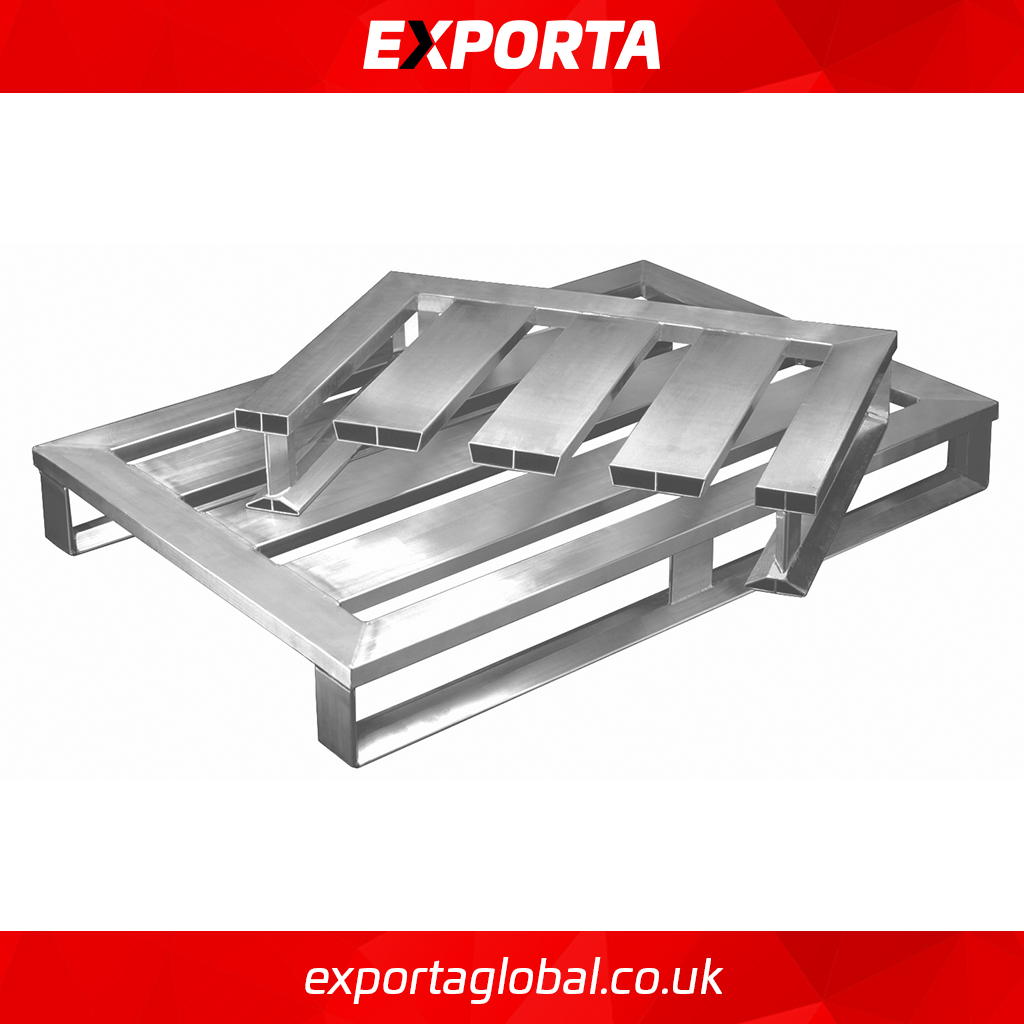 Exporta has expanded its offering with the addition of a brand-new range of Aluminium Metal Pallets made in Germany and, says the company, with the level of quality one would expect from a German manufacturer.
Most people associate 'pallets' as being made from wood and in many cases that is exactly the case. Metal pallets are not so common and so why would anyone need one? Exporta have built up a range of plastic pallets over the years and have the largest range available to buy online for next day delivery in the UK. Plastic pallets are great and have many advantages over wooden pallets especially in specific situations. However sometimes not even a plastic pallet has all the requirements for a job or specific environment which is where metal pallet can come into play.
The company says:
"Metal pallets, ours are made from high grade aluminium, are super hygienic and very strong. They have a much longer lifespan than a standard wooden or plastic pallet meaning the return on investment is increased saving you money over time. Unlike wood that can swell and warp, metal pallets will not change shape over time which is ideal when used in an automated system and thanks to their uniform surface they are easy to clean and sanitise simply using warm water which makes them idea where cleanliness and hygiene is a requirement. They also are resistant to static build up and so great for static free environments. Finally the temperature range to which these pallets have a tolerance is much larger than that of wood or plastic as they can operated with temperatures of -80°C and +90°C which means they are very useful in environments that have temperature extremes.
"We at Exporta always look for quality when sourcing products and a secure partnership with companies that have only the best levels of expertise and accreditations. These aluminium pallets are manufactured in Germany by a company who has over 100 years of experience with very modern and accurate manufacturing processes and facilities and are DIN EN ISO 3834-2 certified for all welding technologies and have ISO9001. All products are TÜV certified and come with a full quality guarantee.
"Then it comes to the Golden question – How much? You will find that most of our competitors don't show prices on their websites on these or any other products. Maybe they are scared to show how expensive they really are. For us however you can purchase one these pallets directly from our website but if you are looking at a large quantity then you should contact us for a quote and one of our experts will be more than happy to help you find the right product for your requirements."
Don Marshall, Head of Marketing & eCommerce said:
"These new metal pallets are fantastic. They are ultra-hygienic, long lasting, and very robust. When it comes to pallets, I do not think anything can beat the quality of these. They are the Mercedes of the pallet world and when matched with the right application surpass anything a wooden or plastic pallet can deliver."