Cab cams give Knights of Old Group safety advantage
20th March 2015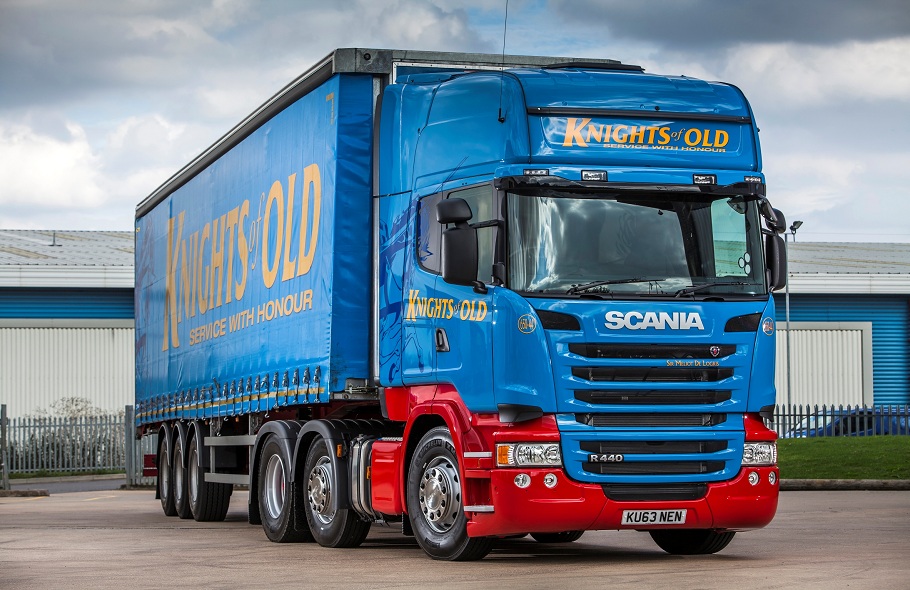 Knights of Old, one of the largest privately owned logistics companies in the Midlands, is beefing up vehicle safety by installing more than 200 in-cab 3G cameras, which should reduce insurance premiums, cut road incidents and assist with driver training.
The new camera technology, which is being provided by Verilocation, a family-run fleet management and vehicle tracking specialist company, operates in concert with complimentary fleet management control and tracking systems and is expected to cut down the time and cost of settling disputes arising from road incidents.
The Knights of Old Group will rely on live camera and vehicle performance data to be streamed direct to their online Verilocation tracking account for immediate analysis when dealing with FNOL (first notification of loss) scenarios or traffic incidents.
The 'Witness' cameras will record every event taking place in front of the vehicle while simultaneous GPS data will be transmitted regarding vehicle speed, impact force and braking. This will enable immediate arbitration based on facts rather than on retrospectively gathered third-party accounts.
Kelvin Gingell, the Knights of Old Group Logistics Director, said: "This is certainly a major step forward for us and likely to become an invaluable tool for improving vehicle management, reducing accident frequency and keeping insurance premiums to a minimum."
He also expects the cameras to provide on-going information for assisting with one-to-one driver training. Mr Gingell said: "Let's face it, there's nothing better than learning from real-life examples and with this system we have the opportunity to review individual driver techniques and experiences, so that drivers can objectively review their own performance."

Knights of Old is a diverse transport and logistics operator whose road, air and ocean freight services span the UK, Ireland and Europe. "Very often", added Kelvin Gingell, "we will not see a vehicle in the flesh for days. Therefore we need to rely on the GPS and telematics tracking and monitoring systems supplied by Verilocation, not just to keep tabs on our own assets but more importantly to have the facility to provide round-the-clock information to our customers regarding the status of their cargo."

The Knights of Old Group has worked closely with Northampton-based Verilocation over recent years to achieve this and describes the company as 'forward thinking'. Mr Gingell added: "They create an atmosphere of mutual development and match their technical solutions with our specific customer needs."

"Personal service is vital in this branch of technology, not only to ensure smooth integration into our existing operation, but also to ensure smooth and trouble free operation as we go along."
The installation of the in-cab cameras is managed by the Verilocation engineering team and undertaken over the weekends to minimise disruption.

"Dynamic fleet control of this type comes with undoubted commercial and operational benefits," adds Kelvin Gingell. "However, while we are expecting to cut costs and improve fleet efficiency, the new in-cab camera system will, most importantly, ensure an even higher level of vehicle and driver safety than we could have previously attained."

According to the manufacturer, Intelligent Telematics, which analysed 2000 vehicles using the IT 1000 camera over six months, the system can reduce accidents by 45% and cut related accident costs by 27.
Verilocation was established in Northampton 1999 and remains a family owned business. The company provides a wide range of bespoke programmes to enhance vehicle fleet efficiency with improved management control. These include vehicle and trailer tracking using GPS; temperature monitoring for food distribution; full CANbus engine management system interface; geo-fencing; data retrieval and storage; driver behaviour monitoring; real-time tachograph monitoring; driver dashboard' control systems.
Fleet management control packages can be installed and contracts are typically available from three to five years. Verilocation also provides a one-to-one technical helpline for all customers. More details on 01604 859854 or go to www.verilocation.com.