White Glove Fulfilment Partner Perfect Fit for Shoe Retailer
9th August 2018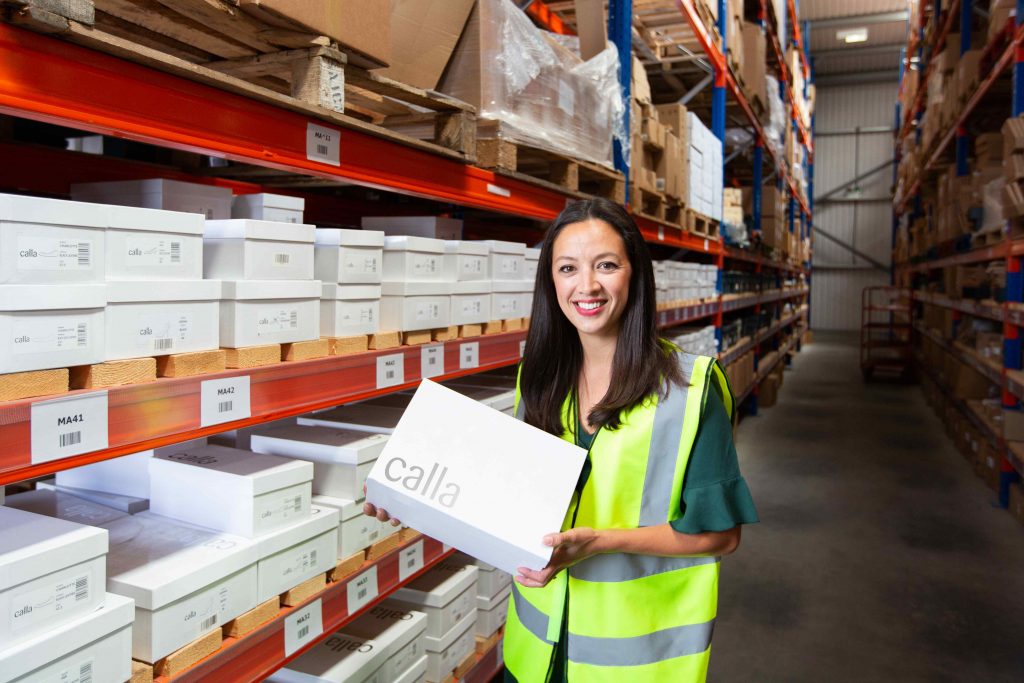 Manchester-based online retailer, Calla Shoes, was established to provide the perfect fit for stylish ladies who suffer from bunions and now the company has found the ideal fit for its 'white glove' fulfilment needs thanks to fulfilmentcrowd (part of Exact Abacus Ltd) based at Matrix Park in Chorley.
Calla shoes was established by entrepreneur Jennifer Bailey, who has suffered with bunions for more than 20 years and always struggled to find occasion shoes that combine comfort and style. The company now has a specialist range of shoes custom-manufactured to its own designs, shipping them to customers across the UK and beyond.
Indeed the company has been so successful that Jennifer decided to look for a fulfilment partner to enable her to step back from the day to day of ensuring orders are dispatched to the company's high standards and focus on new product development and growing the business.
The quality of Calla Shoes' products and Jennifer's focus on providing a high-end customer experience meant that any fulfilment partner would need to have a proven white glove handing and dispatch capability and it was clear that fulfilmentcrowd could offer that… and much more.
Explains Jennifer: "A white glove service means that our shoes are handled with a high level of care from the moment they are received in the warehouse to the second they arrive with the customer; ensuring they are stored, picked and packed with the ultimate attention to detail and very highest levels of care.
"From the beginning of our search for a fulfilment partner, it was clear that fulfilmentcrowd not only have the facilities and expertise to deliver this service but also that they nurture a culture of caring for the customer experience as much as we do across everything they do. They were the obvious choice of partner for us and we have since discovered that they can also offer us so much more."
Alongside white glove fulfilment, fulfilmentcrowd provides an integrated technology for Calla Shoes, delivering an end-to-end solution for managing customer relationships from order through to delivery.
Jennifer continues: "I was surprised and excited to find that the advanced technology available from fulfilmentcrowd is accessible to a smaller retailer like Calla. Working with a partner that offers a joined up approach to managing the customer journey with integrated software has provided immediate and quantifiable benefits to the business, including reducing our distribution costs by 15 per cent and achieving a 100 per cent same day dispatch record on all orders."
Lee Thompson from fulfilmentcrowd adds: "Our white glove fulfilment services are well-established for a wide range of online retail companies to ensure that delicate and high value products reach their final destination in tip-top condition.
"Working with us as a fulfilment partner means that Calla Shoes can provide that premium customer experience to the company's international customer base while benefiting from our software, management tools, expertise and economies of scale to reduce overheads and improve service levels. We're delighted to welcome Jennifer and her team to the crowd."