Strapping Machine Maker Unveils CeMAT Package
22nd March 2018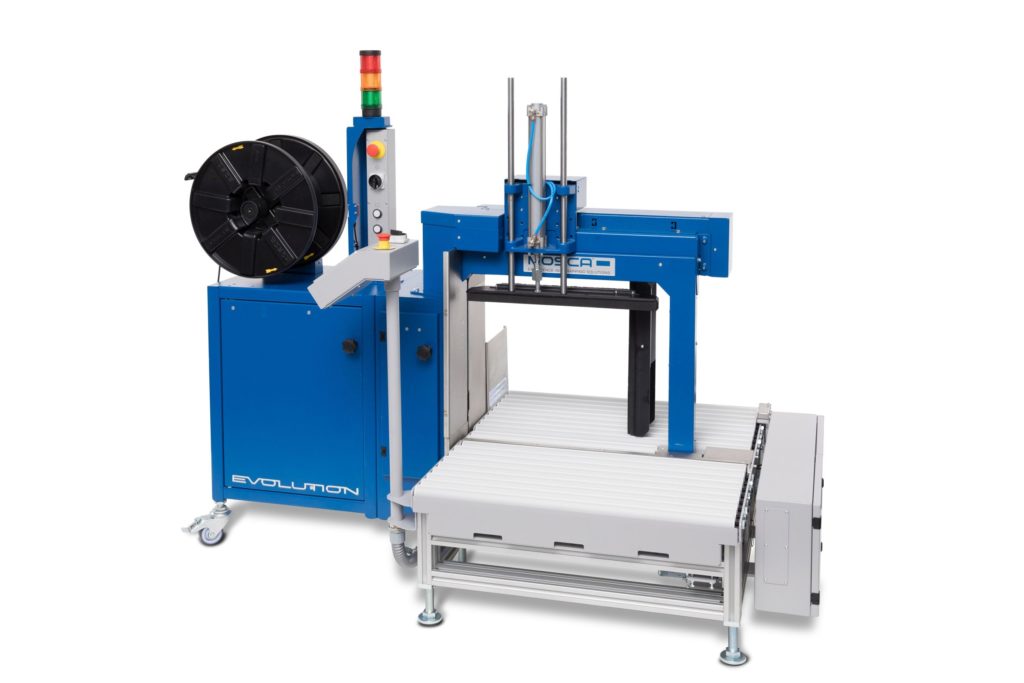 Flexibility is required in modern intralogistics: Companies must quickly adapt their processes to various product and batch sizes. Online trade requires shipping products ranging from delicate clothing to washing machines. At this year's CeMAT, from April 23-27 in Hanover, Mosca GmbH will be demonstrating how this can be done smoothly. In Hall 19, Booth C80, Mosca will present a compact high-end machine for the most demanding requirements: the EVOLUTION SoniXs MS-6. The EVOLUTION SoniXs MS-6-H, in contrast, has been specially developed for bulky, tall packages, while the EVOLUTION SoniXs TR-6 Pro's intelligent control ensures high productivity. Mosca's products are equipped for Industry 4.0 networked communication. This is demonstrated by the RFID application for reordering strapping material, which was developed in cooperation with PSI Automotive & Industry GmbH and Winckel.
Be it a well-running online sales operation or the daily shipment of goods to outlets all over the world, anyone working in the intralogistics industry knows how many millions of parcels are transported every day – and how important a reliable, flexible partner is. "We have seen the logistics industry boom for several years now," says Timo Mosca, Chief Executive Officer of Mosca GmbH. "Companies that turn to us pack and ship a wide variety of products every day. They look for ways of packaging that can be flexibly adapted to changing parameters – different package sizes and safety requirements, for instance." This is where more than 50 years of Mosca expertise pays off: Mosca's strapping machines are capable of detecting pre-defined packages and automatically adjusting strap tension and other parameters. Fully automated strapping machines can be completely integrated into production lines and operated from a control center.
Mosca thinking in terms of Industry 4.0 and network capability is demonstrated by an RFID system developed in cooperation with PSI Automotive & Industry GmbH and the Winckel company. This technology offers customers fully automated management of strapping-material stocks. New strapping material is automatically reordered as needed. This is made possible by RFID gates and network-capable strapping machines that read RFID tags attached to the strap coils. They forward the information to the customer's ERP system, which registers how many coils are already in use and places fully automated orders for new strapping material as soon as stock drops to a predefined level.