STERTIL KONI LIFTS SPECIFIED FOR NEW 10M SCOTTISH ECO PARK
29th January 2015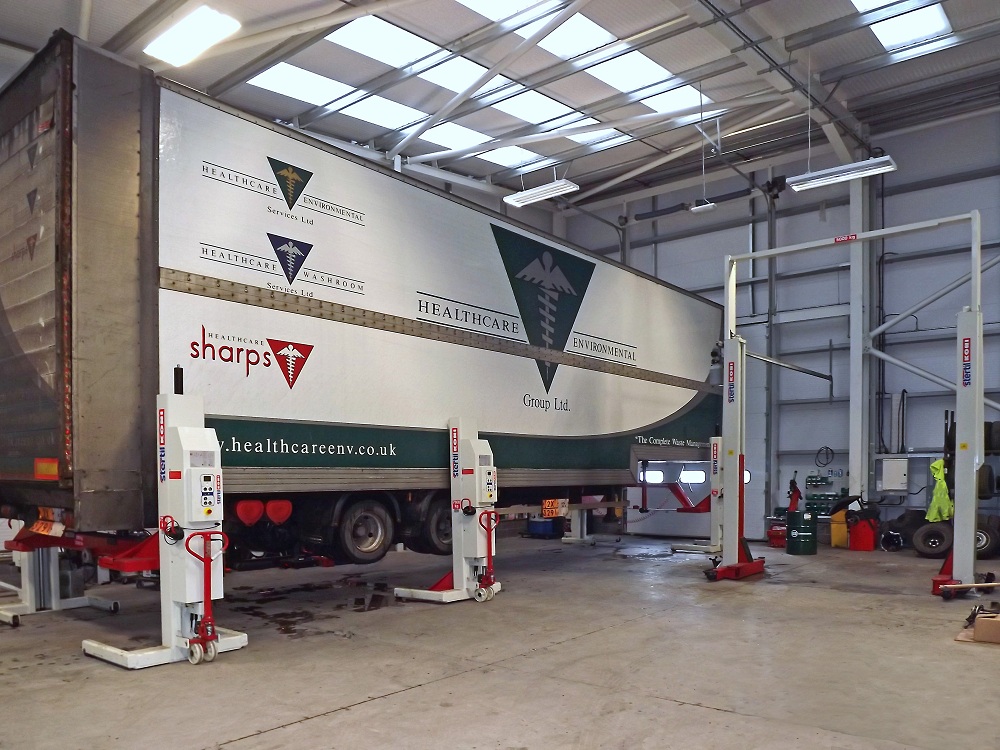 A new ?10m purpose-built headquarters for Healthcare Environmental Group (HEG) in Lanarkshire, Scotland, is benefiting from the installation of Stertil Koni commercial vehicle lifts within its state of the art fleet workshop facility.
Representing a major change in technology and energy recovery, HEG's new 37 acre Eco Park plant is capable of processing 35,000 tons of medical waste products each year, turning it into green energy. Ultimately, the plant will generate over two megawatts of electricity every hour, which can be returned to the site and to the national grid, making the area virtually self sufficient.
As part of the Group's continuing commitment to energy efficiency, HEG's 100 strong vehicle fleet is optimised for purpose. For instance, a lorry is never sent to pick up materials that would fit into a van. HEG relies upon a mixed fleet to support its operation including vans, trucks and lorries – typically specialised RCV refuse vehicles, 32 tonne hook lift container lorries and double-deck trailers. Thanks to the new fleet maintenance workshop facility, supported by the Stertil Koni equipment, all these vehicles now receive onsite repair, maintenance and servicing.
The Stertil Koni workshop equipment installed within the new facility includes a set of six ST1075FWFwireless column lifts. The versatility of these mobile lifts enables them to be used in any configuration, usually four or six, depending on the vehicle to be raised. When using all six lifts together, a total lifting capacity of 45 tonnes is achieved to safely raise the heaviest vehicles in the fleet. Significantly, each mobile column features a control box thereby allowing engineers to operate the columns individually, in pairs or all at once. Also, the absence of interconnecting wires and cables effectively removes the risk of tripping.
Stertil Koni's SK2050 5 tonne 2-post lift was also specified for HEG's new facility. This extremely stable lift incorporates bespoke footplates, enabling the lift to be placed on a normal workshop floor without any special requirements. The height of the 2-post lift is adjustable and the symmetric construction of the arms allows for both small vehicles such as cars and longer, heavier vans and small lorries to be lifted with ease.
In addition to the vehicle lifts, Stertil Koni also supplied a range of ancillary equipment including trailer beam sets, axle stands and small wheel adaptors.
"Like Healthcare Environmental Group, Stertil Koni has always understood the value of sustainable and reliable products, which is just one of the reasons why our vehicle lifts provide such long and productive working lives." Says Tony Edge, general manager of Stertil Koni. "By installing Stertil Koni lifts in its new facility, HEG has ensured fast and unobstructed access for engineers to raised vehicles during all kinds of repair, maintenance and servicing operations."