New Big Box Promises Better Travel For Apples and Pears
24th April 2017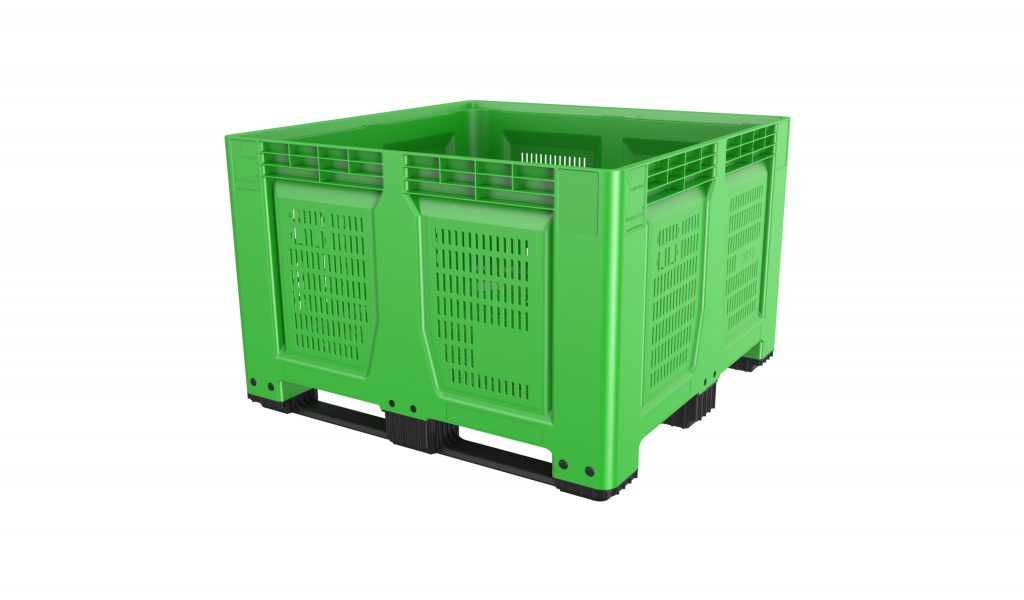 Specially designed for the fruit and vegetables supply chain, a "truly unique" big box has been developed by Schoeller Allibert.  Thanks to the one-of-a-kind base design of the Maximus®1212 featuring 4 pockets, apples and pears significantly experience less dents and bruises than within traditional pallet containers, it allows growers to get more high quality fruits out of each container.
The company says that this design plays the role of a shell by preventing the fruits from rolling around during transport. From orchards to road transport, the result is significant with much less damaged or bruised apples and pears than with flat base boxes, according to an independent competitive test conducted by the Flemish Centre for Horticultural Products in Belgium.
The unique pocket and curved walls design provides the best internal volume on the market (836L) to the Maximus®1212, offering up to +35L than most 1200×1200 containers. With this optimized internal volume, customers get the maximum storage and vehicle fill possible, reducing transport cost & environmental impact. The Maximus®1212 is also easy-to-handle, compatible with automated tipping and handling with most conveyors types and water sorting process. While being 10% lighter than the best competition, the Maximus®1212 is very strong, with its 500kg unit load and 4,500kg static load. It is also compatible at stacking with most fleets on the market.
"Thanks to the unique base design with pockets, bruising damage decreases by half. Moreover, these boxes consist of a larger volume because of these pockets. And thanks to the ventilation, it is also ideal to store products qualitatively. The cross-shaped base has been designed in such a way that it is extremely stiff, which also benefits the stockpiled fruit" explained Ludo Gielen, Chief Strategic Growth Officer of Schoeller Allibert.
The Maximus®1212 promise goes even beyond: it's made of UV treated virgin food contact guaranteed HDPE, for 100% food safety. It can withstand deep frost and can be stored outside on long term. RFID ready, available with a solid or ventilated base and walls, it meets the needs of both food processing and waste management / recycling industries.