Automated Bagging System for Totes
20th February 2023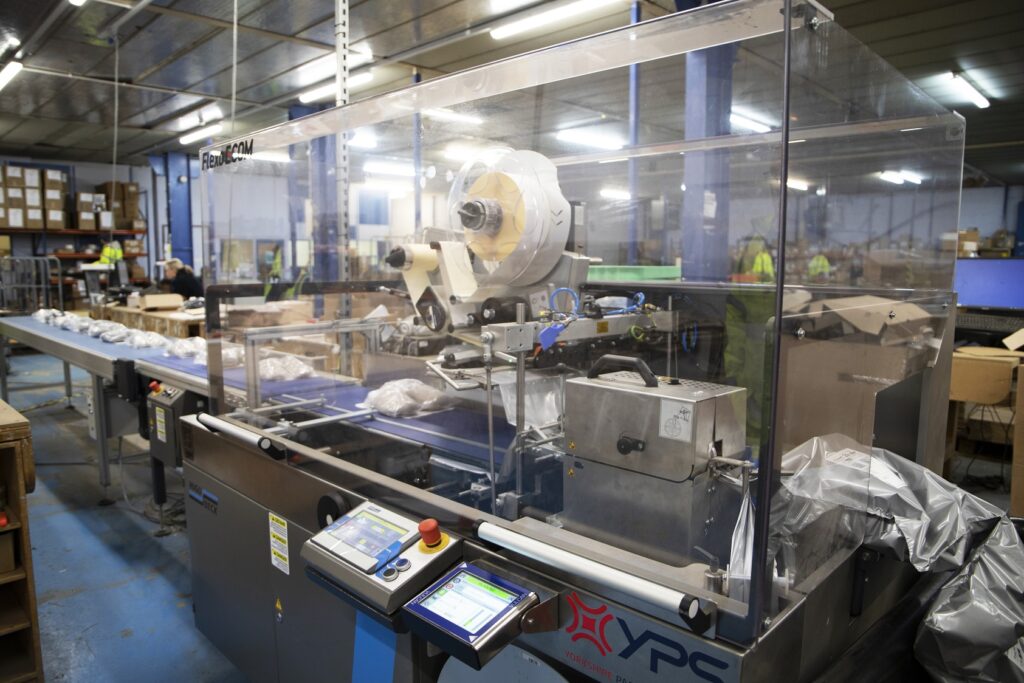 An automated packaging solution – provided by distribution partner Yorkshire Packaging Systems (YPS) using Hugo Beck's flexo e-com machine – has helped totes ISOTONER (UK) to fulfil five times its previous daily order capacity in the run up to Christmas.
totes ISOTONER is a large fashion accessory company, with operations in North America, the UK, Scandinavia and throughout Europe. With a product range featuring the original totes toastie slipper-sox (socks with slip-resistant soles) plus gloves, scarves, slippers, umbrellas, wellies and sheepskin boots, the well-known accessory, gift and footwear brand is stocked in stores across the UK and also runs a B2C e-commerce service, shipping daily online orders out direct to customers' homes.
The run-up to Christmas 2021 was a particularly busy season for totes' warehouse and office facility in Billericay, Essex, prompting the company to automate its packaging processes. Prior to the recent investment, totes' dispatch of orders involved a manual pick and pack process whereby goods were loaded by hand into a choice of three different sized, pre-formed, loose mailing bags. This process often proved problematic, particularly during peak periods, when demand would outstrip physical capacity.
In the first quarter of 2022, totes approached YPS in need of an automated machine, capable of achieving target speeds of 720 packed bags per hour – equating to 12 packs per minute. In addition, the solution proposed needed to sync with their existing ERP systems and allow totes to reduce their reliance on Royal Mail's data system by including high-speed and GDPR compliant courier label printing.
"To measure up to totes' needs, YPS recommended the horizontal Hugo Beck flexo e-commerce automatic bagging unit, with an internally mounted VULCAN direct apply labeller from Clearmark," says Tom Hill, Sales Manager at Yorkshire Packaging Systems. "Hugo Beck's solution is tailored specifically to coping with the demands of a busy e-commerce packaging line, with its high-speeds, high volume and data security. Replacing totes' original grey mailing bags with precise-fitted packaging, the machine is able to accommodate over 95% of totes' product range, from single pairs of socks right up to boxed pairs of wellies. It is this responsiveness to product dimensions which makes the flexo e-com system ideal for totes' dynamic, busy warehouse. The production does not need to be batched," explains Hill.
Furthermore, to maintain totes' brand consistency, YPS were able to replicate the plastic film used on the new line with the original preformed bags by colour matching the shrink film, thus creating durable, 525mm 50mu polythene which is 100% recyclable with a 50% post-consumer waste blend.
The machine scans each order's unique printed barcode and the correct customer address label is seamlessly recalled by the VULCAN. The length of each product is also detected and the flexo e-com machine then tailors the bag length to precisely match, resulting in a snug finished pack and minimised material usage. The bag width can also be adjusted on the fly with a simple wheel winding mechanism. Before destroying the data in a one in, one out method, translating to complete security and GDPR compliance for totes, the label is applied to each bag via an all-electric system using continuous motion of the VULCAN – significantly increasing the line speed compared to stop-start application models. Furthermore, there is no need for compressed air supply and pneumatic parts which can both require regular maintenance.
Since installation, totes reports that the new e-commerce line has entirely overhauled its UK operation. Far outstripping the target speeds of 12 packs per minute, at sign off the solution achieved an impressive speed of 18 packs per minute and 1080 packs per hour – a daily order output five times greater than pre-install.
"Investing in this equipment from YPS has proven to be a gamechanger," commented Karl Blackburn, Operations Director at totes ISOTONER (UK). "We've radically increased our throughput, allowing us to complete more online order despatches in a faster timeframe and please more of our customers," concluded Karl Blackburn. "The support offered by the team at YPS has been second to none; every technical query has been answered and resolved quickly and professionally, allowing us to run at peak performance." Based in the United Kingdom, YPS is part of Hugo Beck's extensive global sales partner network with dedicated sales representatives all over the world.