New tesa tape with sustainable features
11th August 2022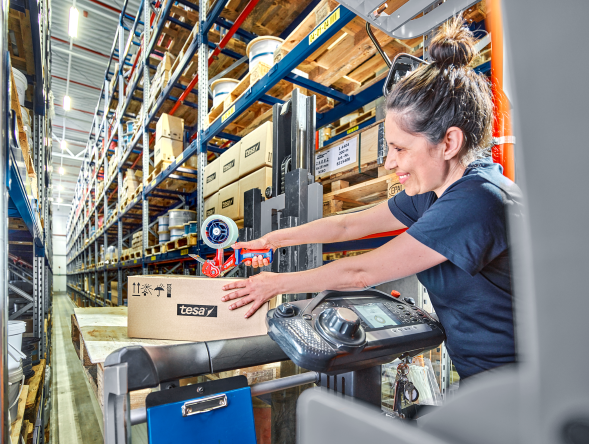 tesa is expanding its range of packaging tapes with sustainable features with the launch of the new tesa 60412 Recycled PET packaging tape. This offers businesses in food and beverage, pharmaceuticals, e-commerce and logistics, that typically rely on filmic (for example, polyvinyl chloride – PVC) packaging tapes, a more sustainable alternative.
Designed with sustainability in mind, the tesa 60412 Recycled PET packaging tape includes a number of features to help minimise its environmental footprint. To reduce the consumption of virgin plastic, used PET products including bottles have been recycled and used as a raw material for the tape. 70% of the polyethylene (PET) that makes up the backing comes from post-consumer recycling (PCR). The tape supports the circular economy and can be disposed of in standard paper recycling bins and recycling processes. It also features an innovative waterborne acrylic adhesive system.
The tesa 60412 Recycled PET Packaging tape is ideal for light and medium weight packaging applications of up to 30kg and is suitable for manual and automatic dispensers. It has a robust, abrasion-resistant backing and reliably consistent, pressure-sensitive, acrylic adhesive. This guarantees strong adhesion on recycled cardboard as well as low noise unwind. Its high tensile strength puts its performance on a par with PVC or biaxially oriented polypropylene (BOPP) tapes. Users can also showcase their brands and advertising with ease as the tape can be printed with most types of ink systems.
"Sustainability is an increasingly important focus for businesses, and many are looking to make as many incremental changes as possible to help reach their goals. Our latest 60412 Recycled PET packaging tape has been engineered to minimise its impact on the environment, while maximising on adhesion performance. By choosing a more sustainable packaging tape, customers can step closer to their targets and we at tesa are proud to help them on that journey," said Andreas Walkembach – Head of Industrial Trade & Converting Europe at tesa.