Hugo Beck Showcases Ecommerce Packaging
17th April 2023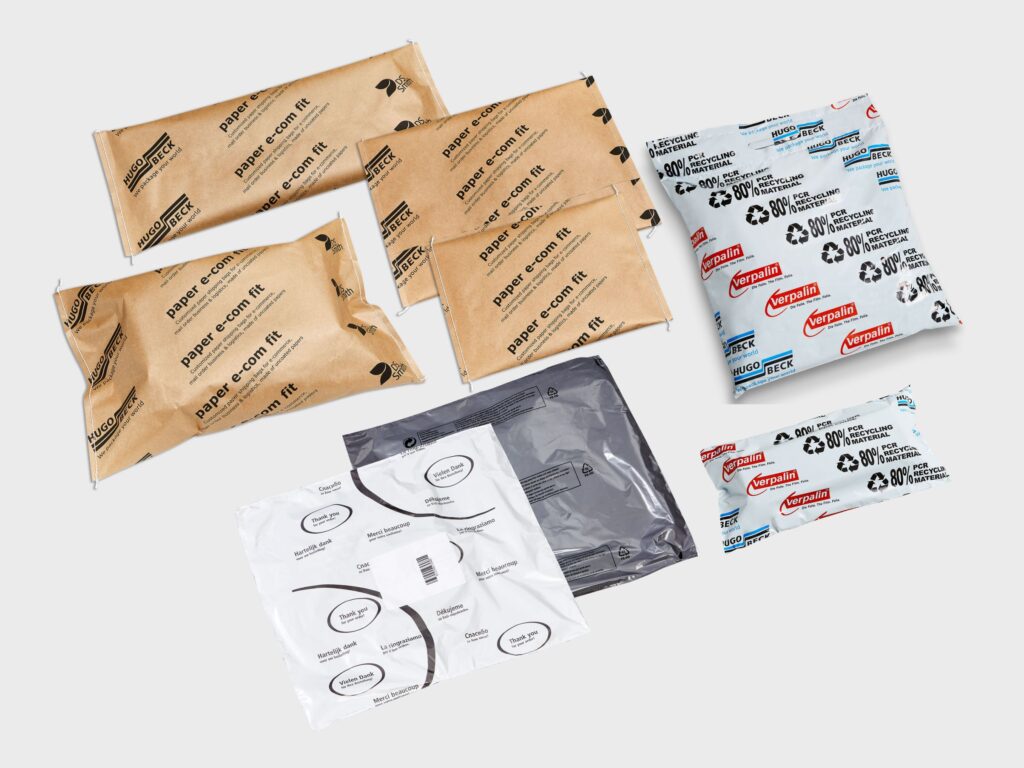 One of the world's leading specialists of horizontal packaging solutions, Hugo Beck, is exhibiting its latest range of film and paper packaging machines for e-commerce, mail order and logistics at the LogiMAT show, held at the Stuttgart Trade Fair Centre on 25th – 27th April 2023.
Hugo Beck will use Europe's biggest intralogistics exhibition to demonstrate three machines from its e-commerce range, highlighting the company's ability to meet sector-specific demands for both sustainable film and paper packaging.
Visitors to Booth 4G61 in Hall 4 will see the Hugo Beck paper e-com fit on display, tailored specifically for e-commerce and mail order applications using a minimum of paper to package goods. The machine is suitable for the direct dispatch of individual goods, packing groups of products, or meeting the complex requirements of returned goods packaging. With the paper e-com fit, the shipping bag size is automatically adapted to the varying product dimensions in length and width during production, meaning different product sizes can be packaged in a jumble. Both uncoated and coated recyclable papers can be used for producing precisely fitting paper bags with two sewn sides plus a top overlap.
Timo Kollmann, Managing Director at Hugo Beck, said: "LogiMAT is the perfect show for us to demonstrate how Hugo Beck's technology has evolved to meet the needs of today's logistics and e-commerce sector. With the sudden rise in demand for paper-based packaging, the paper e-com fit highlights our ability to innovate and stay ahead, offering solutions that can process alternative materials."
The second machine on the Hugo Beck stand provides the ideal solution for applications where film is required or preferred. The servo X e-com fit machine ensures products are packed with the lowest amount of material needed, automatically adjusting the film bags with four sealed sides to the product's length and width.
"After a particularly successful year for the Hugo Beck servo X e-com fit, we're excited to be taking it on the road, showcasing to visitors how we are meeting the shift in demand for sustainable film packaging. The servo X e-com machine range is capable of processing a wide range of recyclable material types, from PE flat films from 30 to 100 μm thickness, through to recycled content films which can often contain for example up to 80 per cent and more PCR material," said Kollmann.
Moreover, the LogiMAT show will lead the way as Hugo Beck debuts its brand new flexo paper packaging solution for the first time this year. As a hybrid variant of the company's flexo machine series for paper and film, attendees will be the first to see the new machine for paper packaging in public – witnessing exclusive demonstrations of its capabilities. Championing the company's commitment to develop innovative, flexible solutions, the new solution is industry diverse, from e-commerce and logistics through to many others.
Members of the Hugo Beck sales team will be available to discuss customer-specific requirements, including its diverse automation solutions. Offering support through the entire automation process, project planning and manufacture right through to integration into existing packaging lines, LogiMAT visitors can find out more about Hugo Beck's robots and handling systems such as automatic feeding, portals, grouping solutions, stacking and counting devices and cross pushers.