Weatherproof Rack for Safe Outdoor Storage
19th August 2020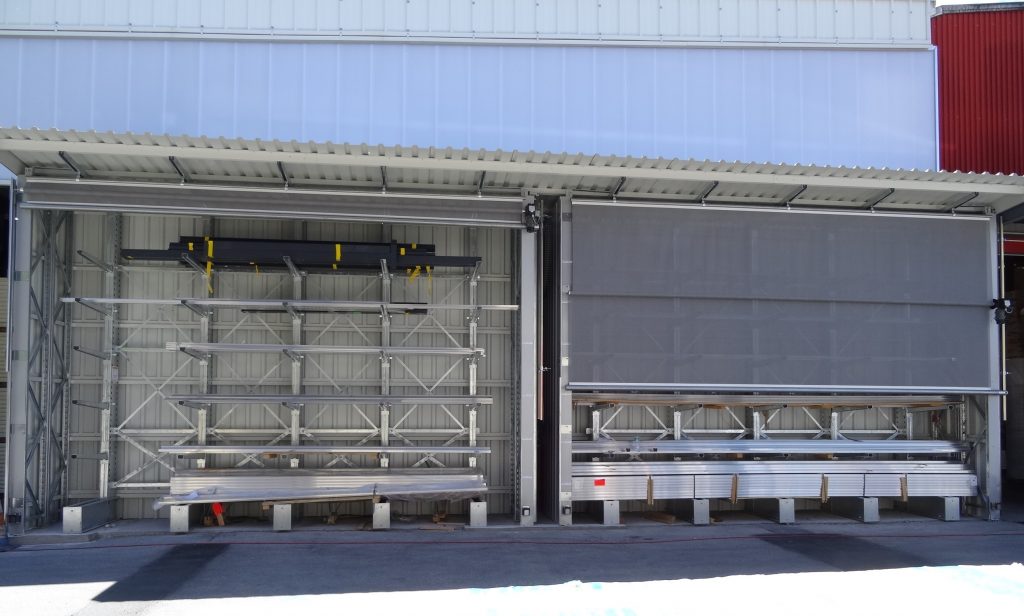 German manufacturer Elvedi offers special weatherproof racks for the storage of long goods with lengths of up to twelve metres. It is the only racking system with an automatically rolling weather protection tarpaulin. The cantilever racks are designed for exceptionally heavy loads. Users of the system are able to store very large wooden and metal goods outside, protected against the weather. This enables them to use the available space with maximum flexibility.
Elvedi's weather-proofed cantilever heavy-duty racks make it possible to store even the heaviest and most bulky items safely outdoors. Thanks to a special substructure behind the protective tarpaulin, the weather protection withstands the wind forces even at maximum racking lengths of twelve metres. An electric motor provides a fast and safe opening and closing of the splash-proof and air-permeable protective tarpaulin; bulky and heavy roller doors or sliding doors, as used in standard solutions, are not necessary. Furthermore, the weather-protected cantilever racks are also available with a self-supporting roof and as a cold hall. Like all Elvedi system solutions, the weatherproof racking is modular and is designed to meet individual customer requirements.
Recently, there was no efficient way to store long goods safely outdoors. In order to minimise any damage caused by the weather, resistant goods in particular have been stored outside. The options of companies in the wood and metal industry for the allocation of storage space were therefore limited. In response to customer inquiries, Elvedi project manager Günter Garber gave the impulse to consider different approaches to the outdoor storage of long goods. Michael Beil, operations and technical manager at Elvedi, was significantly involved in the technical implementation of the weatherproof rack. "Currently there is no system on the market that can be compared to ours. Using our solution, logisticians gain significantly more flexibility when planning their storage areas. Customers from four countries are already benefiting from our solution: Germany, Switzerland, Austria and France," says Beil.