Pallet Live Storage Fills Grocery Shelves
24th February 2023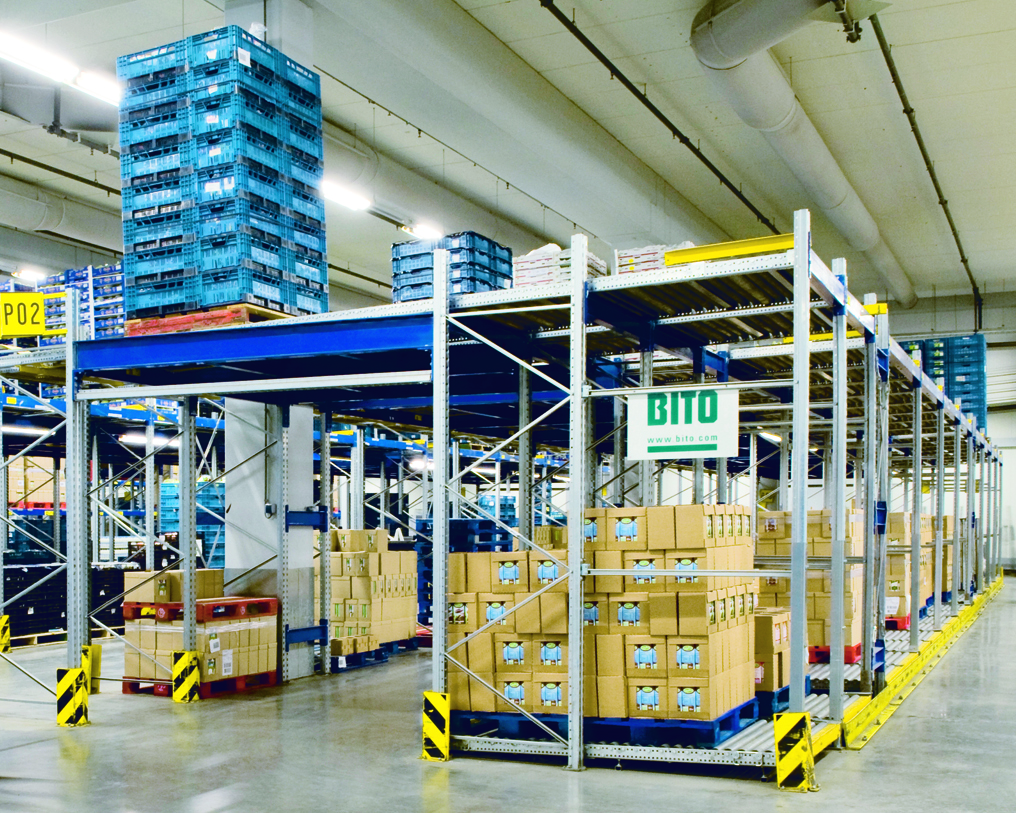 An innovative Pallet Live Storage installation can play a key role in supporting grocery retailers as they strive for market leading growth, according to Edward Hutchison, Managing Director of BITO Storage Systems.
Providing up to 50% more storage capacity than traditional racking on the same footprint, a Pallet Live Storage (PLS) system can contribute significantly to accommodating sufficient stock to meet growing demand from a grocery retailer's customers.
Supporting a retailer's need to maintain customer service in tandem with achieving sales growth is one of the biggest challenges placed on a distribution centres (DC), particularly when it comes to handling the sheer volumes involved and fast turnaround required by everyday bulk stock lines, such as soft drinks.
Pressure intensifies when these lines experience peaks, such as during a hot summer – particularly in large cities or on the coast. If one store runs out of a line of soft drinks on a very hot day, there's a good chance that others in the region will experience a similar issue. All will want more but storage limitations mean there's a chance that not every store will get the amount they require, which will have a knock-on negative impact on the grocery retailer's level of customer service.
The best way to ensure such situations are avoided is to maximise the amount of storage that can fit within the constraints of a DC to provide efficient order fulfilment for retail stores. The traditional storage format in grocery DCs is standard pallet racking offering ground floor and first level picking with multiple levels of bays above. It is not unusual in particularly crowded DCs to find bulk stock items that are continually fed to stores being located on the DC floor. These configurations allow a DC to carry out case picking and give it the opportunity to take a pallet and ship it directly to a store. For smaller stores with a lower turnover, they might ship a half pallet.
However, for those grocery DCs that need greater flexibility to meet a variety of demands from customers within a limited space, PLS offers an ideal solution. It provides a dense storage and order picking system that contributes to innovative, efficient and agile grocery logistics operations. On a relatively small footprint, pallets can be located 'in the air' on several levels of inclined roller lanes, with delivery lanes for pallet loads of bulk stock lines – such as soft drinks – on the ground floor. This provides dense storage and rapid access to orders.
There are many innovative design variations that can be added to suit specific needs. For example, instead of using pallet racking uprights, the pallet live flow lanes could be constructed above a mezzanine structure, which could itself accommodate a number of bulk delivery lanes between each column on the ground floor for easy and rapid access. Introducing a such a solid structure for the ground lane gives added protection against the powerful and heavy lift trucks used in a DC.
Reach trucks can be used to place pallets delivered from Goods In on the upper levels of the PLS. Entering the rear of the lane, the pallets move down the roller lanes to provide a continuous feed of product for the pick face on the aisle at the front of the lane. Systems can accommodate traditional pallets, Euro-pallets handled short-sided and half pallets handled long-sided.
The flexibility in such a design allows products that need to be sent immediately to stores to be picked directly from the flow lane and transported to Goods Out. If the ground floor delivery lanes are getting close to empty, then stock stored in the lanes above can be brought down and pushed through to the other side of the lane for order pickers to continue their pick. The space efficiency such a system delivers makes the investment well worth it, giving a DC the capacity to stock items in sufficient quantities to avoid running out – even during peaks.
In addition to being an efficient storage method, PLS operates on the FIFO (First In First Out) principle, ensuring the product rotation that is important for grocery store replenishment: pickers always get the first product sorted by the 'best before' date. Furthermore with this solution, when bulk products a hit peak, a DC will have the ability to react on customer demands quickly, delivering straightaway irrespective of the amount ordered by a store manager. Any demand in any store can be fulfilled at any time – and that is the goal of any logistics operation.
A further benefit is that the PLS can accommodate seasonal items on the flow lanes in the upper levels, allowing the grocery DC to take advantage of quiet time to get those products out to stores early. When seeking a supplier to provide a PLS system, it makes sense to find a long-established company and has proven itself over the years as being a very trustworthy partner for grocery retail operations. With solutions that are priced competitively and an experienced team of experts to create and deliver projects on time, the company should be able to work closely with the client to develop customised solutions and work around existing operations.