Case Study: Good Day at the Office for System Store Solutions
11th December 2019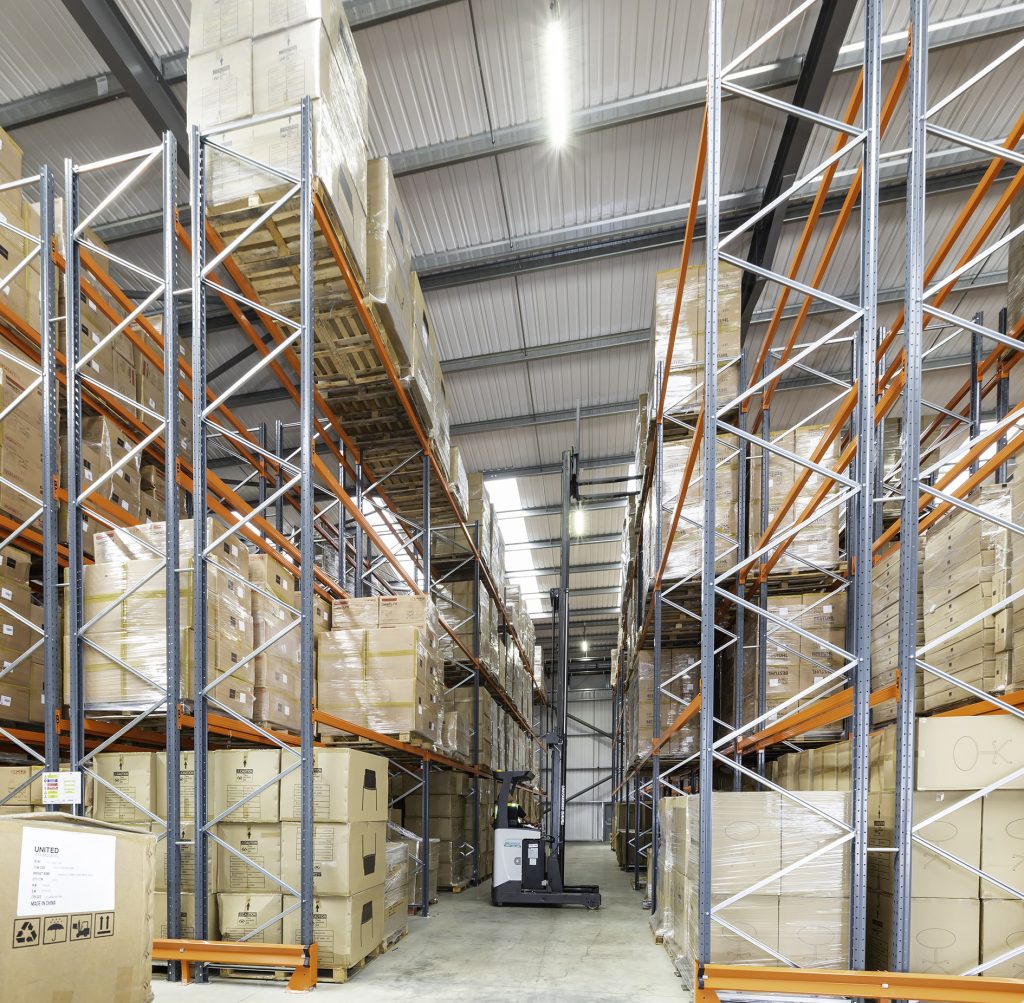 From a starting point just over six years ago Workstories, a manufacturer and supplier of design-led office seating, workstations, soft seating and associated furniture accessories, is on target to achieve turnover of £20 million in the current financial year. This growth has meant change within the business and in July it relocated its warehousing and distribution operation to a brand-new facility in Kempston, Bedfordshire. This 32,000 sq ft building was a blank canvas and it called upon the expertise of System Store Solutions to install the necessary storage capacity, along with an additional 6500 sq ft mezzanine floor.
Workstories works closely with its customers to specify and supply products from its catalogue of brands to furnish projects of all sizes and for many companies across the UK and mainland Europe. This requires efficient storage solutions for products held in stock as well as having defined useable space in which to pick, collate and assemble a large number of furniture orders dispatched on a daily basis. The move to Kempston provided Workstories a perfect opportunity to create the optimum storage and working environment and chose Ashford, Kent-based System Store Solutions as its partner for the project. "Systems Store Solutions were recommended to us by materials handling specialist UniCarriers and from the first meeting with Karim Loukil from System Store Solutions I was impressed by his approach, knowledge and advice… that combination meant that we never considered going anywhere else for the warehouse and mezzanine installation," says Brian Quin, Workstories Operations Director.
System Store Solutions prides itself on its ability to deliver to the customer brief and Workstories was no exception as they took the initial ideas and came back with a refined proposal that contained a mix of good ideas and sound technical advice that Brian Quin and his team could take on-board. "It was reassuring that from the project going live we had Mark Price from System Store Solutions as our Contracts Manager and he was on-the-ball from day one keeping me fully informed and updated along the journey," says Brian Quin. "The result was that we encountered no major obstacles and if any minor issues arose, Mark communicated clearly and dealt with them professionally to keep the project on track. Thanks to this high level of communication and detailed planning the project was completed from beginning to sign-off in 11 weeks."
The warehouse installation consisted of five rows of 'double deep' pallet racking with four space Pallet locations (three beam levels), this maximised the available space for Workstories giving a total of 1426 available pallet locations, with just four gangways for forklift access. The installation also included rack protection barriers and anti-collapse mesh to prevent any possibility of pallets and contents falling on to the mezzanine. In order to create additional space for assembly and storage, System Store Solutions also created the 6500 sq ft mezzanine, with every aspect of the build complying with the relevant fire rating and building regulations, including emergency lighting and smoke detection systems. In addition to working areas System Store Solutions also worked with Workstories to develop the office space with glass partitioning and a break room with kitchen facilities. "Given the extent of this project and fit-out, I was extremely impressed and delighted with the final outcome. System Store Solutions and all the contractors did a great job for Workstories and the support and interaction made it stress free for me. In conclusion it has been a complete success from start to finish," says Brian Quin.
"While this is not the biggest project in terms of size and value that System Store Solutions has undertaken, it was definitely one of the most comprehensive in terms of number of trades that were involved, from electrical, CCTV, communications, including WiFi, flooring, and controlled access to the building," says Mark Price, System Store Solutions' Project Manager. "The fact that we delivered the entire project on-time and to budget is testament to the level of detailed planning that we apply to every project of this type."