AR Racking sets up research programme
21st July 2021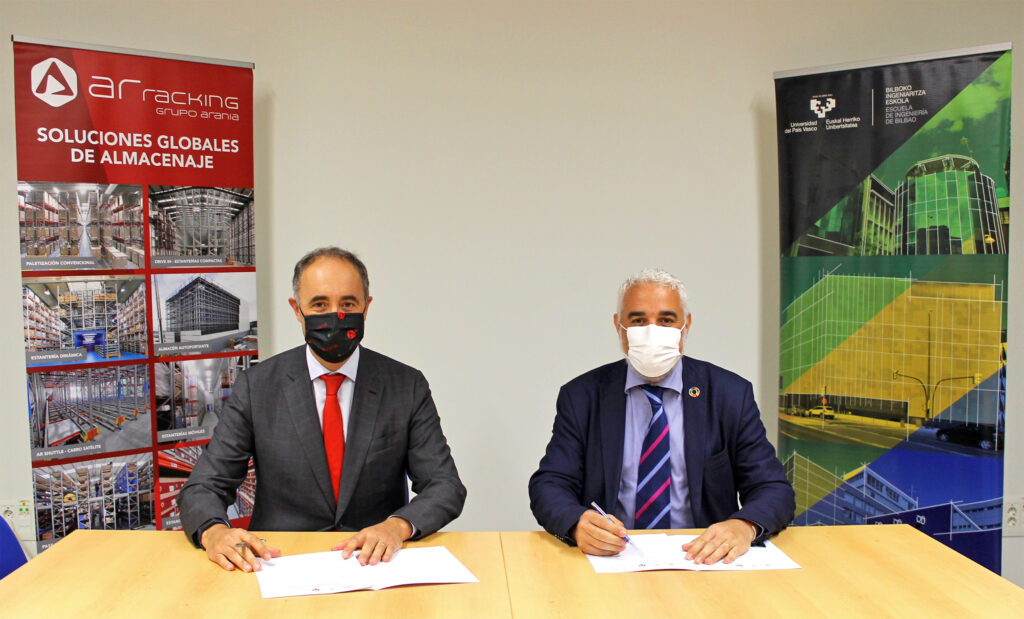 AR Racking and the University of the Basque Country (UPV) have signed an agreement to collaborate in a research programme that will take shape through the launch of the AR Racking Research Centre: Storage Solutions at the School of Engineering of Bilbao of the University in this city.
The agreement between both bodies was ratified on 15th July at the School of Engineering of Bilbao by Eric Arana (pictured on the left), Chairman of the Arania Group (the organisation to which AR Racking belongs), and by the principal of the School, Charles Pinto (pictured on the right). The inauguration was also attended on AR Racking's behalf by Iñaki Arriola (Managing Director), Pablo Montes (Technical Director), Javier Ruiz (Product Manager) and Lorena López (Marketing and Communications Manager). Jesús Cuadrado (professor at the UPV and technical director of the research centre) also attended the agreement event. The centre will begin its activity in September, coinciding with the start of the next academic year.
It will be dedicated to analytical studies of structures made up of thin-walled profiles. In the short term, and as a matter of priority, the bases for carrying out the studies and research on fatigue in these types of profiles are being established. Other objectives include promoting studies on seismic analysis, the characterisation of components and spacers, and analyses of structural collapse mechanisms in case of fire.
Another of the main ongoing objectives of the AR Racking Research Centre: Storage Solutions is that it should serve as a career development space for member engineers, who will be able to join AR Racking's structure to support the growth of the company, both in terms of actual projects in execution and in the product and solutions development area.
AR Racking, a company of the Arania Group with headquarters in Zamudio (Bizkaia), is specialised in the design, manufacture, calculation and installation of industrial storage systems for all types of loads. With an export rate of over 85%, AR Racking has a commercial presence in more than 60 countries. A trajectory marked by internationalisation and a clear and firm commitment to R&D&I. This is the second research centre provided by AR Racking and connected to the University after the collaboration agreement signed in 2019 with the University of Mondragón, where the AR Lab research facility and test bench is located.
The creation of research centres/labs is a valuable and effective instrument both for academic institutions and for companies for their contribution to technological development, the training of engineers and the generation of expertise in the industrial fabric. A goal shared by such an important institution as the UPV and by AR Racking, whose sound track record is clearly associated with a pioneering spirit of continuous improvement.