STILL installs e-chargers at HQ
3rd August 2022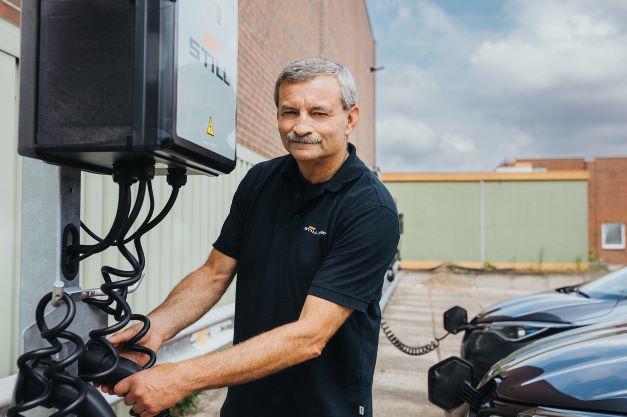 The Hamburg-based intralogistics provider STILL is currently building 20 charging stations for electric vehicles at its headquarters on Berzeliusstraße in Hamburg. The highlight: not only will the company fleet's electric vehicles be charged there in future, but employees and visitors will also be able to use this charging facility for their private vehicles.
"Electrifying!" – the slogan of the Hamburg-based intralogistics provider STILL will take on a whole new meaning in the future. That is, when the 20 charging stations for e-cars that are currently under construction go into operation in August.
"In fact, we will not only use the new charging stations for our increasingly electrically driven company vehicle fleet but will also offer our employees and our visitors a charging option as a very special service. We are particularly thinking of employees who do not have charging facilities at home. We want to make it possible for them to switch to an emission-free vehicle," says Stefan Sanny, who is responsible for facility management at STILL.
However, building the first charging points was only the first step for STILL. "This is just the first part of an overall project by STILL, with which we have now created the infrastructural and procedural possibilities for gradually equipping other sites with electric charging points. In this way, we not only want to enable the conversion of our own vehicle fleet, but also motivate our employees to switch to electric vehicles."
In the medium term, it will also be possible to include suitable wallbox chargers at home for the service van fleet and company cars for employees in the STILL charging infrastructure.
STILL uses "green" electricity
STILL obtains the electricity required for the charging stations – like the rest of its electricity – from "green" sources. "This means that we are making a real contribution to reducing CO2 emissions with our new charging stations," says Stefan Sanny. The charging points can be used with the usual charging cards – and STILL employees can even benefit from special rates. Charging is carried out according to the 'fair-use principle'. This means that charging is only carried out when and for as long as necessary so that charging points are always available.
"We will closely observe how our new offer is made use of. If it proves successful, we have the option of building another 24 charging stations at the same location," concludes Stefan Sanny.