SSI Schaefer to Extend Logistics Centre for Fashion Retailer Carhartt
26th April 2019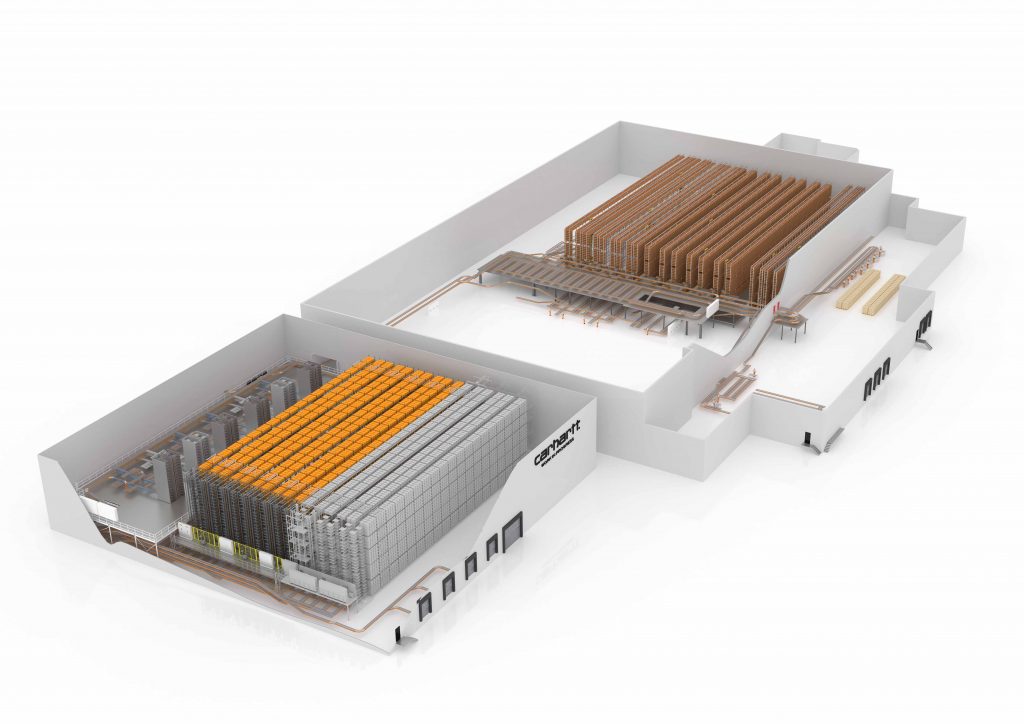 Intralogistics giant SSI Schaefer is to provide a new logistics building for Work in Progress Textilhandels GmbH, better known as Carhartt, including a Cuby shuttle system, a compact bin and carton conveying system as well as picking locations with sequencing tower. Furthermore, the existing automated shipping buffer will be extended and connected to the new system technology.
Carhartt WIP supplies 70 of its own retail stores and 11 outlet stores worldwide via an omnichannel strategy from the central logistics centre at company headquarters in Weil am Rhein, Germany. The rapidly growing B2C demand is met by an online shop. SSI Schaefer will extend the storage capacity of the logistics centre and increase the process efficiency of made-to-order production for various distribution channels, thanks to optimized material flows and modern system technology.
SSI Schaefer will implement a fully automated 5-aisle Cuby shuttle system with about 35,000 carton storage locations, a pre-zone and a high-speed loop in the add-on building, which exceeds 4,000 m². The dynamic and completely scaleable storage system is operated by ten lifts to ensure high performance with a compact design. A potential expansion by three aisles is already considered in the installation layout. To guarantee successful sequencing of source cartons and consistent material supply of the eight connected picking locations, SSI Schaefer will install eight sequencing towers with 2 x 23 transfer locations each. An optional expansion by up to four towers for this automation area is already included in the installation layout. The picking locations are equipped with Put to Light technology and integrated into the system concept and material flows.
The new 1.6 km conveying system is set to supply 20 new packing work stations, a semi-automated returns work station and eleven special handling work stations for value-added services (VAS). Additionally, it is connected to the material flows of the already existing system. The existing system will be modified as well: SSI Schaefer will extend the 8-aisle miniload by two aisles with 9,800 storage locations. For further process support, SSI Schaefer also integrates a wide range of handling systems into the new conveying system, such as automatic carton openers and erectors, tape carton sealers, scanners and label applicators. SSI Schaefer implements the warehouse management system WAMAS® in the WIP logistics centre for warehouse management and process control.
Material flow structures for B2B shipping remain intact, while SSI Schaefer will restructure the material flow for B2C shipping, returns handling and the special handling area (VAS). In doing so, the system technology of B2B shipping is considered and incorporated to a large extent. The go-live date for the entire system is planned for the first quarter of 2020.