Safe legs in safe hands
27th April 2022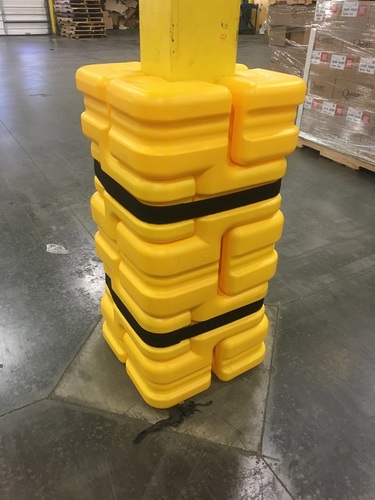 When a forklift collides with a racking leg, the consequences can be severe. At the very least, there will be damage to a load or the aisle will be closed off for inspection, costing the business time and money. At worst, it could bring down the racking it supports and cause significant damage and disruption, as well as threaten the safety of personnel working in the area.
Established in the US 1998, Sentry Protection Products develops impact resistant and collision awareness equipment for use in commercial environments that help reduce or eliminate such risks. Logistics Business spoke exclusively to Sentry's CEO James Ryan at the recent MODEX trade show in Atlanta, where his company had just launched the adaptable Column Sentry FIT product.
Logistics Business (LB): What are the benefits of Column Sentry FIT above those of the existing Column Sentry product?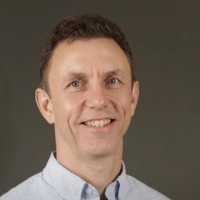 James Ryan (JR): We brought out our original column protector in 1998, and so as much as we've sold them for years and years, we've also seen their shortcomings, one of which was that in two sides the products is incredibly flexible, but if you have a seam between two sides you've got two sides that are stiff. Everyone whose came behind us have done the same thing, and so we sought to create a product that would protect columns on all four sides by presenting an equal face. When we did that we also created a four-part modular system that also could grow or shrink to fit exactly the column. So we created that and called it the Column Sentry FIT because it was literally a good fit.
With this extension feature, we are continuing to make it a modular product, so that we can continue to extend the sizes. Many people are now having larger columns because they want longer spans, or they want to support crane systems and things that are going to need a bigger column – we're seeing more and more columns that are 200-300 [mm] or 300-400 size. In doing this with our modular piece, the extension piece immediately goes to 350, expandable to 400, expandable to 450, and then we can add a second modular piece in there and continue to grow that piece. As soon as we do that, it can grow to 500.
LB: How is warehouse safety improved by this?
JR: Anytime you have a hotspot in your warehouse where forklifts are going to be travelling, we're seeking to find ways to cushion things, to reduce injuries, to reduce worker downtime [and] equipment downtime. It's primarily people, but it's all those things that make your operation slow down or quit. With rack products, it happens all the time, you have to shut down an entire aisle, or if one of the racks has collapsed, then you're going to have to shut down an entire part of the plant. Adding inexpensive cushions, we feel that's a great way of safeguarding yourself from those types of… not just equipment damage, but all the things around it such as clean-up and injuries and all things that are bad. We've concentrated on everything that makes it a hard spot, and tried to make it a soft spot.
LB: Where do Sentry's strengths lie in comparison to your competitors?
JR: One of the things we stress is that we don't sell a lot of different products, we sell products that make a difference. And where we differ from some of our competitors is, whenever you're looking to create a brand new product, you're looking for the customer's pain points, what they are suffering from, and we're addressing those needs. [If] customers say this creates injuries, then we do whatever it takes to solve those problems. Those that come after us tend to say, hey, I can make something that looks like that or I can cut the cost, and typically you're going to be shaving in order to bring down costs and sometimes that means you get a good price point for a product. But where we differ is our products are high quality because we went straight to the customer, looked at their needs, worked with them and invented something [which] addressed those needs.
LB: What is the culture and ethos that has helped build the success of Sentry?
JR: As in any business, everything is a people business. One of the most satisfying things I had in the 24 years we've been around is the relationships that we have created and thrived on. We find that not only in the products we sell, but that our customers bring us ideas and they sometimes bring complaints. Some of our products are second-generation products, and we wouldn't do that of everything was great. People say, hey, we have an issue here or I ran into this kind of problem. So having that sort of relationship with our customers and resellers allows us to get freeflow of information to say this is where you're doing things great ,but I also like to hear this is what you're doing wrong. And when we find what we are doing wrong, that's the next idea to help us to do it better. We're already on our fifth generation with Collision Sentry.
LB: As a US-based company, how have you sought to expand your international sales?
JR: We've concentrated our international growth efforts on finding customers who really share the same values. We concentrated early not only on North America, but Western Europe and the UK because we share the same values – safety is a big issue. A well developed industrial base that appreciates these types of things. We will continue to try to grow into those types of areas. It's much easier if I bring a product to market that appeals to someone who values safety. We've tried to expand primarily to well developed countries and peoples who will do that.
LB: How have you found doing business in Europe?
JR: We went through a lot of fits and starts. We started the business in 1998, and we were already trying to exhibit and sell our products on the continent and the UK since 2000. We were a very young, small company. We 've had different levels of success in different places  and again it's as different as the people are. We go throughout Europe, and you can't say one market is the same as another market. Even though they share currency and an open market, it doesn't mean the people are the same. So we had some areas where we had great initial success, because they were open to trying new things, but that haven't necessarily turned out to be our best markets, because other areas that were a little bit harder to convince are solid now, because they believed in it and bought over and over again.
Ironically, we've had more issues with the UK simply because we've gone through different resellers in the UK. They had great initial interest and all, but I didn't get the follow-through. So we're on our second or third generation of resellers who are there and we may even go to the market directly with some e-commerce sites to address that.
LB: Thank you very much for talking with Logistics Business.
https://www.sentrypro.com/column-sentry-fit/
CLICK HERE to watch a video of Column Sentry FIT