RSX1 offers maximum storage density for small parts
9th December 2021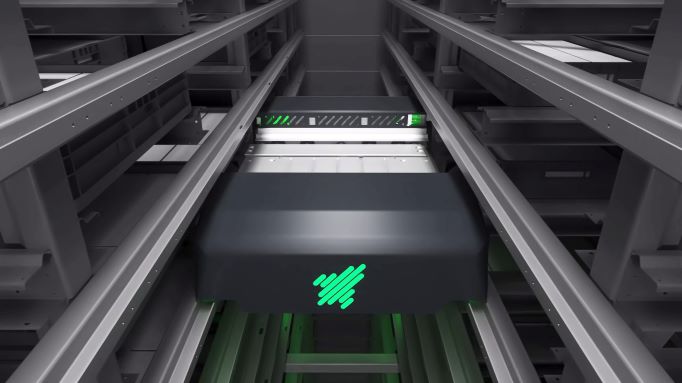 High performance in the smallest space – that is the demand of today's storage solutions in intralogistics. In 2019 the long-experienced intralogistics professional Florian Vent came up with new shuttle technology that meets this need and founded the tech start-up ROCKETSOLUTION GmbH. The young Munich-based company developed the innovative RSX1 shuttle system.
RSX1 is a small parts storage system which focuses on maximum storage density, enormous robustness and simple integration capability and pushes the limits of existing systems. It takes the next step in the evolution of automated small parts storage. The RSX1 shuttle system stores totes and trays up to 50kg with a flexibly scalable performance up to 1500 storages and retrievals per hour and aisle in the smallest of spaces. It can be used in different industries and fields of application.
Intralogistics is a rapidly growing market worldwide with huge potential to contribute to the sustainable protection of our environment. At the same time the desire for improving profitability grows as well. Thus, achieving higher profits while increasing durability is the challenge. ROCKETSOLUTION wants to solve today's and future economic and ecological challenges and offers excellent solutions to optimise the intralogistics sector.
The RSX1 technology is distributed and serviced by an international, ever-expanding network of qualified system integrators and distributors. Only six months after the official market launch, seven international partners were already convinced by the ROCKETSOLUTION technology. Including the strategic investor Kardex, a global player in intralogistics for automated storage solutions and material flow systems, which ROCKETSOLUTIONs partnered with in 2020.
Compared to conventional shuttle systems, the RSX1 reduces the required space by more than half and stores almost six times higher than height-restricted cube storage systems.
Next to the utilisation of the warehouse height, intelligent container arrangement and an innovative load handling make the new dimension of space efficiency in the shuttle warehouse possible.
Thereby, the performance remains the same or even increases. Innovative, well thought-out product design as well as high-quality and durable materials and maintenance concepts ensure high availability and reliable process safety.
Another advantage of the RSX1 is the simple integration. Whether at the level of material flow systems and Internet of things (IoT) structures or in building structure and technology. A highly standardised, open PLC interface, cloud integration and low requirements for the base plate enable a quick and easy system installation in almost all current and planned facilities and logistics systems.
The four core components: RS-Rack, RS-Shuttle, RS-Lifts and RS-Software form the innovative RSX1 shuttle system by ROCKETSOLUTION. It is flexibly scalable in size and performance and can be used in different industries and application areas. Whether retail, manufacturing, or service, the RSX1 adapts easily to the respective requirements.
The configurable and expandable racking system RS-Rack with a maximum height of 30m, low floor requirements and its intelligent, space-saving access concept is the basis.
The RS-Shuttles are high-performance shuttle vehicles that travel within this racking system. They can effectively pick up small parts weighing up to 50kg and handle the orders from one or more storage levels, depending on the performance requirements. Due to the low overall height of the shuttle, there is no loss of space from a container height of 100mm. The RS-Shuttles are extremely robust and reduce susceptibility to faults thanks to the innovative load handling device.
The RS-Lifts used can be positioned anywhere in the rack, and the number of lifts can be scaled according to the required system performance. Tote transfers can be completed in the lift shadow, in a way that conserves space and without additional conveyor technology. The system offers high energy efficiency through energy recovery, DC link coupling and power caps.
The system is rounded off with the future-proof RS-Software that comes with a standardised, highly flexible IT interface to external material flow and warehouse management systems covering all sequencing requirements. A modern app-based user interface facilitates handling. IoT data is provided via MQTT.
With the RSX1 technology, ROCKETSOLUTION delivers an efficient storage and retrieval solution for different warehouse sizes and fields of applications. Thus, the micro-fulfilment solution RSX1-Micro is a fully functional complete system especially suitable for urban warehouses or smaller automated systems e.g., within retail shops. The turnkey, standardised fulfilment centre includes conveyor technology and various workstations, material flow control, an integrated warehouse management system.
The integrated system solution RSX1-Enterprise, however, is a core high performance storage unit for individually planned and holistic intralogistics systems like comprehensive warehouses, distribution centres or buffer storages.
ROCKETSOLUTION's RSX1 offers flexible storage solutions for all types of industries and applications. The shuttle vehicle's unique load handling device and ultra-compact design allow for greater lateral bin density, reduced aisle width and quadruple-deep storage. As a result, the required size of the shuttle warehouse can be reduced by half. All RSX1 components such as racking, adaptable lifts and innovative shuttle vehicles reduce unnecessary empty space within the storage system. It also conserves resources and increases efficiency and profitability in small parts storage.