Robotics Fleet Management: buy or build?
27th July 2021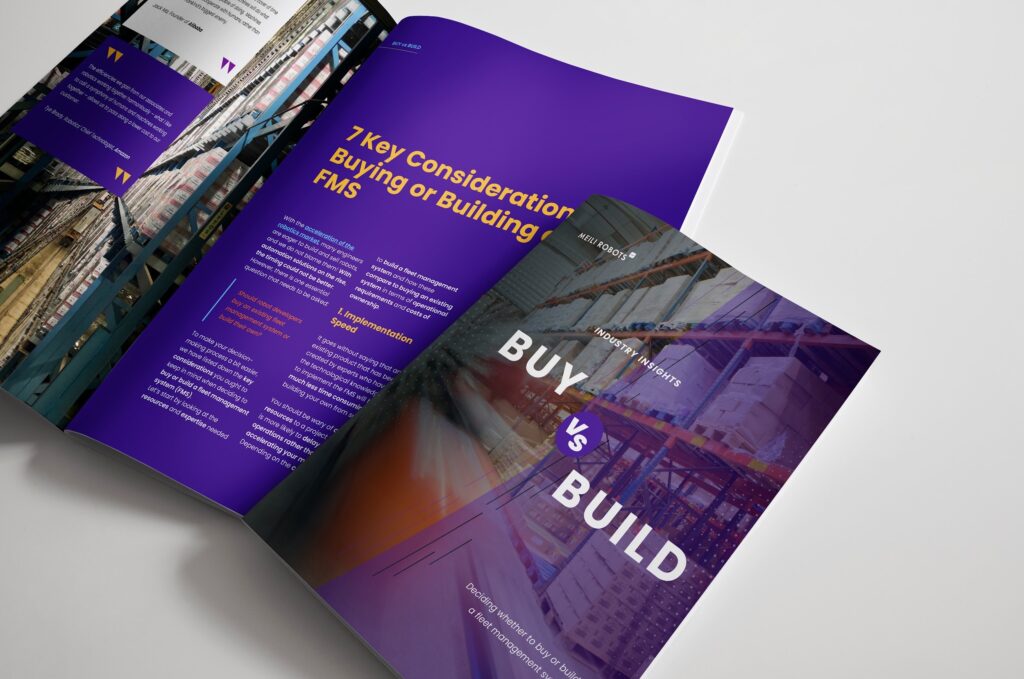 As the robotics market continues to accelerate — with many robotics enthusiasts diving into the development of robots and their accompanying systems — you might be wondering what would be best for your business: to buy or to build?
To help make your decision-making process a little bit easier, Meili Robots' industry report explores and discusses the seven key considerations for buying or building a fleet management system (FMS) for your robot fleet.
Implementation & maintenance costs
An important aspect of building or buying an FMS is the costs and speed of the implementation process. While a third-party FMS can be integrated into your existing systems within hours, it can easily take a year or more to develop your own scalable solution.
Meanwhile, resources and expertise are also crucial factors for deciding whether to build or buy a scalable FMS. Depending on the size of your fleet, you will need to consider hiring a team of developers to establish the necessary infrastructure and interface of your software.
Perhaps the most important consideration for buying or building an FMS is the maintenance of the system. If you do decide to build your own FMS, you will need to keep your system up to date — meaning you would most likely need to hire in-house developers. If you were to buy an existing FMS, you would instead have automatic access to external developers from the third-party provider.
Compatibility, functionality & scalability
Many third-party FMSs can easily be integrated into existing systems and might be customisable to your exact requirements. However, this usually costs extra and takes more time to deploy. On the other hand, when building your own FMS, you get to design and develop your software exactly the way you want. Keep in mind that this also comes with additional maintenance to keep your system up to date.
If you have the resources at hand to develop your own FMS, you get a lot of flexibility in terms of functionality — having the ability to add new features and updates as you see fit. With an existing FMS, you will be dependent on the third-party provider for updates and new features.
Most existing FMSs are specifically designed to make it easier for you to scale your business. If you were to build your own FMS, you need to ensure that you have a strong, scalable software foundation so it can keep things running in the long run without running into any complexities.
For further insights into the seven key considerations for buying or building a FMS, please download the free report on Meili Robots. Here, we dive further into the implementation speed, cost estimates, functionality, system compatibility and security as well as connectivity, data monitoring, and current market insights.