New Rack protection Sensor to Prevent Damage
17th February 2021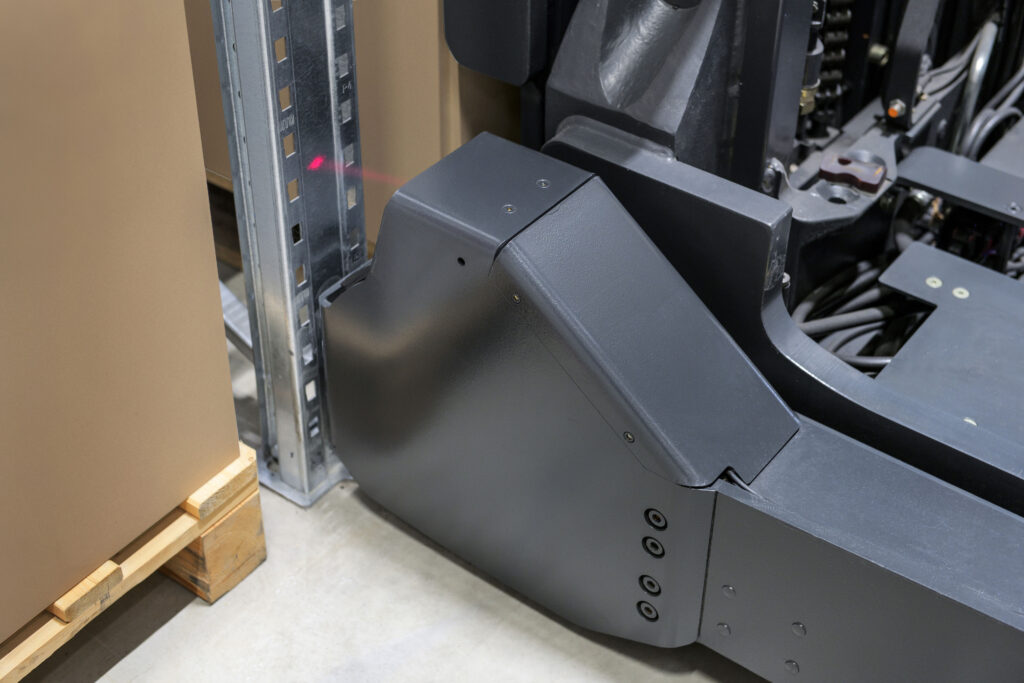 A rack protection sensor that prevents collision damage to racking and a multifunction lever that combines efficient control of driving, reach travel and lifting functions into a single joystick control: These two new options are now available for reach trucks from Linde Material Handling. Fleet managers will benefit from cost savings and productivity gains, while forklift operators can devote their full attention to load handling.
Collision damage to racking systems can be a significant cost for warehouse managers because it entails considerable expenditure of time and money. Damaged end frames and beams primarily result from reach truck operators manoeuvering in front of the racking with their attention focused upward as the load is stored and retrieved. "What's happening on the ground can be easily overlooked," says Alexander Schmidt, Senior Product Manager Reach Trucks at Linde Material Handling, adding that market studies have shown that damage is caused primarily by the reach legs while the load, forks or chassis are less frequently involved.
"Even minor carelessness can lead to major disruption of warehouse operations," Schmidt says."If a rack end-frame suffers a six millimeter dent over a length of one meter, up to one-third of it's load-carrying capacity can be lost. This results in a number of rack locations that can no longer be used reducing the capacity of the warehouse. Repairing the damage and replacing the racking components is time-consuming because all areas to either side of the damaged rack frame must be emptied and the goods temporarily stored elsewhere. This takes up working time and additional storage space, disrupts operations and thus reduces productivity in the warehouse," the Senior Product Manager says, outlining the negative consequences.
Linde Material Handling is addressing this problem by means of its Rack Protection Sensor (RPS). Two special light sensors, which are installed on top of the reach legs in a protected housing, detect objects in front of them. When an obstacle is detected, the assistance system automatically brakes the truck, thus avoiding damage. The sensors only become active at a traction speed of less than five kilometers per hour – which is the usual speed when maneuvering in front of a rack. As operator accelerate beyond this set limit, for example to cover longer distances, the patented system is switched off. The technology used is perfectly suited to typical warehouse conditions because it can work in artificial light as well as natural daylight or sunlight, explains Schmidt.
The rack protection sensor has proven particularly beneficial to companies whohave a high staff turnover or who regularly employ agency operators. "New or agency staff often lack experience and can misjudge the dimensions of the reach truck," states the Linde product manager. Here, as an "extra pair of eyes", the rack protection sensor provides valuable support for the fast yet safe maneuvering of heavy equipment.
The RPS assistance system is available as optional equipment on the high-performance models of Linde reach trucks series R14 – R25 with a load capacity of 1.4 to 2.5 tons and will soon also be offered as a retrofit solution for these trucks.
The second new option from goods handling specialist Linde MH is a new type of multifunction lever. It makes operating the Linde reach truck even more comfortable and is designed to help maintain the concentration and comfort of operators as well as increase productivity. Based on an ergonomic study, this innovative human-machine interface was developed in collaboration with the Fraunhofer Institute (IAO) and Porsche Industriedesign. The result is a joystick that can be easily operated in all four directions, with the operator's hand resting comfortably in a natural position. A wing extended laterally to the right provides additional support for larger hands. Traction, reach travel and lifting functions can all be controlled intuitively with minimal effort from the wrist and fingers. All hydraulic functions are combined in a single control element and there is no need to move the hand up and down. This results in increased productivity and enables intuitive operation. The entire lever is moved back or forward to raise or lower the lift mast. Movements to the left and right direct the reach travel of the mast. Repositioned from the armrest to the center of the large joystick, two butterfly levers control the fork carriage tilt and sideshift functions and now combine two additional operations as they also control the tilt and horizontal leveling of the fork carriage as well as the alignment and centering of the sideshift, respectively. The horn and the direction lever are located on the left side of the multifunction lever. A major advantage of the conveniently positioned components is that all control commands can be made intuitively, even when wearing gloves, so that the operator's attention remains focused on load handling at all times.