Rack Protection and Mast Control Revisited
28th January 2021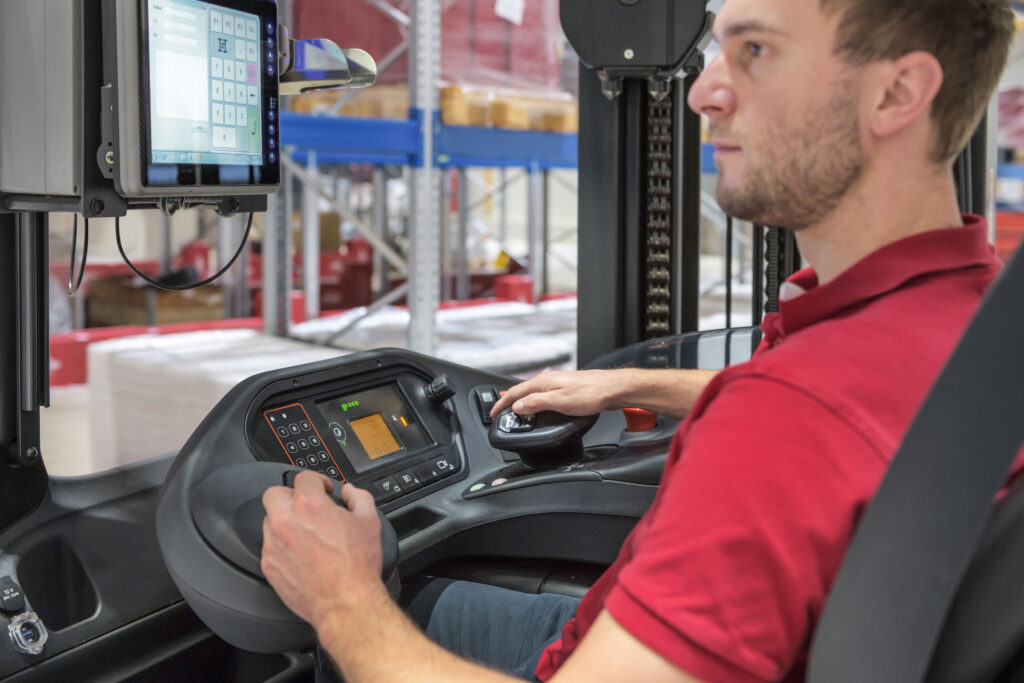 Rack protection and mast control has been reconsidered by Linde Material Handling. A new sensor has been developed which prevents collision damage to the rack and a multifunction lever ensures efficient control of driving, reach travel and lifting functions while being gentle on the finger joints. Fleet managers benefit from cost savings and productivity gains, while forklift drivers can devote their full attention to goods handling.
Collision damage to racking systems is a major annoyance for warehouse managers because it can entail considerable expenditure of time and money. Crushed rack supports and damaged pillars primarily result from operators of reach trucks maneuvering in front of the rack with their eyes looking upward as the load is stored and retrieved. "What's happening on the ground can easily slip out of focus," says Alexander Schmidt, Senior Product Manager Reach Trucks at Linde Material Handling, adding that market studies have shown that damage is caused primarily by the load arms while the load, forks or chassis are less frequently involved. "Even minor carelessness can lead to major obstructions in warehouse operations," Schmidt says. "If a rack frame is dented six millimeters over a length of one meter, up to one-third of the rack's load-carrying capacity can be lost. This might mean that the corresponding number of rack locations can no longer be occupied and the capacity of the warehouse is consequently reduced. Repairing the damage and replacing the broken rack support is time-consuming because all areas to the right and left of the damaged rack frame must be emptied and the goods temporarily stored elsewhere.This takes up working time and additional storage space, disrupts operations and thus reduces productivity in the warehouse," the Senior Product Manager says, outlining the negative consequences.
Linde Material Handling is addressing this problem by means of its Rack Protection Sensor (RPS). Two special light sensors, which are installed above the load arms in a protected housing, detect objects that come into focus in the light beam in front of them. If an obstacle is identified, the assistance system dynamically brakes the truck, thus avoiding damage. The sensors become active at a driving speed of less than five kilometers per hour – which is the usual speed when maneuvering in front of a rack. If operators accelerate the vehicle above this set limit, for example to cover longer distances, the patented system automatically switches off. The technology is particularly well suited to the conditions in the warehouse because it can work in artificial light as well as in daylight and sunlight, explains Schmidt.
The RPS has proven particularly helpful for companies whose driver pool regularly includes new or temporary employees. "These individuals often lack experience and misjudge the dimensions of the reach truck," states the Linde product manager. Here, as an "additional eye at ground level", the RPS provides valuable support for the fast yet safe maneuvering of heavy equipment.