Powered pallet trucks make deliveries faster and safer
1st November 2022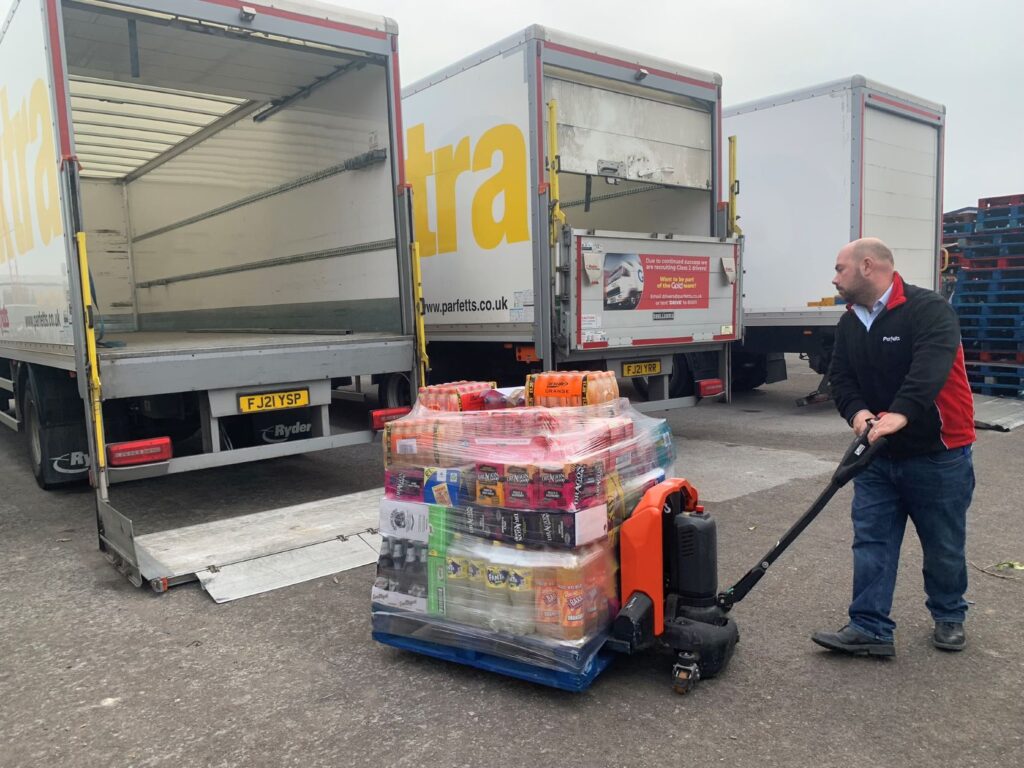 Parfetts, an employee-owned UK cash and carry wholesaler, has upgraded the material handling equipment across its seven depots with the introduction of new reach trucks, counterbalance trucks and powered pallet trucks from the Toyota range.
Covering the East and West Midlands, Yorkshire, Derbyshire, the North East and North West regions of England, Parfetts offers over 9,000 product lines. While a significant proportion of the company's clients still prefer to visit Parfetts' depots in-person in the traditional 'cash and carry' business model way, increasingly customers choose to place their orders online. Parfetts operates an online order-day-one-for-day-two-delivery service and delivery is free of charge.
To help maintain the efficiency of its free delivery service and reduce the risk of delivery personnel suffering strain-related injuries during their daily routine, Parfetts has equipped each wagon in its transport fleet with BT Tyro LHE130 powered pallet trucks.
Prior to the arrival of the powered pallet trucks, Parfetts' delivery personnel had used manual or 'pump' trucks. However, the company has seen a clear increase in the number of palletised loads passing through its downstream supply chain while the use of roll cages is in decline.
Stefan Dremza, Parfetts' store manager, comments: "Back strains and other musculoskeletal disorders brought on by manual handling tasks are among the main causes of staff absenteeism in the UK, so it makes sense to reduce or, ideally, eliminate manual handling wherever possible.
"Powered pallet trucks are considerably less tiring to work with than 'pump' trucks and we have been able to cut out a lot of the hard physical work that delivering to our retailer customers involves simply and highly cost-effectively by introducing the Tyro powered pallet trucks."
The BT Tyro LHE130 from Toyota is an entry-level powered pallet truck that has been designed for use in light applications. It is manoeuvred effortlessly and can lift and transport loads weighing up to 1300kg, while its compact design and 'creep speed' functionality make it ideal for applications where space is confined – as is often the case when delivering to retail stores.
To optimise safety when transporting loads, the new truck automatically reduces its speed when cornering and to ensure that only authorised personnel can operate it, the LHE130 requires PIN code access.
In addition, reach and counterbalance trucks have been supplied for operation within Parfetts' depots. The reach trucks are Toyota RRE160B models. With a lift height of 8.5m, these highly productive trucks feature fingertip control levers for all fork movements and electronic steering for precise driving.
The counterbalance trucks specified are Toyota Traigo 3-wheel electric-powered models. The Traigo's 1.5t load capacity and tight turning radius make it the ideal truck for operation within Parfetts' depots.
Parffets has been employee-owned since 2008. With 900 staff the business has a turnover of £650m.