Improved Store service and Supply Chain Performance
29th October 2020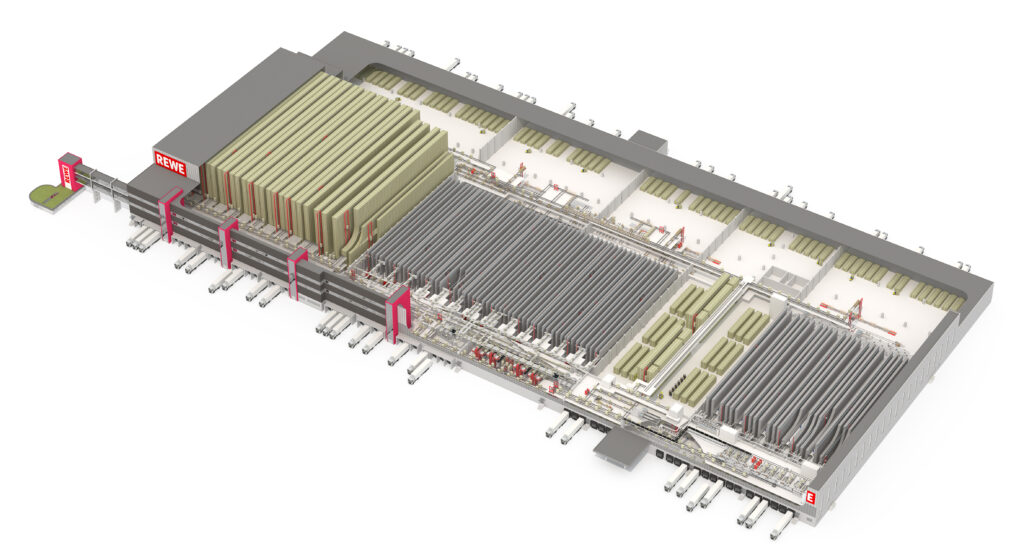 German Retailer REWE is optimizing its supply chain process at its centre in Neu-Isenburg in order to be able to react to flexible dynamic puchasing behaviour. The retailer is working with the German logistics contractor WITRON to achieve this.
The project means REWE can pick more than 5,000 slow-moving items such as canned vegetables or wine packages ergonomically and store-friendly from the storage tote onto store pallets or roll containers. This is achieved by a 5-aisle AS/RS with a total of 25,000 storage locations at four workstations. It is an optimizing supply chain process that generates not only cost-efficient and logistical advantages, but also ecological benefits. This is because REWE would only need to transport 30% fewer totes to the store and back to the logistics center.
In this respect, the "goods-to-person" solution OPS (Order Picking System) will precisely be connected to the already existing tote picking system DPS (Dynamic Picking System). WITRON has worked to design the picking system in such a way that no structural changes to the existing building are necessary.
Both modules interact intelligently with each other in inventory management and picking. This means all items can be picked both in OPS and in DPS. A WITRON warehouse management system dynamically determines the most suitable picking system, according to priority and depending on the "most cost-efficient" pick", "fastest pick", daily volume, season, or the respective product group. In addition, the existing DPS repack is also used for repacking into the OPS totes. Storage into the OPS system can then be either single-stage and directly from the repack area into the OPS or two-stage with interim buffering in the DPS.
Since early 2015, REWE has been supplying more than 6,500 customers throughout Germany with 17,500 different dry goods from its logistics center in Neu-Isenburg. On a peak day, more than 500,000 pick units are picked in a store-friendly manner. During the design phase, the overall system layout has already been developed by WITRON and REWE in a way that it can be adapted flexibly and sustainably to new requirements regarding growing volumes, number of SKUs, and permanently changing business processes. It was also taken into account that future extensions can be integrated largely without any problems during ongoing operation – both in terms of IT and mechanics.