ELOshield Selected by Mondi Ascania for Improved On-Site Safety
18th February 2021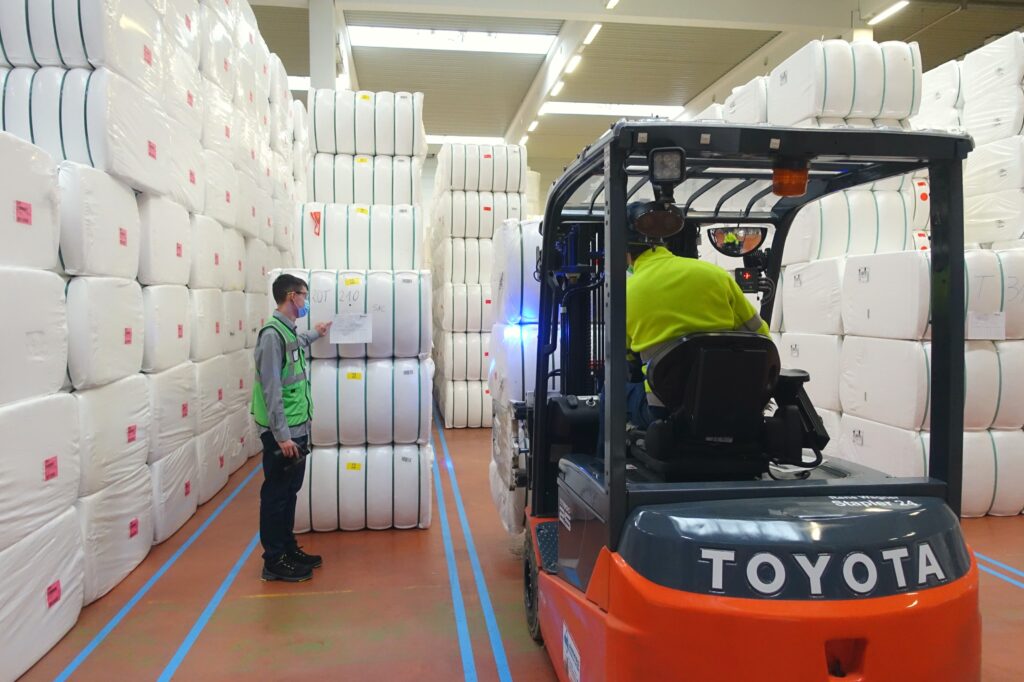 Mondi Ascania, has made the decision to further reduce any risks of accidents by fitting ELOKON's ELOshield assistance system on its fleet of Toyota forklift trucks.
At Mondi's manufacturing facility in Germany, four 50m long production lines operate around the clock, with the fabrics coming off the conveyor belts on large bales. Whilst the production process is to a large extent automated, other operations such as taking the bales to the packaging and storage areas, preparation for despatch and quality management involve the use of forklifts and manual labour.
Excellent safety track record
There has not yet been a single serious accident involving collisions between personnel and vehicles on site, thanks to Mondi's stringent implementation of occupational health and safety measures. The forklifts circulate mainly in a relatively confined area of just 300m² between the packing stations, so there is little room to manoeuvre. Add to this very limited visibility and a constant stream of pedestrian traffic between the halls and this makes for a challenging environment for the truck drivers.
Maik Roemhold, SHE Coordinator at Mondi said: "We are proud of our excellent track record so far, but we were aware that unless we constantly review and enhance our safety measures it was possibly only a matter of time before an accident occurred when 25 trucks and 120 employees are working closely together. This is why we commissioned a demo of ELOshield on-site, which proved that the system's ability to send visual, acoustic and haptic warning signals would add an extra layer of safety for our workforce."
Radio technology protects the workforce
ELOshield automatically recognises when a person enters the danger zone of an operating forklift truck, by means of two modules which communicate with each other via radio signals. The forklift module is installed in a clearly visible position in the driver's cab whilst the personal module, around the size of a smartphone, is worn by the pedestrian.
Constant transmission of radio signals measures the distance between the two modules in real time, and if this falls below a certain threshold the system triggers alarms. The driver receives visual and acoustic notification that a person is within the danger zone of the vehicle and the pedestrian is alerted by means of vibration and acoustic alarms, which also coincide with the truck being automatically brought to a standstill.
Happy employees, satisfied management
"Our employees really like this system", said Roemhold. "They feel safe and protected when they move around the production lines. Initially some of them had to get used to the trucks slowing down automatically and thought that this could impact on productivity, but this was just perceived, and our analyses proved that this was not the case at all. Installation went very smoothly and the ELOKON technicians were quick to react with solutions to any feedback we had, such as slightly repositioning the antennas to improve the trucks' steering."
Compatible with all OEM products
ELOshield was installed on a number of the Toyota models, and going forward Mondi plans to fit all its new trucks with this system. In common with all of ELOKON's safety and assistance systems, it is  compatible with any forklift brand as the radio signals can be adapted to be received by any truck, and it can also be retrofitted to existing fleets.
ELOshield won a gold award at the annual "Engineering Awards in Manufacturing" event at the ProMat trade show in Chicago.