Mission Zero Touch Robotics
28th April 2023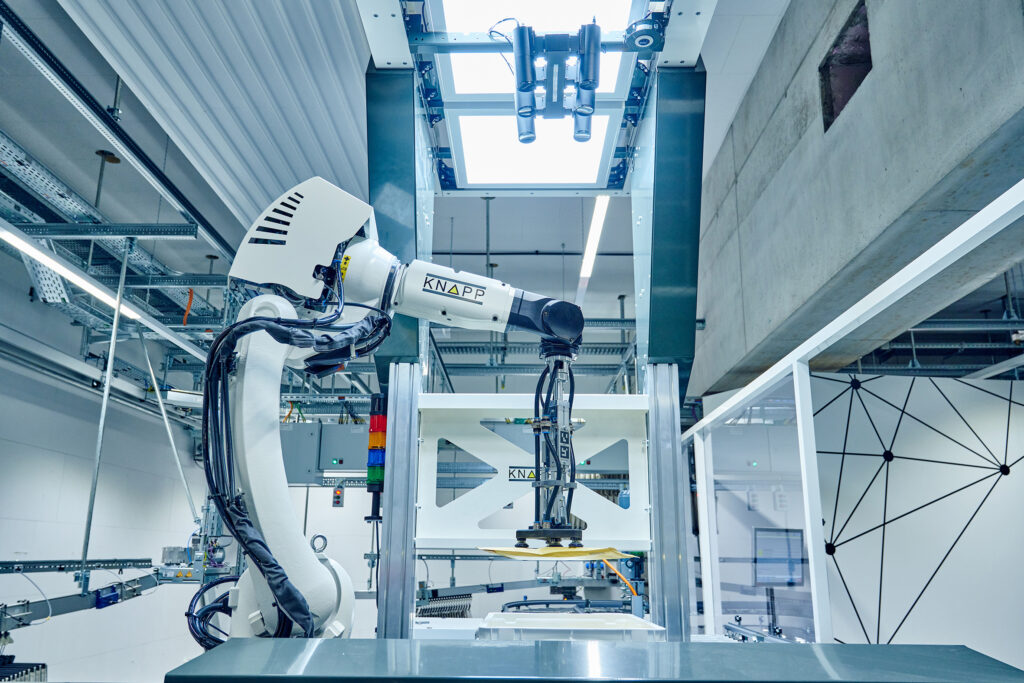 Cost pressures, lack of space and personnel shortages are major issues needing a solution. One key to solving these issues is intelligent robotics. KNAPP's innovative robot solutions help lower costs in logistics processes while increasing shipping capacity. KNAPP calls this new approach zero-touch fulfilment.
The goal of zero-touch fulfilment is to increase the degree of automation while minimizing the number of manual work steps, allowing employees to work efficiently and be relieved from physically demanding and repetitive tasks. At LogiMAT in Stuttgart, Germany, KNAPP presented technologies that help companies meet these goals.
There is no zero-touch fulfilment without robotic picking. KNAPP's Pick-it-Easy Robot (pictured) will pack and pick diverse items into different containers in a live demonstration. AI-based object recognition and grip point determination allow the robot to handle a wide array of items. The intelligent KiSoft software suite functions as the brain of Pick-it-Easy Robot. It is used to design made-to-order software solutions for all processes and across all levels.
Autonomous mobile robots (AMRs) handle in-house transport jobs and offer many benefits that conventional conveyors simply cannot provide. After being configured, which is quickly accomplished, they move about freely and independently. They don't require any changes to the warehouse and the fleet can be expanded rapidly when there are more transport tasks. AMRs are versatile and can be used for transport from goods-in to the storage system, cross docking and supplying work stations. One of KNAPP's series of AMRs, the Open Shuttle Fork, handles the transport of pallets automatically, space-effectively and flexibly.
These autonomous mobile robots are controlled by the intelligent fleet control system in the KiSoft suite. The travel paths and processes of the AMR are easy to model and adapt in the software. KiSoft functions like a navigation system with specific route planning, analogous to the GPS in a car, and its obstacle detection ensures complete safety for people and equipment.
The best automation solution is only as good as its master data. In order for robots, shuttles and the like to work in a way that creates value, they need good-quality master data. This is exactly what MultiScan does best: collect high-quality master data, which is then saved by the software KiSoft Genomix. MultiScan easily and precisely captures morphological data, such as the volume or weight of items as well as quantities, stacking data, EAN barcodes and much more. The software solution KiSoft Genomix digitizes all the relevant item attributes, from their weight, dimensions and packaging type to their contents, centre of gravity, tilting behaviour and much more. This type of information is critical for smooth operation in the robotic warehouse and is what a robotic system needs to precisely process and handle various types of items.
Even the smallest items, such as jewellery, watches and their parts need to be securely stored. For this application, KNAPP offers the InduStore, which stores and handles items up to the size of a shoe box and up to 5 kg (11 lb) as standard. The InduStore uses its intelligent image recognition system to automatically identify each item. A conveyor brings small items to the robot, which picks them up and places them on the shelves in a compact, space-saving way.
For today's warehouse logistics, three areas of expertise make all the difference: machines and robots, service and consulting, and finally, software. Each of these areas can of course stand alone; however, when combined, they provide an incredible advantage. This is exactly the combination KNAPP focuses on. This approach using integrated intelligence connects all the disciplines to provide customers with an all-in-one solution. For example, the KiSoft software configures the AMRs, so they go where they are needed, and also trains the KNAPP Pick-it-Easy Robot picking robots so they continually improve. It's quite an impressive interplay of robots and software. With its business intelligence products, KiSoft provides the information needed to make strategic decisions. KNAPP has modules in KiSoft for resource planning, data analysis for strategic decision-making, predictive maintenance and life cycle management.