Material Handler Launches Mezzanine Lift Solution
18th September 2018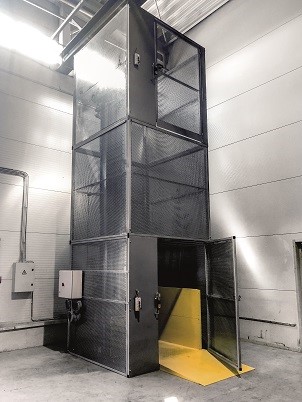 Lödige Industries, a leading provider of material handling solutions, has launched a new lift solution adapted for warehouses and other buildings with mezzanine floors.
The SERWA can lift any goods under 1,000kg with a speed of 0.2m/s to a height of 4,200mm. Delivered within 2-4 weeks from an order and installed in less than 1 week, it is manufactured to the machine guideline. The SERWA arrives as a free-standing structure and requires no pit. Therefore, it does not have to be mounted to the wall, no building modifications are necessary and it can be freely positioned. Furthermore, the SERWA uses a highly efficient electric motor drive, which requires minimal routine maintenance.
"We understand that warehouses need mezzanine floors to gain production space. The SERWA enables easy and safe stock movements between levels at a fraction of the cost and space traditional goods lifts would require and is safer than using a fork lift truck," Michael Baul, Managing Director of the UK office of Lödige Industries commented.