Maximising loading efficiency for air cargo in Kenya
7th November 2022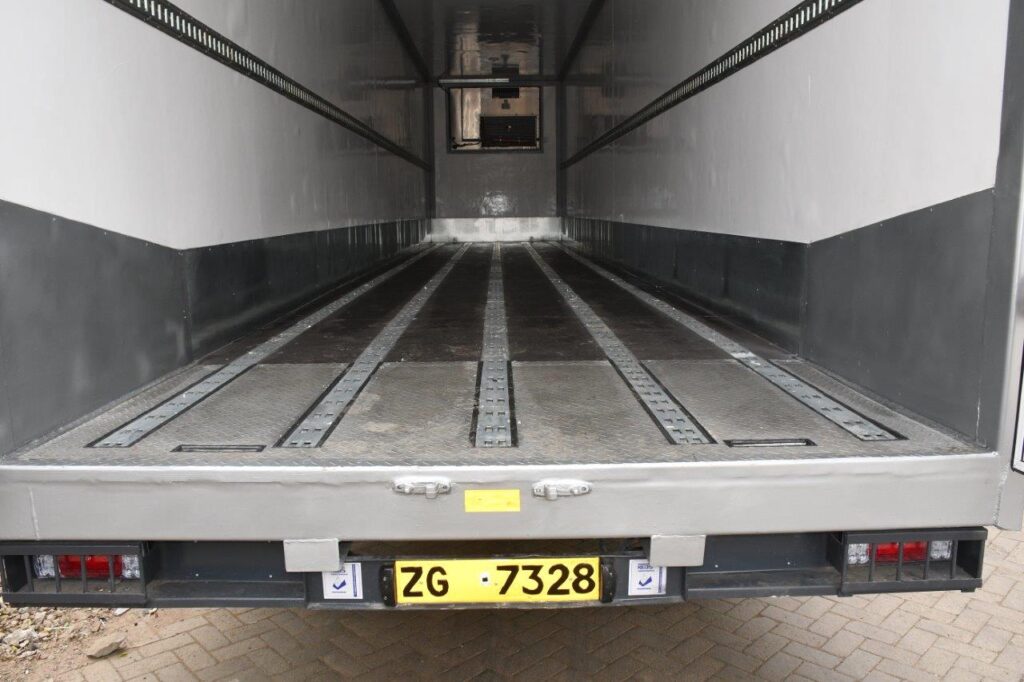 Joloda Hydraroll, world leader in loading and unloading solutions, has partnered with Sai Raj, a fibreglass moulder, vehicle body manufacturer and conversion specialist in Kenya.
For Sai Raj's long-standing customer, AirFlo Kenya, Joloda Hydraroll has supported the development of a new air cargo trailer that can be loaded and unloaded far more efficiently. Joloda says the process is faster, safer and doesn't require forklifts.
Bespoke Solution
AirFlo Kenya is a specialist provider of logistics solutions for perishables, such as fresh cut flowers, vegetables, and fruits. In early 2022, the company approached Sai Raj with the request to build a new air cargo trailer to transport pallets from the warehouse facility to Airside operations at Nairobi airport, where they would be unloaded onto the aircraft. AirFlo Kenya wanted to make the loading and unloading process safer and more efficient compared with traditional loading and unloading practices reliant on forklifts or pallet trucks.
Sai Raj decided to partner with Joloda Hydraroll to create a bespoke rollerbed vehicle to meet the brief. Joloda Hydraroll's Pneumatic Roller Track (PRT) solution utilises rise and fall rollerbed technology, and is integrated into the trailer's floor, customised to fit its length.
Efficiency Gains
The addition of Joloda Hydraroll's solutions and loading/unloading expertise has enabled Sai Raj to build and deliver its first air cargo trailer – named Cargotuff by Sai Raj – to AirFlo Kenya. With it, operators can transport up to four ULDs at one time, with the ability to load and unload in a simple and speedy manner. The rollerbed floor is pneumatically operated, meaning air cargo can simply be rolled in and out of the trailer without the need for forklifts.
Amar Bahra, Director at Sai Raj, explains: "We got in touch with Joloda Hydraroll because their customer service was extraordinary, and the pricing was competitive. We thought the installation stages were going to be complicated, but we were made to feel at ease. The installation was complete in just three days, which allowed us to keep operational downtime to a minimum."
Since its delivery in May 2022, the trailer has been in use daily. The team at AirFlo Kenya have found that loading and unloading the trailer is now much quicker. With the rollerbed loading solution, the process is also safer as the pneumatic rollers are automatically lowered when the trailer is in transit.
New Revenue Opportunities
Working with Joloda Hydraroll has opened new avenues for Sai Raj. "By working with Joloda Hydraroll, we can now provide new solutions to other supply chain businesses; and we have already started to have these conversations," says Bahra.
Additionally, with the logistics market in Kenya experiencing accelerated growth, Bahra sees this project as a sign of things to come: "We're proud to provide such a solution in Kenya – it's been a very positive journey for us. There's a lot of scope for growth in logistics in Kenya, as well as throughout Africa, and by partnering with Joloda Hydraroll, we already have a head start in meeting such demands."
Arjan Nobel, Global Sales Manager, Joloda Hydraroll, concludes: "We're thrilled to have supported Sai Raj –  our first customer in Kenya, Central East Africa – with its new air cargo trailer. Kenya, like many countries in Africa, has a growing and demanding logistics market, exporting masses of horticultural produce into Europe.
"Doing so quickly and efficiently is reaching new heights of importance – and this is where the loading and unloading process in particular can make a big difference. The addition of Joloda Hydraroll's Integrated Rollerbed Loading System means the air cargo trailer can be loaded/unloaded with ease. The whole process is safer and faster, helping to reduce the time that perishable cargo is in transit."