Dedicated safety products for the supply chain
31st August 2022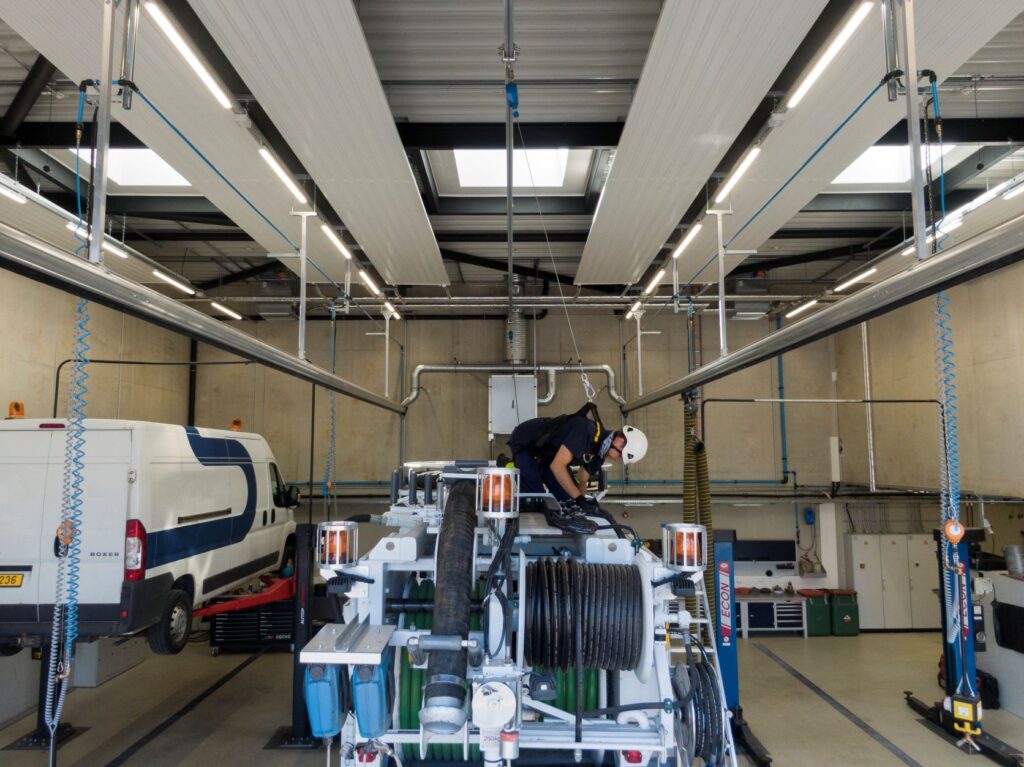 Conveying goods from one provider to its customers involves working often with machineries or at height. These actions go from picking in a warehouse to loading and unloading a truck, train or plane, whether manually or with robotic assistance. Each step includes safety hazards, each step is subject to maintenance works. Fallprotec says it provides solutions for every moment.
Automated racking systems are now a widespread feature in warehouses all over the world, with goods being stored at heights up to 40m. The maintenance of the racks includes work at height. Fallprotec's Securail Pro is a secure option for both types of work. Its unique profile has high inertia that enables up to 6m spam between supports, making it adaptable to every racking configuration.
Fallprotec says it is ideal for securing zones with low fall clearance and can be used as a fall arrest system with up to two users between brackets. Occupying little space, it fits easily inside the structure and can be bended to follow the configuration of the hall.
The loading of goods is another station that involves risks, for the transported goods as well as for the person involved in the process. To counteract it, Fallprotec has installed its SafeAccess monorail system on several loading bays all over the world. The SafeAccess is an undeformable fall arrest rail system. When installed in overhead configuration, it is the most suitable system when the fall clearance is low, for instance during loading.
This rail can be used for petrochemical industries as it is ATEX certified for potentially explosive atmospheres. The aluminium rail is protected by a high-quality powder coated surface treatment that resists to a marine environment.
Depending on the site configuration, SafeAccess can be combined with a Flexbow jib. The Flexbow is a standardised outrigger jib designed to secure loading bays and machinery. As the lifeline can also be installed high over the user, it is suitable for enhancing safety in vast storage and loading halls.
Last but not least, as the logistics sector is an increasingly robotised one, the maintenance of its automated equipment is an ever-returning key topic. In addition to the already mentioned rail systems, Fallprotec also provides vertical solutions adapted to all machineries, big or small. The company has developed a range of ladders with integrated fall arrest rail suitable for the maintenance of robotic tipping arms, pickers and AGVs. For instance, the SafeLadder is a secure alternative to traditional access ladders. The user, equipped with a harness, is directly connected to the fall arrest rail which is integrated into the access ladder upright.
The fall arrester VIA 4 fitted with energy absorber follows the user effortlessly and locks instantly in case of a fall. Various SafeLadder types and accessories are available to fit any situation: temporary SafeLadder, telescopic SafeLadder and traversing SafeLadder along a SafeAccess rail. A variant of the Securail Pro, the MastLadder, uses the same rail profile while fitting it with rigid rungs to create a ladder with minimum space occupation.
Fallprotec has installed its safety solutions worldwide with several industrial companies and logistics integraters such as Total and Stow. All Fallprotec products for logistics will be introduced in Birmingham at the IMHX tradeshow on booth 5C90.