Kyburz turns to ABM for performance technology
4th February 2022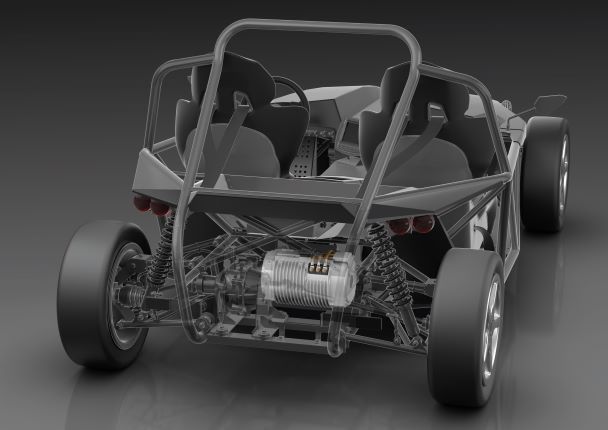 KYBURZ Switzerland AG, a manufacturer of urban delivery vehicles, relies on the know-how and drive technology of ABM Greiffenberger for its electric vehicles
KYBURZ is an international leader for high-quality mobility and transport solutions used e.g. by postal operators for delivery of letters and parcels. When it comes to drive technology, the provider relies on the comprehensive support of ABM Greiffenberger, from concept to series production. ABM supplies everything from a single source.
Martin Kyburz founded KYBURZ Switzerland AG in 1991. Today, with 150 employees the company is one of the leading manufactures for urban delivery vehicles, which thanks to automatic parking brake and reverse gear arrive at their destination safely and quickly even in wintry conditions. This includes the KYBURZ DXP.
The E-Mobile fleet combines the efficiency of a two-wheeler with the safety and stability of a three-wheel vehicle. DXP is used by postal operators in various countries such as Germany, Finland or Austria, as well numerous cities such as Winterthur or Montreux.
However, postal and logistics companies are not the only ones relying on this environmentally friendly vehicles, the electric sport cars for leisure sector are also extremely popular and ensure lots of driving pleasure. That is why, among others, the Swiss have developed the eRod (pictured), an electrically powered racing car approved for the road.
"We offer a comprehensive service package," says Daniel Weber, Head of Development at KYBURZ. "We develop, produce vehicles and take care of the after sale service. We also take them back after being used, process them or take care of their recycling."
Currently, over 23,000 of these electric vehicles are on the roads worldwide. Apart from the USA, the company is active in all markets worldwide.
High Performance and Efficient Drives
Users have high expectations. Especially postal services, which have to deliver their shipments quickly and reliably, require vehicles that are efficient, environmentally friendly, reliable and inexpensive to maintain. This places particularly high demands on the drives. Because the postman must be able to manage steep streets with his fully loaded vehicle and be able to accelerate at all times. Since these vehicles are used on daily basis, both acceleration and range play a major role. This requires motor performance and efficiency.
KYBURZ Switzerland AG turned to ABM Greiffenberger to manage this balancing act, this was in October 2011. As a full-service provider, the drive specialist with registered office in Marktredwitz in Upper Franconia develops and manufactures systems for stationary and mobile applications which are installed e.g., in logistics in conveyors, hoists or forklifts. In addition to modular system solutions, ABM Greiffenberger also impresses with customer and application specific drive solutions that ensure customers measurable added value.
ABM works closely and in partnership with the customer. "Even before the turn of the millennium we had started to transfer our know-how from battery-powered applications to E-Mobility. Even back then we were able to implement the first customer-specific projects," reports Jürgen Schliermann, Head of Mobile Drive Technology Development at ABM.
"We recognise new trends early on – this is important, especially in a future-oriented industry such as the electric mobility. We take this into account thanks to our comprehensive development and production capabilities."
High Acceleration from Standstill
"We were looking for a reliable partner for our ever increasing quantities and for the growing demands of the users", explains Daniel Weber from KYBURZ. "We were familiar with the high level of expertise of ABM and the good reputation of the supplier."
The drive specialist supplied the AC end shield motors for the DXP series delivery vehicles. Weighing only around 22kg, these powerful three-phase asynchronous motors are quiet, environmental friendly and optimised for the stressful stop-and-go operation. They impress with their high acceleration capacity even from the standstill position, just the right one for these applications.
"The weight-optimised AC end shield motors are also robust, durable and with their special design without housing they are suitable for applications with high load peaks and high dynamics," explains ABM expert Schliermann. Heat generation is a major issue with high torques and low speeds. This challenge can be managed with the ABM drive.
It was also important for KYBURZ to have a drive which requires little or no maintenance. In addition, the motor draws the energy from maintenance-free lithium iron phosphate batteries. External drive controllers assume the power supply and speed/torque control. Thanks to the optimised interaction with the controller the system is very well regulated, ensuring high level of power density.
"We can deliver a light, efficient and compact drive that optimally accelerates, provides a good driving dynamic and therefore also achieves a long range," says Schliermann.
Emotions Instead of Emissions
Thanks to the good cooperation and reliable products ABM drives are also installed in eRod. The 600kg vehicle achieves a top speed of 120km/h and a range of around 180km. Thanks to the powerful electric drive the sports car provides the passionate driver with maximum driving pleasure.
"We had already developed our ring rib motor, and only had to adapt it to the electrical properties," reports Schliermann. In contrast to the end shield motors, the compact and only about 43kg AC drive has a housing. There is also the ring-shaped design of the ribs. Both protect the motor against dirt and ensure a good heat dissipation. It is installed on the differential axle transversely to the driving direction.
"Thanks to this installation position we have adapted the ribs of the drive in such a way that an optimal air cooling is ensured", explains Schliermann. This solution is suitable for journeys with high load peaks and high continuous performance."
In other words, perfect for a vehicle which is not only emission-free but with which the driver can also be quickly on his way. The dynamic drive accelerates very quickly even from a standstill position. Voltage supply and speed/torque control are performed by an external control. The ring cooling fin motor is also optionally available with higher protection class (IP6K9K). In addition to a cost-effective solution the performance values were particularly decisive for KYBURZ.
Benefit Across the Board
"With ABM drive solutions we have achieved optimal performance across all our applications," gladly mentions Weber. "This also includes higher temperature resistance, allowing vehicle operation at performance limits for longer periods."
KYBURZ is very satisfied with both drive solutions: Because postal vehicles are in use daily, the eRod usually only occasionally: ABM drives are suitable for short, dynamic stretches as well as for the continuous operation in postal services.
A cooperative relationship has developed out of the project. "We are always get quick, competent support. Should modifications be required, together we always quickly find the suitable solution," describes Weber. "It is thanks to this cooperative partnership that we always find a perfect system solution. Thanks to our extensive experience with this drive technology our development cost is usually held within limits," adds Schliermann.
For its part, ABM opted for a sustainable delivery vehicle of DXP series for its energy efficiency and zero emission. "We use the vehicles for journeys between our two plants in Marktredwitz in Upper Franconia. Our employees are also excited," happily reports Schliermann.