Jungheinrich Designs Warehouse Automation Site for Motip Dupli
6th July 2017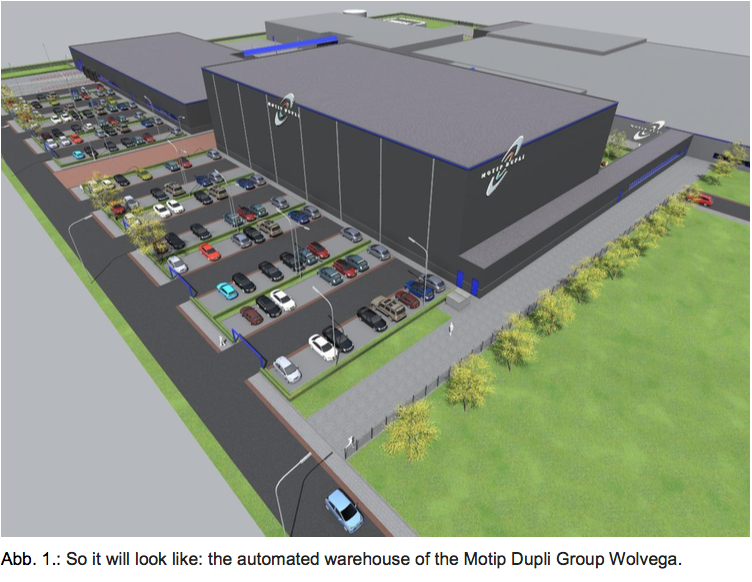 The Motip Dupli Group is building a fully automated high-rack warehouse with a total of 6,000 pallet slots in the Dutch town of Wolvega. The warehouse equipment and software are being delivered by the intralogistics experts at Jungheinrich. The order includes delivery of several stacker cranes, industrial trucks and all the requisite software to manage the system.
The Motip Dupli Group is investing in the construction of an automated warehouse at its Wolvega location. As Europe's market leader in spray paints and touch-up pencils, the company intends to use the new facility to store raw materials and semi- and fully- finished products. The building will be 18m high with a floor space of 2,950 sqm and will be directly connected with Motip Dupli's existing production plant.
Jungheinrich is responsible for the design of the automated warehouse, which features double-depth storage. In the initial building phase 6,000 pallet slots will be created, served by three aisle-bound stacker cranes. Materials handling equipment will be used to transport the pallets to two delivery and three pickup stations.
The Motip Dupli Group also chose Jungheinrich when selecting a warehouse management system (WMS). In conjunction with the integrated Jungheinrich warehouse control system (WCS), the WMS will be used to manage the stacker cranes and industrial trucks. The flexible design of the Jungheinrich warehouse management system means it can also be used to automate additional, future intralogistics tasks at the Motip Dupli Group.
The new facility is a product of the rapid growth of the Motip Dupli Group, with the goal of doubling production at the Wolvega plant over the coming years. For this reason, the company has reserved an option with Jungheinrich to expand the warehouse by two additional aisles, thus creating an additional 4,000 pallet slots.